This Photo of 5 Living Presidents Together Is Reminding People of Simpler Times
When Pete Souza snapped a photograph of the five living presidents (at that time) in 2013, he naturally knew it was a historic moment. Little did he know how years later the same photograph would arouse so many unpredictable feelings, owing to the political divide of the country and the extremely contentious relationship the other living presidents have with the person currently occupying the White House. Today, the photograph had scores of comments from Reddit users, who made it one of the day's top trending stories.
Pete Souza spent much of his photographic career as a journalist, which brought him to practically every corner of the world, including war zones. But it was his time spent as a presidential photographer that's brought him the most renown. His first stint was an official White House photographer was for President Ronald Reason from 1983 until 1989, and he was also the official photographer for Reagan's funeral services in 2004. He later returned to the role as Pres. Obama's official photographer during both his terms in office, which presented the opportunity to cover Barack Obama's trip to the opening of George W. Bush's Presidential Library and museum in Texas on April 25, 2013. Also at the ceremony were former presidents Jimmy Carter, George Bush Sr., and Bill Clinton. This led to the famous photo taken, where all five of the living United States presidents gathered outside, enraging in what appeared to be casual conversation, with Clinton and Obama huddled closely by the younger Bush, while the elder Bush sat in a wheelchair with a grinning Carter over his shoulder.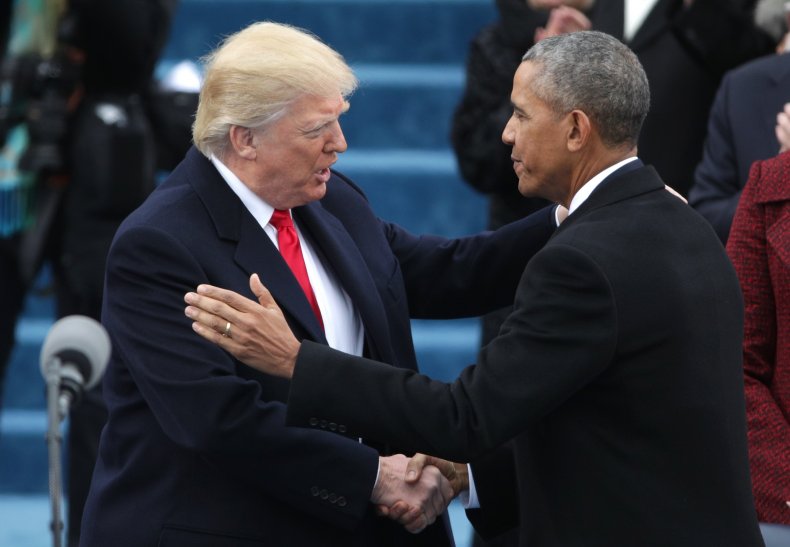 Souza has often taken exception to the bitter words Trump dishes out to the former presidents, especially Obama, for whom the 45th commander-in-chief seems to harbor a particularly harsh disdain. Using social media, Souza critiques Trump for many things, least of which is his perceived disrespect for the past office-holders. Souza seemingly relishes the opportunity to post his photos of the past presidents together, like he did on the seven year anniversary of the library dedication, which he captioned, simply: "Civility. 7 years ago today."
Another re-posted photo fell on the anniversary of a 2012 lunch Obama hosted for the Bush family when George W. and Laura's official White House portraits were unveiled. In that pic, the Obama and Bush families are gathered around a long table, sharing food during a genial-appearing gathering. For that, Souza captioned: "Tradition. Respect. Class. Remember that?"
Trump never had the opportunity to pose with all his living predecessors at once. The closest he came was at Bush Sr.'s funeral, when he sat in an aisle with Obama, Clinton, and Carter. George W. Bush greeted each of them during the service, but there was no photograph of them collected together in acknowledgement of the moment being documented. The implication of Souza's photos today seems to be that Trump would either not be invited to pose with the others, or he would turn down doing so.
Reddit users today looked at the photo from 13-plus years ago with some degree of nostalgia for what was a common respect and acknowledgment of a shared powerful experience. Comments included, "It doesn't matter what they are talking about, at least they are talking and respect each other" and "Looks so normal that it feels calm."
Other Reddit users bemoaned the political atmosphere of today. "Former political enemies, now, at least, chatting amiably. I hope we can get back to this." Elsewhere, someone wrote, "The era when no matter what party you represent you could still have a meaningful conversation."
Some took the occasion to imagine what it will be like when Trump leaves office. One user wrote, "Something tells me Trump will not be invited to these gatherings," and another commented, "I hope they can do these gatherings in the future. Trump can Zoom in from prison."
Of course, not everyone heaped praise on the group assembled in the photo. "I see a photo full of war criminals." Meanwhile, one person missed more than ex-presidents showing civility: "Damn imagine being within 6 feet of people without a mask." And, given this occurred on the Internet and it is the 21st Century, one couldn't help but add a goofy, but well-played, Spider-Man reference: "Into the President-verse."