Former South Korean President Jailed for 15 Years for Corruption, Becomes Fourth South Korean Leader to be Jailed
Former South Korean president Lee Myung-bak has been given a 15-year jail sentence and a multimillion dollar fine for bribery, embezzlement and abuse of power.
Lee was accused of receiving multimillion dollar bribes from the company Samsung in return for pardoning its chairman Lee Kun-hee. He was also convicted of embezzling around $22 million between 1994 to 2006 from auto parts manufacturer DAS Corp., which was set up under his brother's name.
In a televised verdict, Seoul District Court Judge Chung Kye-sun said that Lee ''has bitterly disappointed not only citizens who trusted and supported him but also our entire country,'' The Korea Times reported. He has one week to appeal the verdict.
"Such actions from the president, the head of state and the leader of the executive branch, can be severely condemned as it does not stop at violating the fairness and integrity of the presidential office but undermines trust in the entire public office," the judge added.
Lee, 76, who was in office from 2008 to 2013, was not in court to hear the verdict, citing ill health. He denied any wrongdoing and said that the charges were politically motivated "revenge" by current President Moon Jae-in.
Lee had once been a businessman and is a former mayor of Seoul. He held high positions in Hyundai Group and served as Seoul mayor from 2002 to 2006, when he pushed through ambitious development projects.
He won the 2007 presidential election by the widest margin in South Korean history amid hopes he could build the economy, but Lee's five-year term was affected by the global financial meltdown, the Associated Press reported.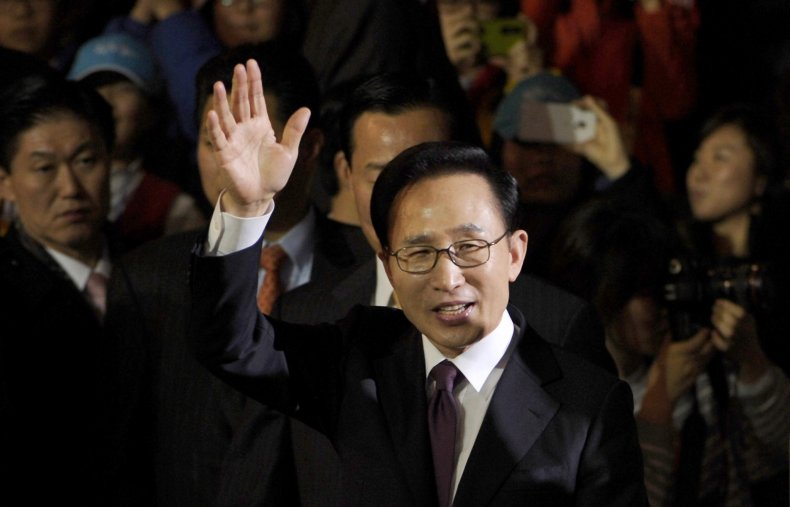 He is now the fourth former South Korean leader to be jailed. In April, Park Geun-hye was jailed for 33 years and fined $17 million for corruption and coercion.
Meanwhile, Lee's liberal predecessor the Nobel Peace Prize winner Kim Dae-jung had to apologize after all three of his sons were arrested or embroiled in scandals.
Chun Doo Hwan, who served from 1980 to 1988, was jailed for treason and bribery. His successor Roh Tae Woo, president from 1988 to 1993 was jailed for similar offenses, The Straits Times reported.
The country's 16th leader, Roh Moo-hyun, killed himself in 2009 while he was under investigation for allegedly receiving bribes worth millions.
The latest case highlights concerns with the close links between politicians and large family-owned conglomerates known as chaebols.