South Korean Presidents All Seem to Suffer Turbulent Downfalls—Park Geun-hye Is No Exception
A South Korean court condemned disgraced former president Park Geun-hye to 24 years in prison on Friday, confirming her position as the latest South Korean leader whose downfall is marked by corruption scandals.
In the verdict broadcasted live on television, which Park chose not to attend, South Korea's first female president was found guilty of charges involving bribery, abuse of power and coercion and fined 18 billion won ($16.9 million), Reuters reported.
Park apologized for seeking policy advice from her friend Choi Soon-sil—the influential confidante at the center of the scandal—but denied any wrongdoing. Her lawyer is planning on appealing the verdict, and a group of about 1,000 supporters held a rally against it as well, displaying signs reading "The rule of law is dead."
The daughter of military dictator Park Chung-hee—who formally became president in 1963 following a coup and was assassinated by the head of the country's intelligence agency in 1979—became the country's first democratically elected leader to be removed from office via impeachment process. Park was, however, not the country's first president to be handcuffed, nor the first one to be sentenced to jail.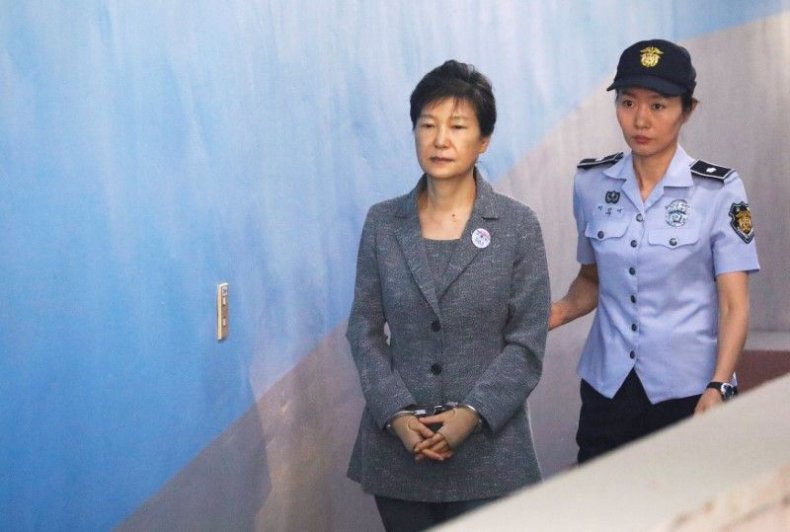 South Korea's post–World War II political history has been marked by authoritarian rule and military coups, but even democratically elected presidents could not enjoy scandal-free retirements.
The first president of postwar South Korea, Syngman Rhee, was forced into exile in Hawaii in 1960 after he was accused of rigging the election. Park's father's successor Choi Kyu-hah had one of the shortest-lived presidencies—after promising to restore democratic rule, the country's head of the intelligence agency, Chun Doo-hwan, orchestrated a coup against him and became the president in 1980.
He and his successor Roh Tae-woo, who took power in 1988, would later be prosecuted for crimes committed during their rule during the presidency of Kim Young-sam, who became the first civilian to be elected president in the country in 30 years in 1992. Chun was sentenced to death and Roh to 22 and a half years in prison for their role in the massacre of civilians but also for corruption.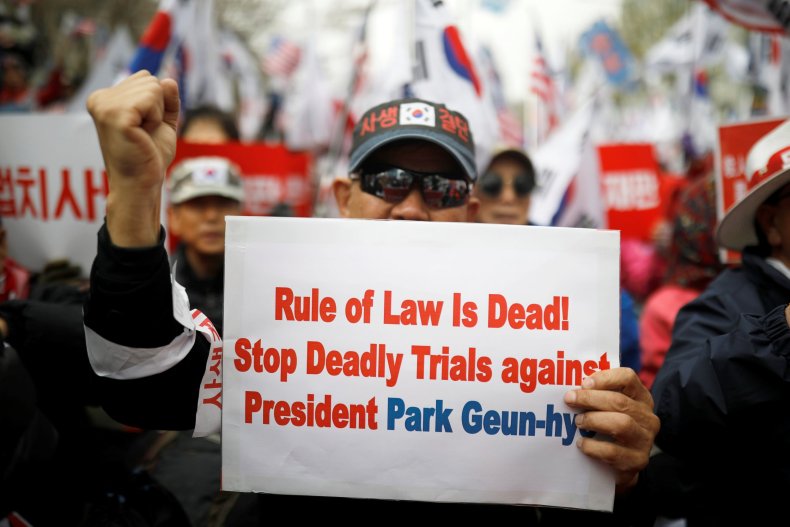 Kim, whose fight against pervasive corruption ended up engulfing his own family—landing his second-oldest son, a close adviser, in jail—pardoned them both shortly before the end of his single five-year term in power in 1998.
Kim lost the ensuing election to opposition leader Kim Dae-jung. Despite his dedication to human rights and reconciliation with North Korea—which won him a Nobel Peace Prize in 2000—his legacy too was marred by corruption, with two of his sons ending up behind bars on graft charges by the time he left office in 2003. Two of his close aids were also charged over the so-called cash-for-summit scandal involving payments to North Korea ahead of a historic meeting in 2000. Kim apologized in 2008.
His successor Roh Moo-hyun faced and survived an impeachment process, allowing him to govern until 2008. He killed himself after an investigation into a bribery scandal in 2009 alleged he took $6 million in bribes from a businessman while in office.
Park's predecessor, Lee Myung-bak, whose presidential term ended in 2013, seemed to have broken the cycle—at least until a few weeks ago, when authorities moved to arrest Lee on charges of bribery, embezzlement and tax evasion on March 22, as The New York Times reported.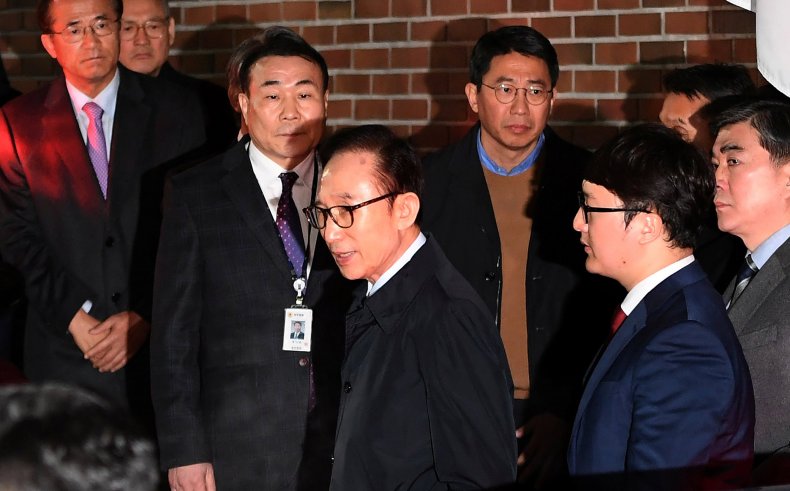 At the root of South Korea's corruption is the cozy relationship between government officials and the large family conglomerates running the country's biggest corporations who too often end up in jail on bribery and embezzlement charges.
Can current president Moon Jae-in's legacy survive untarnished by scandals? Moon approached the presidency with a promise to fight corruption and vowed to only appoint cabinet members who'd match rigorous ethical standards. Upholding this promise created several delays, Reuters reported, due to the difficulty in finding such clean candidates.
Still early in his term after his election in May last year, Moon so far enjoys widespread popular support and a reputation for moral integrity—he even avoids professional meetings with friends to avoid any suspicion, The Economist reported.
Presidential spokesperson Kim Eui-kyum commented on Park's sentencing in a statement. "It is said that those who cannot remember the past are condemned to repeat it. We will not forget today," he said.
South Korean Presidents All Seem to Suffer Turbulent Downfalls—Park Geun-hye Is No Exception | World