Former Tory Leader Accuses Huawei Of "Disgraceful" Exploitation Of Coronavirus Pandemic
A former leader of the U.K. Conservative Party has accused Chinese telecoms giant Huawei of exploiting the coronavirus pandemic to advance its own interests in the U.K.'s 5G network.
Sir Iain Duncan Smith, who led the party between 2001 and 2003, labeled Huawei "arrogant" and "disgraceful" for seeking to exploit the pandemic.
His comments came after Victor Zhang, Huwaei's vice-president, wrote a letter highlighting the importance of mobile and online connectivity during the lockdown and accused critics of presenting no 'real evidence' over claims the company posed a security risk to the U.K..
Huawei said it would be a "disservice" to the U.K. if it was prevented from being involved in the new generation of data networks.
Zhang wrote: "At Huawei, we are focused on keeping Britain connected – the biggest contribution we can make to the U.K.'s national effort against coronavirus.
"During this pandemic, our engineers – designated 'essential' workers – are striving around the clock to keep Britain connected."
This prompted a strong response from a number of politicians, including social media posts from the former Conservative leader.
"This letter from Huawei is hubristic and arrogant," Sir Iain tweeted.
"To try and use this terrible pandemic with its roots in China and their information suppression, as an opportunity to promote Huawei's interests in the U.K. is disgraceful.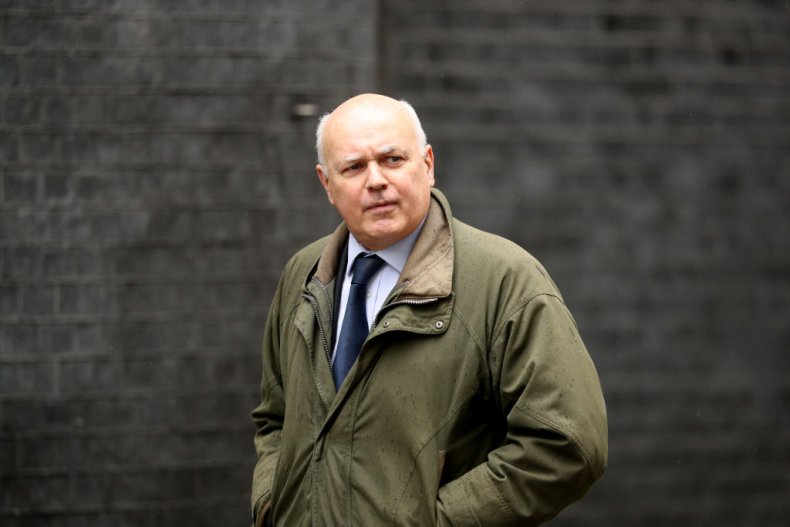 "The issue facing the free world, including the U.K. once this dreadful pandemic is over, is how to rebalance and eradicate our appalling dependency on China.
"After all, the global free market requires for its proper functioning that all engaged in it observe the international rules-based order, at the heart of which is the rule of law and adherence to human rights."
Britain's decision to allow Huawei access to its 5G network caused tensions with the U.S. and President Trump is said to have been furious with Boris Johnson over his decision, the Financial Times reported.
Conservative MPs launched a backbench rebellion in March, arguing that the Chinese company's involvement in the U.K.'s telecommunications network posed a security risk, even with its limited involvement.
Boris Johnson has capped the involvement of the company to 35 percent of the new market to ally fears.
However, 15 Conservative MPs wrote their own open letter to Prime Minister Boris Johnson, asking him to rethink relations with China.
The group wrote: "Over time, we have allowed ourselves to grow dependent on China and have failed to take a strategic view of Britain's long-term economic, technical and security needs."
Both Huawei and Sir Iain Duncan Smith have been contacted for further comment.