Former Trump Ally Chris Christie Slams Him Over Putin 'Genius' Comments
Chris Christie, once a dedicated ally to former President Donald Trump, has slammed the ex-president for describing Russian President Vladimir Putin's decision to invade Ukraine as "savvy" and "genius."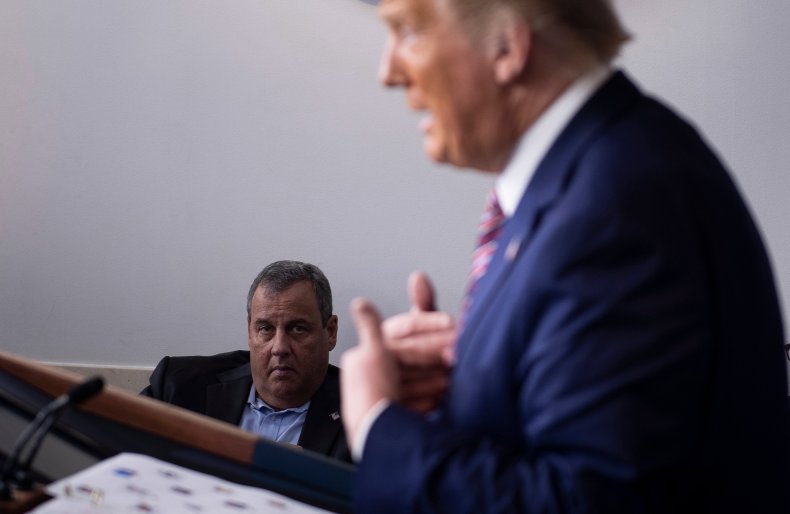 Christie, the former Republican governor of New Jersey, did not mention Trump by name but suggested in tweets on Monday that the former president had no "understanding of the world" and that he would not be able to erase his praise of Putin after the Russian president was widely denounced on the international stage over the Ukraine invasion. Both before and after Russian troops launched the offensive last week, Trump described Putin's strategy as "smart."
"How can anyone with any understanding of the world call Putin's decision to invade Ukraine 'genius' and 'very savvy' as we watch him unite the rest of the world against Russia in nearly an instant?" tweeted Christie.
"Putin has two choices now: an unwinnable occupation of Ukraine after leveling the country and murdering its hero President (if that is even achievable) or a humiliating retreat," he added. "Yeah, that's 'genius' and 'very savvy' alright. No walking that back. History is watching."
During an interview last Tuesday on the conservative talk radio program The Clay Travis and Buck Sexton Show, Trump praised Putin as a "genius" for making the "very savvy" move of declaring "independence" for two Ukrainian regions as a pretext to move what he called "peacekeeping" troops into Ukraine.
At a Mar-a-Lago fundraising event two days later, while Russian forces were launching a full-scale invasion, the former president defended his comments and insisted that Putin was "pretty smart" because he had "taken over a country for $2 worth of sanctions."
Trump attempted to walk back his comments somewhat by denouncing the Russian invasion during his address to the Conservative Political Action Conference (CPAC) in Orlando, Florida, on Saturday.
The former president told the CPAC crowd that Ukrainian President Volodymyr Zelensky was a "brave man who did absolutely nothing wrong" while describing the Russian attack as "an outrage and an atrocity that should never have been allowed to occur." However, he continued to defend his praise of Putin, again saying he was "smart" to "take over" Ukraine.
Although Trump has largely stood alone in offering public praise for Putin, Christie was one of only a few GOP figures who have been willing to openly criticize the former president's comments. Republican Representative Liz Cheney of Wyoming, already a frequent Trump target due to her vote to impeach him for inciting the January 6 Capitol riot, also took aim at Trump in a tweet that insisted "Putin is evil" last Friday.
Christie was a close ally to Trump during his administration and supported both of his presidential campaigns after losing to him in the 2016 Republican primaries. Following Trump's 2020 election loss, Christie has become an outspoken critic of the former president, denouncing him for repeatedly making false claims that the election was "stolen" and for his role in the January 6 attack on the U.S. Capitol.
Newsweek reached out to Trump's office for comment.