Representative Liz Cheney, a Wyoming Republican, took aim at former President Donald Trump and former Secretary of State Mike Pompeo—suggesting they are providing Moscow with propaganda in support of Russian President Vladimir Putin.
Trump controversially described Putin as a "genius" as the invasion of Ukraine commenced this past week. Pompeo in recent interviews described the Russian president as "savvy" and "talented," he also said he had "enormous respect" for Putin.
In a Friday evening Twitter post, Cheney shared screenshots from Russian media promoting remarks from Trump, Pompeo and Fox News host Tucker Carlson that appeared to be favorable to Putin. The GOP congresswoman knocked the right-wing politicians and commentator for their positive assessments of the Russian adversary.
"As Russian forces invade Ukraine, Russian TV features Donald Trump, Mike Pompeo and Tucker Carlson praising Putin," Cheney tweeted. "Putin is evil. Every American watching what's happening in Ukraine should know that."
"I went in yesterday and there was a television screen, and I said, 'This is genius.' Putin declares a big portion of the Ukraine—of Ukraine—Putin declares it as independent. Oh, that's wonderful," Trump said during a Tuesday radio interview with The Clay Travis and Buck Sexton Show. "He used the word 'independent' and 'we're gonna go out and we're gonna go in and we're gonna help keep peace.' You gotta say that's pretty savvy."
Last month, Pompeo told Fox News that Putin "is a very talented statesman. He has lots of gifts. He was a KGB agent, for goodness sakes. He knows how to use power. We should respect that."
Meanwhile, Carlson drew backlash after he questioned why Americans should dislike Putin during his Fox News program on Tuesday. "It might be worth asking yourself, since it is getting pretty serious, 'What is this really about? Why do I hate Putin so much?' Has Putin ever called me a racist? Has he threatened to get me fired for disagreeing with him?'" he asked his viewers.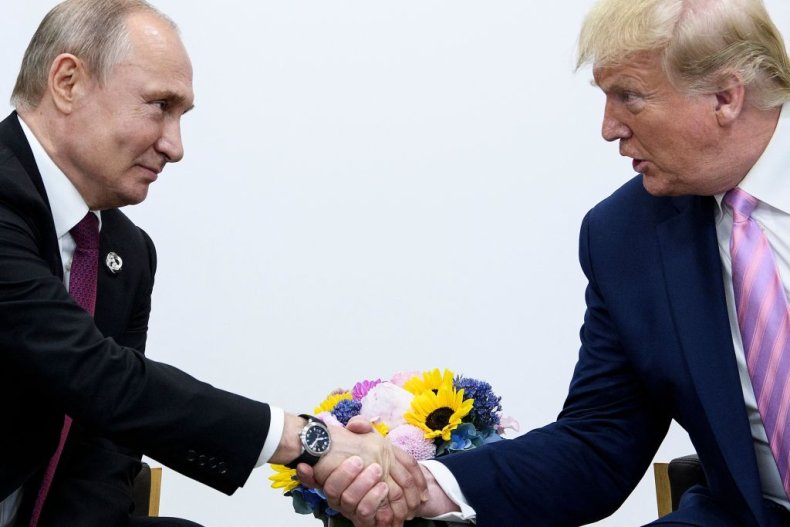 Pompeo and Carlson have since made more critical remarks against Putin and Russia's actions.
"I want to crush Vladimir Putin, too. But you don't pretend, you don't pretend that your enemy is weak when he's not. You don't pretend he's dumb when he's smart," the former secretary of state told CBS News on Friday.
In an additional comment to Newsweek on Saturday, Pompeo said, "I was taught at West Point to be clear eyed about your enemy's strength. He [Putin] is cunning and smart." He went on to argue that "Joe Biden has been weak and on his back foot constantly in dealing with Putin."
"But make no mistake, I know who the enemy is. The question is, does Joe Biden?" the former secretary of state asked.
Carlson criticized Putin for moving forward with the invasion of Ukraine and launching a war. Putin "is to blame for what we're seeing tonight in Ukraine," he told his viewers on Thursday, warning the situation "could become a world war."
"Vladimir Putin started this war, so whatever the context of the decision that he made, he did it," the Fox News host said. "He fired the first shots."
A Fox News spokesperson referred Newsweek to Carlson's Thursday remarks when reached for comment on Saturday.
As for Trump, he has argued that the Russian invasion would not have occurred if he was still president. "If I were in Office, this deadly Ukraine situation would never have happened!" he said in an official statement on Thursday.
President Joe Biden knocked Trump's praise for Putin in an interview with Brian Tyler Cohen this week. "I put as much stock in Trump saying that Putin's a genius as I do when he called himself a stable genius," the president said.
Cheney has become one of Trump's harshest critics in the wake of the January 6, 2021 attack targeting the U.S. Capitol. The Republican lawmaker voted along with nine other GOP House members and Democrats to impeach the then president for inciting his supporters to carry out the violent assault. She now serves as the vice chair of the House select committee investigating the pro-Trump attack.
Due to her opposition to Trump, Cheney has received substantial backlash from fellow Republicans and the former president. She was formally censured by the Republican National Committee in early February and is facing off against a Trump-backed challenger in Wyoming's Republican primary ahead of the midterm elections this year.
Newsweek reached out to Trump's press office for comment.