Formerly Homeless Man Reunited with Dog He Surrendered 'To Give a Better Life'
The past year has been filled with heartbreak for a lot of people, but one man and his dog have proven that happy endings do exist.
Earlier this year, Tampa Bay man Ryan Hamilton was forced to surrender his dog Dakota to the Tampa Bay Humane Society after becoming homeless.
On Tuesday, the shelter shared in a Facebook post that while Hamilton, "loved [Dakota] dearly ... he knew he couldn't care for her properly. Wanting the best for her, he brought her to us in hopes that she'd find a better life."
Sherry Silk, CEO of the Humane Society of Tampa Bay, told Newsweek that homelessness does not disqualify a person from being a loving and caring pet owner.
In fact, she says she often finds that those who are homeless ensure that their pets are fed first and that the 24/7 companionship is great for the animal. However, Dakota has heartworms, a condition that requires expensive medication. So when Hamilton lost his job, he had no other choice but to surrender her to the shelter.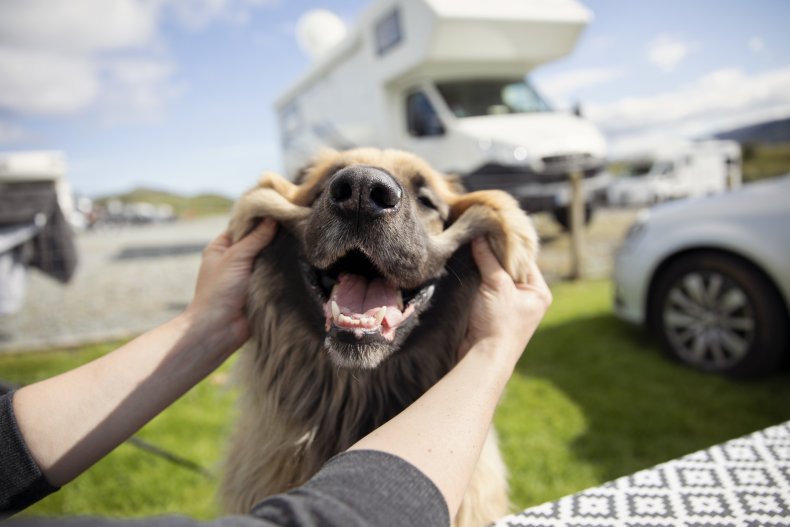 When Hamilton placed the initial phone call to Tampa Bay Humane Society, Silk said, "He wanted to make sure we were a no-kill facility and that nothing would happen to her." According to Silk, the shelter held Dakota for several days, waiting to see if Hamilton could quickly find a job.
Unfortunately, the job search took a bit longer than anticipated, and after four or five days, Hamilton called to fully surrender Dakota to the shelter.
Sadly, many owners like Hamilton were forced to surrender their pets due to mass layoffs and evictions that came as a result of the coronavirus pandemic. As reported by USA Today back in October, an estimated 10 million pets have been displaced during the pandemic.
Silk told Newsweek that Tampa Bay Humane Society alone took in 11,000 animals this past year between surrenders and rescues. That said, as many employees turned to remote work, Silk shared that the shelter also saw its adoption numbers increase, and most animals were adopted out within a few days to a week.
With animals being placed in homes at such a quick rate, those who worked at Tampa Bay Humane Society thought it was strange that a dog as friendly as Dakota couldn't find her match. But when Silk received an unexpected phone call, she and other shelter volunteers and employees were delighted to realize that "fate" had a lot to do with that.
A few weeks after Hamilton surrendered Dakota, he found a job and a new home. Wanting his companion back, he called the shelter in hopes that Dakota was still available for adoption. Lucky for him, she was.
When the Dakota and Hamilton were reunited, the shelter shared that Dakota "squealed with delight" and "ran straight into her dad's arms." There was not a dry eye in the house.
Moved by this reunion, the shelter provided Dakota and Hamilton with a new leash, a collar and six months of preventative medication for Dakota's heartworms.
More than 3,000 people have liked the Facebook post, including Hamilton, who commented: "She was my best friend for 6 years. [The] hardest thing I've ever had to do was give her up and somehow nobody picked my angel."
Many Facebook users have flooded the comments section, all sharing their love for Dakota and Hamilton. Some have even connected with Hamilton and the shelter to donate dog food.
"Everyone here is rooting for this family," said Silk.
The Tampa Bay Humane Society has several programs that help provide those experiencing homelessness with free food and medical care for their pets. For more information, visit Tampa Bay Humane Society's official website.
One sure-fire way to bring tears to the eyes of any pet lover is a good reunion video between a long-lost pet and a relieved owner. Like Dakota and Harrison's story, many other heartwarming clips have all but broken the internet with their feel-good power.