'Fortnite' Gifting, Season 5 Start Date & Double XP Revealed
Fortnite Season 5 is nearly upon us, and will apparently offer loads of new features, including the ability to send skins as gifts. Following the launch of update 4.5 earlier this morning, Epic has officially and accidentally given us a sneak preview of what's next.
WHEN DOES 'FORTNITE' SEASON 4 END & SEASON 5 START?
In a reddit post Wednesday morning, Epic Games revealed the end time for Fortnite Season 4 and the start time for Season 5. The details are as follows:
Season 4 Ends: July 12 at 3:59 a.m. EDT
Season 5 Starts: July 12 at 4 a.m. EDT
This date is two days later than the July 10 date originally promised at the launch of Season 4. That means players will have two extra days to complete their Battle Passes. To help that mission along even further, Epic will be running a double XP event from June 29 at 4 a.m. EDT through July 2 at 4 a.m. EDT. Epic has run this promotion to cap off seasons in the past, so it's nice to see the development team doing it again. This is especially true considering there's a little more on the line this time with the addition of Blockbuster skins.
HOW TO GIFT SKINS IN 'FORTNITE'
You may see the option for skin gifting after installing the 4.5 update, but much like the early days of the skin refund feature, this one isn't quite ready for primetime. Also via reddit, an Epic Games representative said "gifting will be coming in the future" and that "we don't have an exact date to share."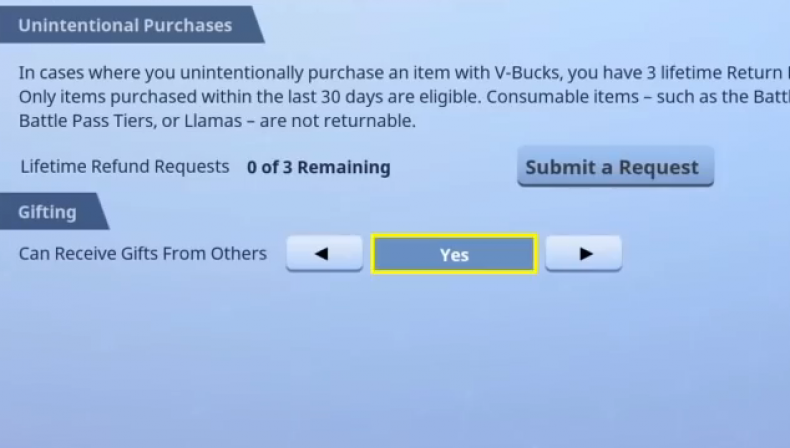 So, if you've been pressing this toggle for the past few minutes in an attempt to make it work, now you have the official order to stop doing so. In typical early-access fashion, Epic will formally announce gifting when it's ready to go live.
This news arrives alongside Fortnite update 4.5, which brings the Dual Pistols and Playground Mode to Battle Royale. While queue times and matchmaking errors may be disrupting your access to Playground for now, at least you have the assurance of knowing the future of Fortnite looks pretty bright. Now we just need to find out what event will kick off Season 5 and what that rocket at the Snobby Shores Villain's Lair has to do with it.
Fortnite is in early access across PS4, Xbox One, Switch, PC and iOS. The gifting feature and Season 5 start dates are unified across platforms.
What's your take on gifting and Fortnite Season 5? What do you want to see from the future of Fortnite? Tell us in the comments section!