'Fortnite' Heartspun Glider Guide - How to Enable 2FA & Gift a Free Glider
Fortnite fans can gift the Heartspun Glider to friends for free, after enabling 2FA on their Epic accounts. In this short guide, we'll detail the process of sending the Glider to a friend and getting one for yourself.
The first thing you'll want to do to get this free Glider is go to the Item Shop. On the front page, you'll see the Heartspun Glider next to some skins. Once you migrate to the Glider's store page, you'll have the option to "buy as a gift." Press the desired button.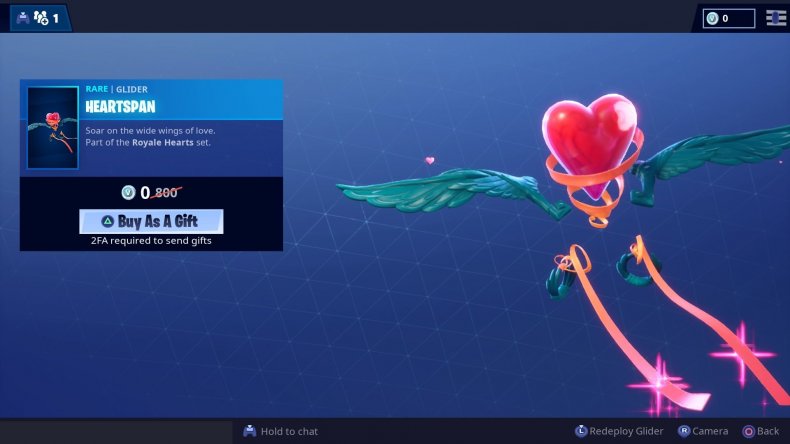 At this point, you may be prompted with a screen to enable 2FA. If not, skip to the gifting section below.
How to enable 2FA in Fortnite
You need 2FA enabled on your account to gift the Heartspun Glider. Here's how to do it.
As instructed, go to Fortnite's 2FA website and sign in with your Epic account.
You should be directed to the "Password & Security" section.
Click the button to "Enable Email Authentication."
You'll be prompted to verify your email address. If you don't receive an email to do so shortly after, click the button to "resend verification email."
Once your email address has been verified, you'll be sent a six-digit code to enter on the website.
Do so, and 2FA will be enabled.
The next time you sign in, you'll receive the Boogie Down emote and can now gift the Heartspun Glider. For more info on what 2FA means for your Fortnite account, read our 2FA guide.
Gifting the Heartspun Glider
With 2FA out of the way, the process of gifting the Glider should be pretty easy.
Press the desired button to send the Glider as a gift.
At this point, you'll be brought to your Epic Friends list. Select up to three friends you'd like to send the Heartspun Glider to, then press the button to continue.
After that you can personalize the git with special virtual wrapping paper and a typed message. Press the button to send.
The next time your recipients sign in, they'll see a message that says "someone wonderful sent you a gift." The box can be opened and the Heartspun Glider claimed.
If you want to get the Glider yourself, you'll need to have a friend walk through this process for you. Unfortunately, gifting items to yourself is no longer allowed. That's all you have to do to get this cool, free Glider in Fortnite. For more details about gifting, feel free to read our Fortnite gifting guide.
Fortnite is available on PS4, Xbox One, Switch, PC and mobile. The process to get the Heartspun Glider is the same on all platforms.
What are your thoughts on the Heartspun Glider? Were you able to send it as a gift? Tell us in the comments section!