'Fortnite' Heavy Shotgun Released With Update 3.3.1 - No Patch Notes
Fortnite update 3.3.1 has officially landed, and you might not have noticed it. Unlike most weekly patches that arrive with tons of fixes and a full download, today's adjustments are more straightforwrad. The Heavy Shotgun has been added to Battle Royale and the Flame Grill Floor Trap is now available in Save The World. No server downtime or patch notes are necessary.
Here's everything we know about the two new additions so far:
Heavy Shotgun [Battle Royale]: It's a new Shotgun with increased range over its Pump and Tactical predecessors. It's believed to be an Epic or Legendary weapon with very high damage value. Here are the stats we know so far:

Legendary
Damage: 73.5
Fire Rate: 1.0
Magazine Size: 7
Reload Time: 5.9
Flame Grill Floor Trap [Save The World]: Hits enemies with fire damage followed by fire damage affliction. Duration and damage is increased against Nature enemies, but reduced against Water enemies. One-second delay before firing. It is listed as a "Legendary" item that deals 180 damage and costs 1,680 seasonal currency.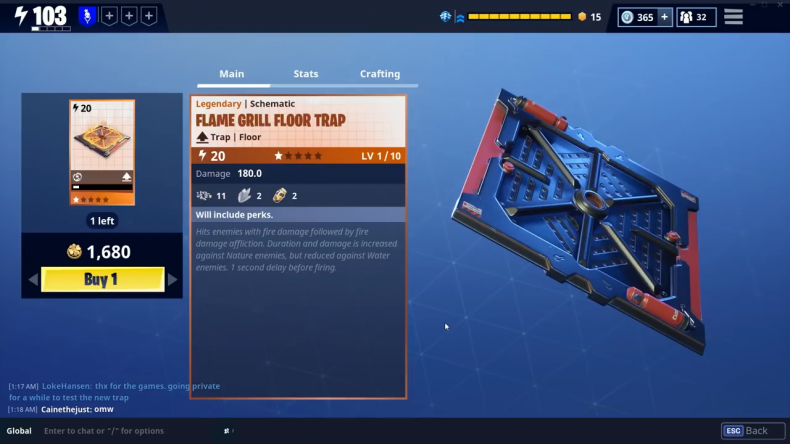 The new weapons were just recently implemented, so it may be a few hours before we find out how they impact the meta. That being said, we can confirm that the old double-pump trick is very present with this new gun. Prior to the start of Season 3, players grew frustrated with reload exploits that caused the Pump to be overpowered. Those problems have since been resolved with the Pump, but they've resurfaced once more with the Heavy.
Of course, because today's update is so tiny, there are a few highly anticipated items missing. During Wednesday's Unreal Engine GDC livestream, Epic revealed that it's working on an intricate Battle Royale replay system for use across console and PC. The scrapped Jetpack accessory is also nowhere to be found, several weeks after its sudden cancellation.
In place of official patch notes, feel free to read our Week 5 Challenge guide. If you're looking for treasure in Anarchy Acres or can't find a Gas Station, we're here to help!
Fortnite is available in early access across PS4, Xbox One, PC and iOS. The new items should be available across all platforms where both modes are available.
What are your thoughts on Fortnite update 3.3.1? Are you enjoying the Heavy Shotgun so far? Tell us in the comments section!