'Fortnite's' MLK Event: Here's How to Watch the 'I Have a Dream' Speech
Fortnite is delving into the history behind Dr. Martin Luther King, Jr.'s iconic "I Have a Dream" speech, in order to celebrate its 58th anniversary on Saturday, August 28.
What Is 'Fortnite's' March Through Time Event?
Entitled "March Through Time," the in-game event is presented by TIME Studios and allows players to explore a virtual recreation of Washington, D.C. circa 1963.
This museum-like environment was created by members of the Fortnite community, including ChaseJackman, GQuanoe, XWDFr, and YU7A. In terms of landmarks, it features both the Washington Monument and the Lincoln Memorial itself, where Dr. King delivered his famous address on the topic of civil rights.
While exploring the recreation of the U.S capital, players will be able to view a recording of the "I Have a Dream" speech in full, which is broadcast on a giant screen in the middle of the Lincoln Memorial reflecting pool. As a community event, it is similar in design to the many virtual concerts that Fortnite has hosted in the past (like the recent Ariana Grande Rift Tour), with it featuring a number of interactive elements.
For instance, a collection of special emotes have been added specifically for the March Through Time event and players will also have the option to complete various (combat-free) minigames that are scattered around the map. These include some platforming challenges, scavenger hunts for collectable items and a few puzzles. Complete all of these activities and you will be rewarded with a limited-time "D.C. 63" spray for your locker.
While you are participating in the minigames and otherwise exploring Fortnite's depiction of Washington D.C., a small window in the corner of the screen will continue to play the "I Have a Dream" video recording.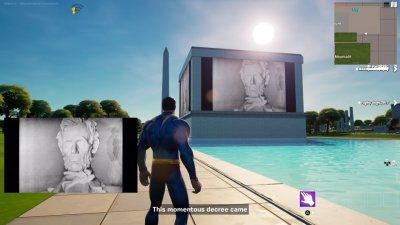 How to Join 'Fortnite's' March Through Time Event
March Through Time is available right now and it is quite straightforward to join.
When you boot up Fortnite, and choose either the "Battle Royale" or "Creative" mode menus, a new alert will pop up telling you all about the event. There will be a contextual prompt that instructs you to press a given button (for instance, square on PlayStation) in order to head straight into a March Through Time lobby.
Alternatively, you can find a session just by opening up the game mode selection screen. From here, you will find March Through Time as the first option on the bottom row, furthest to the left. Once you have selected it, hit the play button to be taken to the event.
For more insight into the life and times of Martin Luther King, read Newsweek's piece on the civil rights leader's legacy here.