Where to Find Alien Artifacts in 'Fortnite' Season 7
With the launch of its Invasion season, Fortnite has been dramatically overhauled in several ways. A giant alien mothership looms over the entire island, futuristic weaponry and pilotable UFOs have been dotted around the map, and the battle pass system has been fundamentally changed so that players can now pick and choose their rewards.
One of the most intricate additions for the new season is the ''kymera'' skin, which lets you customize your ideal extra-terrestrial character. The sub-menu for this can be found under the battle pass tab and is filled with head, eye, colour and armour pattern options. On their website, developer Epic Games claims that there are over 800,000 different possible combinations here, so you are bound to find something that piques your interest.
Unlike the other cosmetic rewards in Fortnite season 7, you cannot simply unlock kymera items with V-Bucks or battle stars. Instead, you will have to accumulate rare alien artifacts that can be quite tricky to pinpoint, especially in the heat of a competitive multiplayer match. To help you get started, here is a short guide on how to acquire this new currency.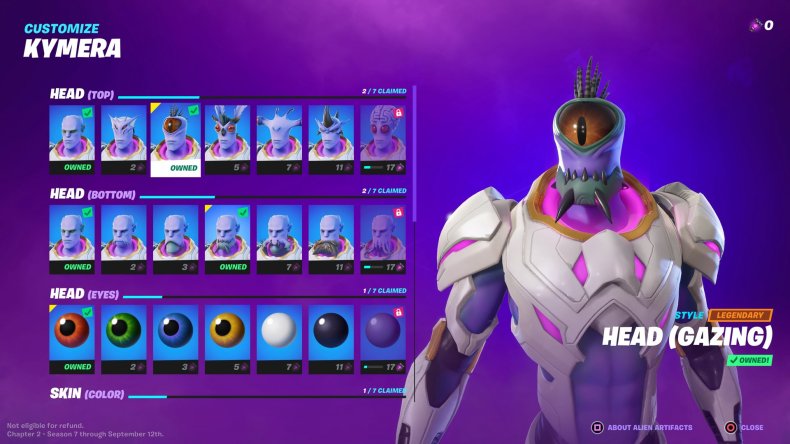 Alien Artifact Locations
As of Fortnite season 7's first week, there are 5 glowing canisters scattered around the island that you can scavenge during battle royale matches. Given that the map slowly shrinks over the course of a game, and other players will already be out to kill you, you should probably drop directly into these locations before any shooting starts.
Alien Artifact 1: Northwest of Slurpy Swamp there is a small compound. In the southernmost building, which resembles a maintenance shed, you find your first alien artifact.
Alien Artifact 2: If you mark near the ''A'' in Catty Corner on the map and head towards the associated waypoint, you will find a two-story platform with an artifact hidden on the first level.
Alien Artifact 3: To the northeast coast of Believer Beach you will find a miniaturised version of the original Spire. If you go roughly halfway up the staircase, you will find the third alien canister.
Alien Artifact 4: The "Aftermath" location on the map, which used to be where you could find the Spire, is now a massive crater. If you head directly into the centre of this fissure, you will see an artifact hovering just above the surface of the lake.
Alien Artifact 5: Near the border of Corny Complex and Craggy Cliffs, there is an apple orchard next to an unassuming farmhouse. At the eastern outskirts of this orchard, you find the final alien artifact.
That is where you find all of the alien canisters at the time of writing, although it is worth noting that this is only the first week of the Invasion event. As with the golden artifacts from season 6, more collectabels may be added at a later date.