'Fortnite' Tilted Towers Update: Release Time and When the Servers Will Go Back Up
After a long absence, Tilted Towers will be coming back to Fortnite on Tuesday as part of a larger update.
The news that this point of interest (POI) is returning to Epic's battle royale has gone down exceedingly well with fans, who have spent the last few seasons of the game eagerly awaiting this very moment.
Fortnite's community historically doesn't agree on much, with everyone having different opinions on which weapons are overpowered, what strategies are legitimate and when the shooter itself peaked. Yet, right now, they all seem to be united in their hype for Tilted Towers and it's expected to be an incredibly popular landing zone.
If you are wondering what the big deal is, this skyscraper (which was introduced in Fortnite's second season, all the way back on January 18, 2018) used to be the most chaotic region on the map. Tilted Towers was known for being one of the best places that you could find rare loot, for being at the center of many exciting quest lines, and for its dizzying verticality that accommodated dozens of players in one building.
As is often the case with evolving live-services like Fortnite, things are subject to change, and popular features are often removed. During one of the game's many updates in Season 9, around the same time that the B.R.U.T.E Mechs disappeared, Tilted Towers was replaced. It was more of a gradual phase-out than a sudden removal, as the high-rise underwent various makeovers in the intervening months (including one that turned it into Gotham City) before eventually vanishing for good.
Fans have been waiting for its return ever since, and now it seems that their prayers have finally been answered, with the POI making a comeback in Fortnite's V19.10 patch.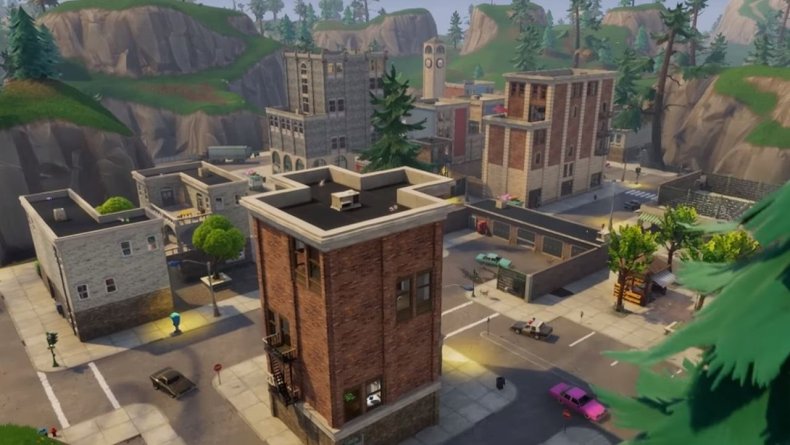 When Is the 'Fortnite' V19.10 Update Release Time?
The official Fortnite Status account (which provides updates on the game's servers and hotfixes) has confirmed that downtime will begin at 4 a.m. ET on January 18. For those in other time zones, this translates to 9 a.m. GMT or 1 a.m. PT.
Matchmaking has already been disabled in anticipation of this, so you're just going to have to wait until V19.10 has been fully rolled out before you can play the game again. Speaking of which, these updates usually take at least a few hours to implement, and today's is going to be a big one.
With that in mind, Fortnite will probably be inaccessible until 8 a.m. at the earliest. To be alerted as soon as the game is back online, we recommend that you follow @FortniteStatus and turn on notifications. They will tweet out an update as soon as it is ready.
What Is Included in the 'Fortnite' V19.10 Update?
Reputable Fortnite data miners, like @HYPEX and @ShiinaBR, have been forecasting the return of Tilted Towers for a few weeks now.
It was always predicted that the POI would be making its comeback in V19.10 and— when it was discovered that the January 11 patch was introducing tornadoes and flare guns—the leakers indicated that this would be next in line. After all, it perfectly coincides with the four-year anniversary of Tilted Towers' Season 2 debut.
They were seemingly proven right on Monday, when the official Fortnite Twitter account posted an emoji of a city skyline accompanied by the text: "One more sleep." This has been interpreted by the data miners, and the wider community, as concrete proof that the January 18 update is going to be V19.10 and that Tilted Towers will soon be re-established on the island.
Lending further credence to this, @HYPEX has taken a peek behind the scenes into Fortnite's code and uncovered everything that will be added. These might not be official patch notes, but @HYPEX has accurately reported on similar things in the past (including last week's tornadoes update, the Naruto collaboration and the Chapter 2 finale event).
According to the data miner, this is what we can expect from Fortnite V19.10:
A new POI named Cover Canyon
The return of Tilted Towers
The melting of snow on the island
Rideable animals and Butter Berry shield fruit
A new NPC that sells Butter Berry
Grenade Launchers will be unvaulted
Foundation cosmetics will be added to the Item Shop