'Fortnite' Season 8 Quest List for Unlocking All Toona Fish Character Styles
A selection of new paint styles has been added for the Toona Fish character in Fortnite Season 8. This guide will list all of the quests that you need to complete in order to unlock these various outfits.
The Toona Fish skin was introduced to Fortnite just over a couple of weeks ago. Although the anthropomorphic guppy is monochrome at first, players can add a splash of color to make their version stand out from the crowd.
There were initially 21 different paint styles that you could unlock for the Toona Fish, which you could earn by tracking down their corresponding bottles in the game world. Speaking of which, Newsweek has already prepared walkthroughs showing you where to find the Diamond Blue and Cuddly Pink paints.
Following the recent v18.10 update for Fortnite Season 8, the amount of color options for the Toona Fish has doubled. There are subsequently 42 options for you to unlock now, although one of these is currently being kept under wraps as a special mystery skin.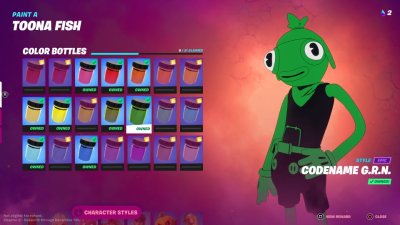 Unlock Criteria for New Toona Fish Styles
Unlike with the first batch of Toona Fish styles, you cannot unlock these new colors by simply finding their paint bottles out on the island.
Instead, you will need to complete specific quests for each one. The criterion for these missions varies greatly, with some requiring you to do quite a lot of work, while others are relatively straightforward.
To view the new Toona Fish character styles, head into the Season 8 battle pass and then navigate to the "Paint a Toona Fish" menu.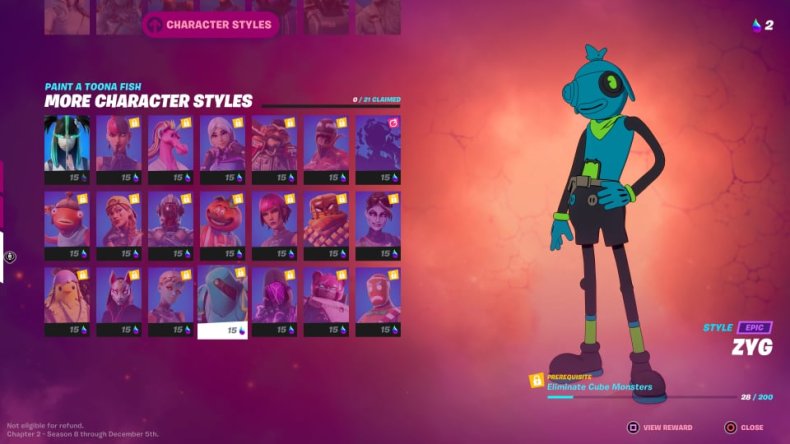 Full List of New Toona Fish Character Styles
Here is a full list of every Toona Fish style that was added with the v18.10 update and its respective unlock criteria:
| | | |
| --- | --- | --- |
| Toona Fish Character Style | Unlock Criteria | Notes |
| Charlotte | Unlock Charlotte in the Season 8 Battle Pass | Charlotte is unlocked with the purchase of the Season 8 Battle Pass |
| Kor | Unlock Kor in the Season 8 Battle Pass | Kor can be purchased for 9 battle stars, on page 4 of the Season 8 Battle Pass |
| Fabio Sparklemane | Unlock Fabio Sparklemane in the Season 8 Battle Pass | Fabio Sparklemane can be purchased for 9 battle stars, on page 5 of the Season 8 Battle Pass |
| Torin | Unlock Torin in the Season 8 Battle Pass | Torin can be purchased for 9 battle stars, on page 8 of the Season 8 Battle Pass |
| J.B. Chimpanski | Unlock J.B. Chimpanski in the Season 8 Battle Pass | J.B. Chimpanski can be purchased for 9 battle stars, on page 7 of the Season 8 Battle Pass |
| Carnage | Unlock Carnage in the Season 8 Battle Pass | Carnage can be purchased for 9 battle stars, on page 10 of the Season 8 Battle Pass |
| ??? | ??? | Mystery character style currently silhouetted on the menu |
| Fishstick | Discover 25 fish in the collection book | This will require you to use a fishing rod or harpoon gun to catch different species of fish |
| Aura | Spend 3,000 gold bars | N/A |
| The Visitor | Visit 15 different landmarks | Any landmarks you have visited prior to v18.10 will not count towards this |
| Tomatohead | Consume 50 foraged items | N/A |
| Sunny | Complete 10 character punch cards | A more in depth explanation of how to do this can be found here |
| Mancake | Complete 10 bounties | N/A |
| Dark Bomber | Open 10 chests in the Sideways | A more in depth explanation of the Sideways dimension can be found here |
| Cluck | Craft 5 different items | N/A |
| Drift | Drive in a vehicle | N/A |
| Joey | Visit 3 different alien crash sites | N/A |
| Zyg | Eliminate 200 cube monsters | These enemies can be are found in the Sideways dimension |
| Cube Assassin | Defeat 1 Cube Assassin | N/A |
| Mecha Team Leader | Unlock 21 Toona Fish color bottles | This requires you to collect every single paint bottle on the island |
| Merry Marauder | Claim 41 Toona Fish Styles | This requires you to unlock every other Toona Fish character style (there are 41 excluding the Merry Marauder itself) |