'Fortnite' Season 8: Where Are the Gorgeous Gorge Bottle Locations
Fortnite Season 8 has introduced a new Toona Fish character that you can personalize with a variety of different color schemes. Here is everything you need to know about finding the paint bottles required for the "Diamond Blue" look.
What Is Toona Fish Customization in 'Fortnite'?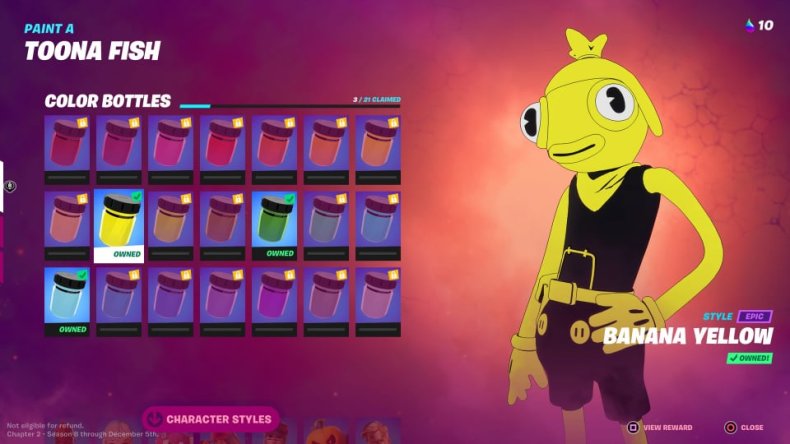 Toona Fish is basically Season 8's equivalent of the customizable Kymera. To unlock different cosmetics for that older avatar (including armor patterns, unique hairstyles and even different eyes) you needed to hunt down alien artifacts that were scattered all over the map.
The Toona Fish works in a very similar way, only now you will be on the lookout for rainbow ink instead. This new item is found in random loot chests and can be spent in the "Paint A Toon" menu to apply different colors to your monochrome character.
However, before you can use certain paints, you must find their respective bottles first. In the case of the Diamond Blue, you will need to look around the Gorgeous Gorge landmark.
Diamond Blue Paint Bottle Locations
To unlock the Diamond Blue color for Toona Fish, you will need to find three Diamond Blue paint bottles.
These are located in close proximity to one another in the Gorgeous Gorge region. For those who do not know where this landmark is, it can be found to the northwest of Lazy Lake. The blue pinpoint marker on the map below shows precisely where you need to be.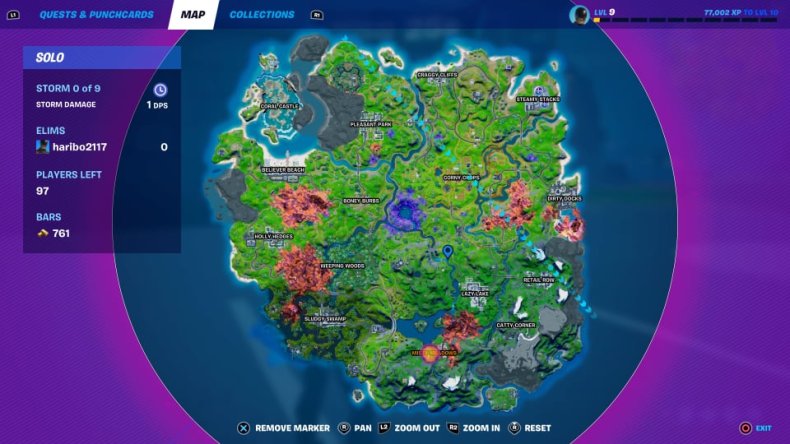 The Diamond Blue paints are not spread very far apart. In fact, it is entirely possible to get the whole set with one well-timed jump.
The first bottle is situated at the precipice of the Gorgeous Gorge waterfall. The second is then floating mid-air (about halfway down the drop), and the final one is right where you should land in the river.
If you time it perfectly, you should be able to get all three by diving off the edge of the waterfall at the right angle, but that is easier said than done.
If you botch the jump, rest assured that you can still get each paint bottle separately. In terms of getting that tricky second one (halfway down the waterfall), you can always just exit the battle bus above Gorgeous Gorge at the beginning of a battle royale match and then use your glider to slowly steer yourself into the correct position.
The exact locations for all three "Diamond Blue" paint bottles are depicted in the slideshow below.
For more help with Fortnite Season 8, read Newsweek's guides on where to find IO Guards, how to use shadow stones and how to complete "Sideways Encounters".