'Forza Horizon 5' Barn Finds Locations: Here Is Where To Find Every Hidden Car
Most cars in Forza Horizon 5 can be unlocked by simply purchasing them from the showroom, or by winning them on the "Wheelspin" gacha machine. However, there are a few vintage rides that you can only add to your collection by finding them in disused storage units dotted around the map.
There are 14 of these so-called "Barn Finds" for you to track down and restore, some of which are remarkably well hidden. When you discover one of the neglected cars, it will not be added to your inventory straight away and you will instead have to wait for a fixed period, so that it can get a bit of much-needed TLC from a mechanic. Once this time has elapsed, it will then be added to your garage.
Throughout the game, you will periodically receive calls from other characters, tipping you off about the locations of barn finds. These hints will come through at random intervals, meaning that you can get them in any order (with a few exceptions).
After receiving a tip, you will notice that a purple circle appears somewhere on the map, giving you a vague idea of the area you need to search. Yet these are hardly precise coordinates, and you could still be looking around for quite some time.
To help you locate each of the barn finds with ease, Newsweek has put together this handy guide.
'Forza Horizon 5' Barn Find Locations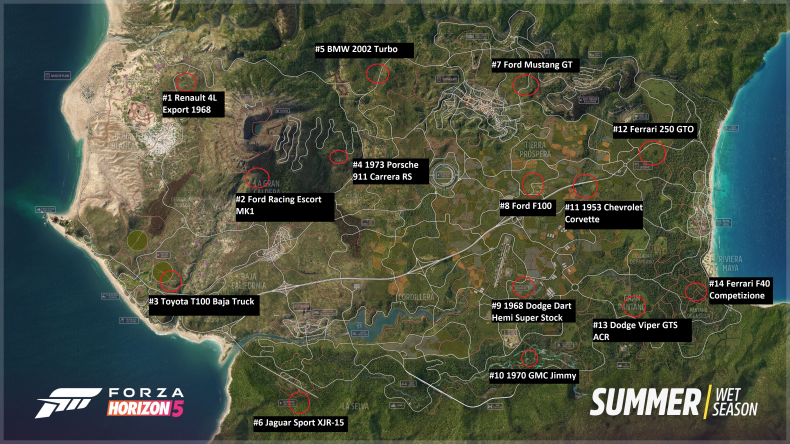 Renault 4L Export 1986 Location: This car can be found in the far northwest desert area of the map.
Ford Racing Escort MK1 Location: This barn is just above the "L" in "La Gran Caldera" on the map.
Toyota T100 Baja Truck Location: This truck can be found on the outskirts of the southernmost crop circle. It is just south of De Otro Mundo.
Porsche 911 Carrera RS Location: This barn find is at the eastern base of the La Gran Caldera volcano. It is concealed by a lot of trees, but if you look out for the bright red house you will eventually see it.
BMW 2002 Turbo Location: This is one of the more remote barns, without any memorable landmarks in its vicinity. You will need to be on the lookout for a small dirt road (to the west of Guanajuato) that will lead you to a farm in the north. The barn is hidden just behind this farm.
Jaguar Sport XJR-15 Location: Before you can even attempt to locate this barn, you will first need to complete the Wilds Expedition (which has an entire section dedicated to tracking down the Jaguar XJR-15). Once you have done this, head over to the far south of the "Aerodrom En La Selva" landing strip to find the barn.
Ford Mustang GT 2+2 Flashback Location: This famous movie car can be found in a barn near an s-shaped curve in the road. It is just to the northeast of the Guanajuato city tourist destination.
Ford F-100 Location: This barn find is located in the fields south of Tierra Prospera.
Dodge Dart Hemi Super Stock Location: An easy way to find this car is to look directly underneath the "can" in "Teotihuacan" on the map.
GMC Jimmy Location: This barn find is situated in the muddy swamp region, just south of Atlantes de Tula on the map. For it to appear in the first place, you must complete the optional objective of reaching the central ruin in the Apex Expedition. We have instructions on how to this here.
Chevrolet Corvette Location: This car is just a little to the east of the Ford F-100 barn, located near a bridge.
Ferrari 250 GTO Location: This classic sports car can be found just to the northeast of the Los Jardines sign on the map.
Dodge Viper GTS ACR Location: This car can be easily found by going to the last "A" in "Gran Pantano" on the map.
Ferrari F40 Competizione Location: This final car can be found in the forest area near Rivera Maya.
Forza Horizon 5 is available on Xbox One, Xbox Series S, Xbox Series X and PC. It is also featured as part of the Xbox Game Pass service.