'Forza Horizon 5': What Movie Is the 1968 Ford Mustang GT Fastback From?
The 1968 Ford Mustang GT Fastback is just one of over 500 cars that you can drive around the scenic world of Forza Horizon 5. Yet despite being featured in such a crowded line-up, the vehicle does manage to stand out from the crowd, on account of its unique place in movie history.
There are lots of different ways to earn new cars in Forza Horizon 5. Some are awarded to you for finishing races, others can be purchased with credits (or won via the wheelspin prize reel), and you can even receive them as gifts from other players online.
While most of the vehicles can be unlocked through any of these methods, there are some that you can only acquire by doing certain missions. Specifically, 14 neglected rides have been left abandoned in various places around the map (often barns) for you to retrieve. After discovering one of these derelict relics, you will then have to wait for an allotted period of time to elapse, so that they can be professionally restored, at which point they will be added to your garage.
The 1968 Ford Mustang GT Fastback is one of these run-down vehicles in dire need of some TLC. It will likely be the 3rd or 4th one that you find, assuming that you investigate the tips in the order that they come to you.
Considering that you really have to go out of your way to locate it, you will probably expect the car to boast some impressive performance figures. However (even though it is classified as a "legendary" model) it's not all that impressive when you finally get to hop behind the wheel.
The retro vehicle only has a speed rating of 5.7 (out of 10) and a horsepower of 325. Meanwhile, the rest of its stats are even lower, with a handling score of 3.9, an acceleration of 3.4, a launch of 3.3 and abysmal braking rated at 2.3. It's not even valued that highly, as you will only get about 50,000 credits if you choose to sell it at the showroom.
With all that being said, the uninitiated might be wondering why you have to go through so much trouble just to pick up this ostensibly mediocre four-seater.
What Movie Is the 1968 Ford Mustang GT From?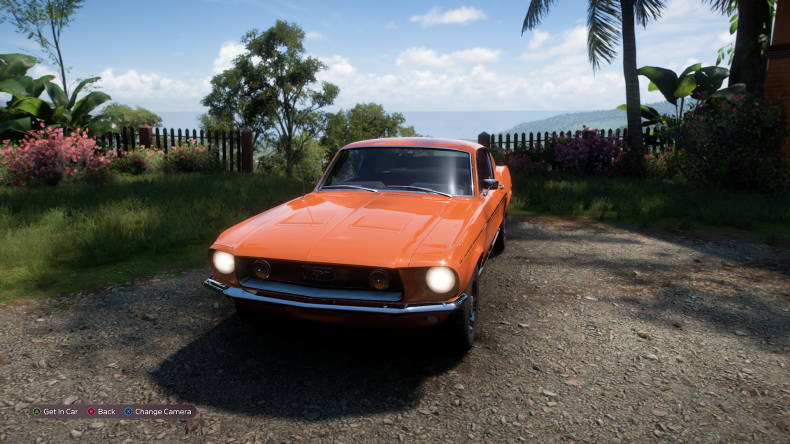 The answer is that the Ford Mustang GT is desirable not because of stats, but because of its iconic status and signature cool factor.
As your in-game companions point out over the phone, the main appeal of the fastback is that it featured memorably in a classic movie. What they will not tell you, however, is the title of said film.
There are vague allusions to the car being used by a detective and to shots of it zooming down the hilly streets of a bustling city, but no one ever explicitly names the flick itself. If this ambiguity has been driving you mad (no pun intended), then allow us to spare you further anguish.
The Ford Mustang GT was featured prominently in 1968's Bullitt, where it belonged to the titular police officer, played by Steve McQueen. The movie is famous for its indelible high-speed chase, which saw the Mustang hurtling down the streets of San Francisco while being pursued by a Dodge Charger.
It's frequently hailed as one of the best car chases in all of cinema, arriving in second place in Insider's countdown on the subject, and being crowed the top pick for both ScreenRant and top 10 list connoisseurs WatchMojo. In his review of the movie, legendary film critic Roger Ebert also praised the set-piece, writing: "They slam into intersections, bounce halfway down the next hill, scrape by half a dozen near-misses, sideswipe each other, and leave your stomach somewhere in the basement for about 11 minutes."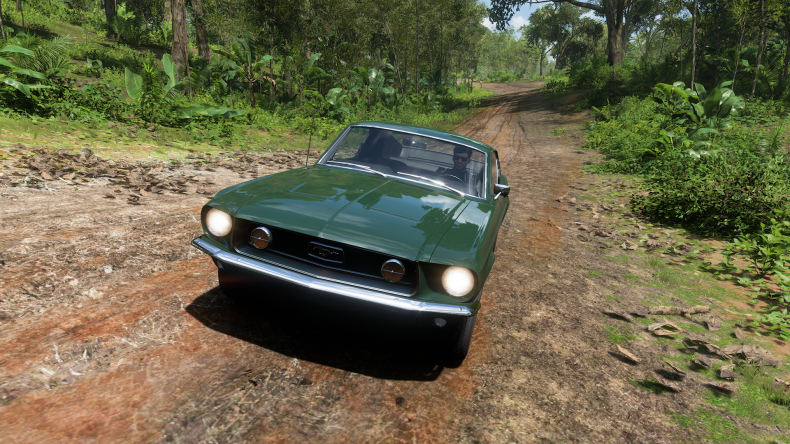 Given that the Ford Mustang GT is at the center of this famous sequence, it is no surprise that it has become a favorite of cinephiles and motorheads alike. In fact, it remains one of the bestselling sports cars of all time.
While the model featured in Bullitt has a highland green paint job, the one you pick up in Forza Horizon 5 is initially orange. Of course, you can always head into the design menu to give it a respray so that it better resembles the iconic movie version.
Once you have done that, you can then head down to one of the built-up city areas, like Guanajuato, to channel your inner Steve McQueen and go speeding down the streets.
Forza Horizon 5 is available on Xbox One, Xbox Series S, Xbox Series X and PC on November 9, but those who pre-order the premium edition can download it right now. The game will also be featured as part of the Game Pass service at launch.