How To Unlock the Chicken Suit and Fiesta De La Luna Chicken Suit in 'Forza Horizon 5'
The chicken suit is one of several outfits in Forza Horizon 5 that can only be unlocked by completing a given task.
At the start of Playground Games' open-world racer, you will get to customize your own "superstar" driver, so that you can better stand out from the crowd during online matches. Here, you will have several options for choosing your avatar's face, their voice and even if they have prosthetic limbs.
Yet your wardrobe selection is initially quite limited. You will only have access to a couple of plain tops and some pants, but if you want to get any more stylish then you will have to prioritize unlocking the rest of the game's cosmetics.
There are plenty of hats, sunglasses, dresses, wristwatches, and face coverings to try on, most of which can just be purchased with the credits that you earn from winning events.
That being said, there are multiple ways that you can unlock articles of clothing here. Some can be bought from the Forzathon shop (using the game's premium currency), while others are handed out as prizes on the "Wheelspin" gacha machine.
Then there are those cosmetics that are not available for purchase whatsoever and must instead be earned by completing specific challenges. Such is the case with the quirky chicken suit and its Fiesta De La Luna variant.
How To Unlock the Chicken Suit in 'Forza Horizon 5'
The chicken suit is one of the easier cosmetics to unlock in Forza Horizon 5.
All you have to do is purchase the Buena Esperanza property in the south east portion of the map. The villa is admittedly quite costly, but it will provide you with a convenient fast travel destination and quick access to the otherwise difficult to reach jungle areas.
Once you have moved into your new home, the chicken suit will immediately be added to your locker.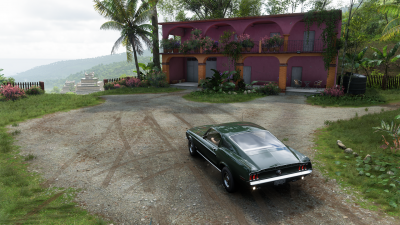 How To Unlock the Fiesta De La Luna Chicken Suit
As for unlocking the gaudy "Fiesta De La Luna" variant of the chicken suit, you will have to attend the festival after which it is named.
This "Full Moon" party is featured in the Horizon Adventure story campaign. Specifically, it is the introductory event for the "Rush" PR stunts outpost, which you can unlock at any point after the tutorial section is over.
In this event, you will get to drive a colorful parade float down the local boardwalk and eventually send it hurtling over a cliff. Upon completion of the mission, you will be awarded the Fiesta De La Luna chicken suit.
However, the outfit will not be automatically added to your locker, and you will have to manually redeem it by heading into the accolades menu. There, you will find it in the "Expeditions" page, under the "Canyon" tab.
In related Forza news, if you were wondering what film the abandoned movie car appeared in, then you can find the answer to your question right here.
Forza Horizon 5 is available on Xbox One, Xbox Series S, Xbox Series X and PC on November 9. Those who pre-order the premium edition can download it early right now. The game will also be featured as part of the Game Pass service at launch.