Forza Horizon 5 Trailer Reveals What Vehicles Are Coming to the Game
Forza Horizon 5 takes the action of video game car racing to Mexico, giving gamers a diverse landscape of living deserts, jungles, historic cities, ancient ruins, beaches, canyons, and a snow-capped volcano where they can get behind the virtual wheel of some of the most exclusive vehicles in the world.
The first trailer for the next-generation game debuted during the Xbox and Bethesda E3 Showcase showing off the widest variety of vehicles in the game's history. It gave audiences their first look at the game's serious off-roaders like the Ford Bronco and Chevrolet Colorado ZR2. There were also super luxury sports cars from Koenigsegg, Pagani, Lamborghini, and McLaren, among others. The Porsche Taycan might be the most pedestrian model on the list.
Check out the list of what vehicles you will see in the game, as first published by Windows Central, based on what was in the trailer, by scrolling down. Hundreds of models are expected by the time the video game is released.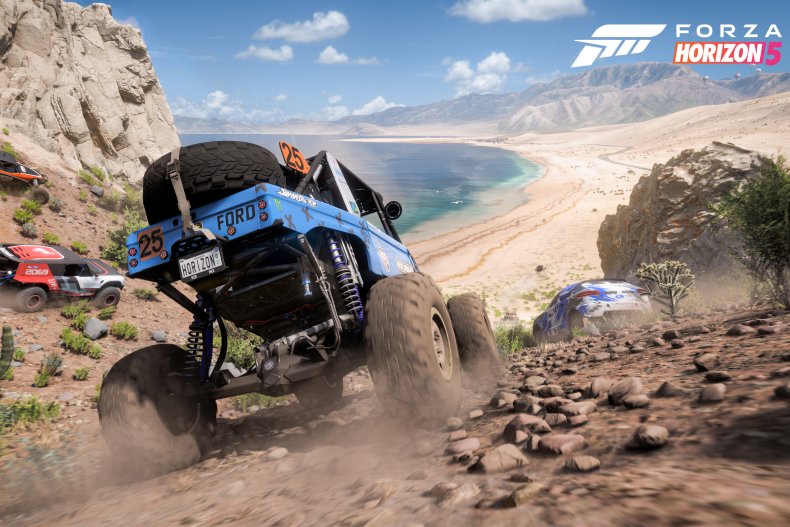 On November 5, buyers who have opted for the game's Premium Edition ($99.00) and Premium Add-Ons Bundle ($49.99) will get access to the game. Standard ($59.99) and Deluxe ($79.99) editions of Forza 5 Horizon will be released November 9 on Xbox One, Xbox Series X|S, and PC. Pre-orders are currently being accepted.
Aluminum Craft Class 10
These lightweight cars are run by a 2.4-liter Ecotec engine that comes paired with a six-speed sequential gearbox. Its 121-inch wheelbase is about the same as the new Ford Maverick. Other highlights include 20 inches of front and rear wheel travel, MasterCraft seats, and Robby Gordon Race Wheels with beadlocks that come wrapped in BF Goodrich Baja tires.
McLaren Senna
The Senna is the most track-focused road car that McLaren has ever built. The car was inspired by former McLaren Formula One racing driver Ayrton Senna, who is widely regarded as one of the best F1 racers of all time. The car's twin-turbocharged 4.0-liter V8 engine can get it up to 208 mph.
Apollo IE
The Apollo IE is a blank sheet hypercar that combines the track prowess of GT1/GT3/LMP race cars with a naturally-aspirated 6.3-liter V12 engine. Just 10 units of the $3 million super-luxury car are planned in real life.
Chevrolet Camaro ZL1 1LE
Chevy's 1LE Track Package is all about performance. It takes precision braking, handling, and grip up a notch on the Camaro. All 1LE models wear a Satin Black-wrapped hood and come standard with black mirrors, spoiler, and splitter. Under the hood, a supercharged 6.2-liter V8 that's rated at 650 horsepower. An electronic limited-slip differential, 19-inch forged aluminum wheels, and Multimatic DSSV dampers are standard. Buying the car from a dealer will cost around $71,000.
Chevrolet Colorado ZR2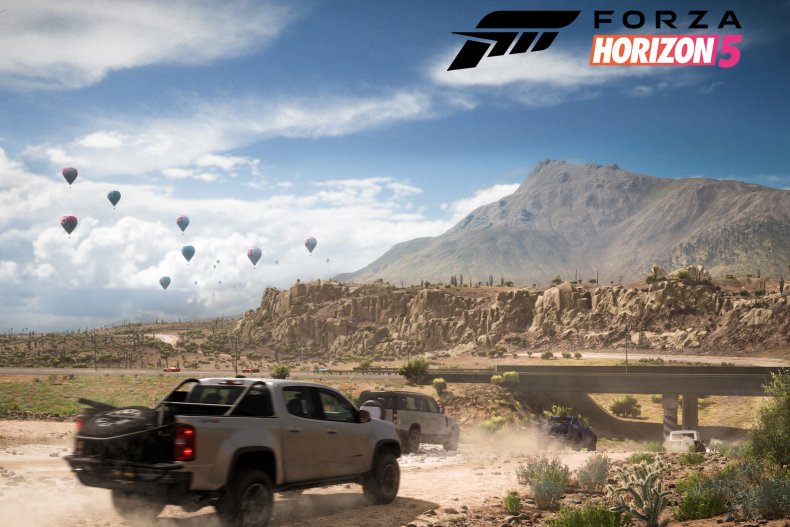 GM's midsize off-road beast is hitting the streets, trails, and open desert of Forza Horizon 5 bringing Baja-ready looks and its traditional, impressive on- and off-road prowess. In real life, the truck has either a 3.6-liter V6 or 2.8-liter Duramax turbo-diesel four-cylinder power plant, and it goes over $45,000.
Ford Bronco
The Ford Bronco has returned to American streets and its new iteration has made its way into the new Forza Horizon 5 game. The Bronco delivers off-road performance that makes it a direct competitor with the Jeep Wrangler. Ford has designed the Bronco to be modded from tip to tail, much more than you'll be able to do in the video game.
Mercedes-AMG GT 4-Door Coupe
The four-seater Mercedes-AMG GT 4-Door Coupe is a robust sportscar. The car's biturbo V8 makes 577 or 630 horsepower, depending on the spec chosen, which make it the most powerful AMG with four doors. It's engineered for both road and track and comes loaded with some of the highest tech equipment Mercedes offers.
Hennessey Velociraptor 6X6
With a real-world starting price of $349,000 the Hennessey Velociraptor 6X6 starts with the base of a 2020 Ford Raptor then adds an upgraded suspension, 20-inch wheels wrapped in off-road tires, unique front and rear bumpers, a rollbar, 6X6 locking rear axles, and LED lights, among other equipment. Hennessey Performance has upgraded the twin-turbocharged engine to produce over 600 horsepower.
Lamborghini Aventador LP700-4
This model is the first-generation Aventador. It gets 690 horsepower and 509 pound-feet of torque from its 6.5-liter V12 engine. That power plant moves the car from zero to 62 mph I'm 2.9 seconds. It can hit 100 mph from a standstill in just 6.4 seconds.
Ford Bronco R Baja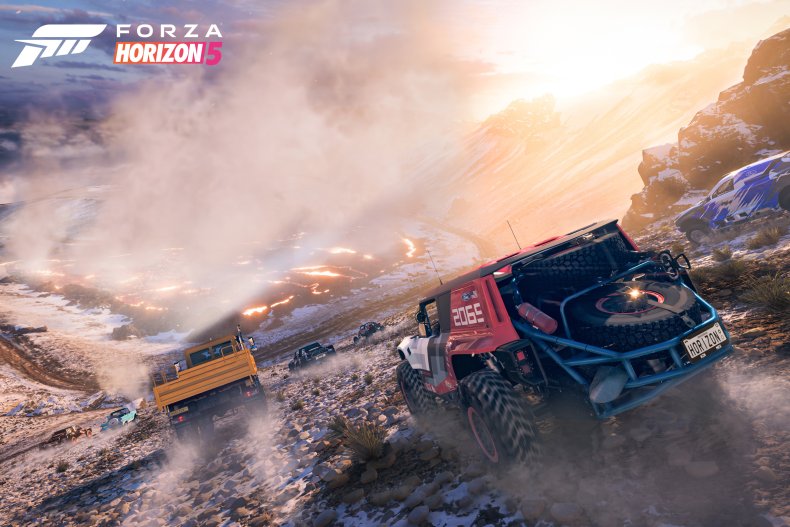 Ford's Bronco R Baja takes the off-roading abilities of the Bronco up a notch and gives it styling that made it ready to race in the 2020 SCORE-International Baja 1000. That truck has a 2.7-liter EcoBoost engine under the hood that was paired with a 10-speed automatic transmission. It served as the test for what would become the Bronco's Terrain Management System calibrations.
Funco Motorsports F9
This sandcar made its way to Forza Horizon 4 and is back for Forza Horizon 5. The car has a massive 7.4-liter twin-turbocharged V8 in the back that gives drivers access to 1750 brake horsepower and 1475 pound-feet of torque. The engine is paired with a five-speed transmission.
Mercedes-Benz Unimog U5023
If sports cars aren't your style, you may want to try out the Unimog. The all-terrain truck is a master of modern technology coming equipped with all-wheel drive and an engine that puts out up to 227 brake horsepower and 663 pound-feet of torque.
Jaguar XJR-15
The Jaguar XJR-15 two-seater sports car is a unique add to the Forza gaming universe. It was produced by JaguarSport between 1990 and 1992. Only 53 chassis were made. The car gained notoriety as the world's first road car made of carbon fiber.
Local Motors Rally Fighter
The Rally Fighter is street legal in all 50 U.S. states, but you won't find many of them out there. Its 6.2-liter V8 engine is paired with a four-speed automatic, which is more than enough to get it going on off-road trails and in the desert. It isn't just a bare-bones desert racing car. The Rally Fighter comes with a three-point harness, Recaro seats, air conditioning, a stereo, power windows, and a full roll cage.
Chevrolet Corvette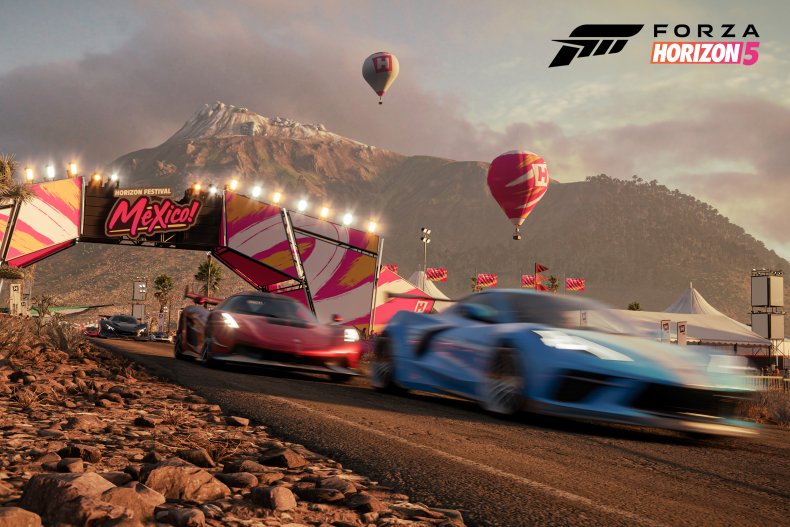 The mid-engine Corvette impresses with its on-road and track day capabilities. Infused with Chevy's latest tech, the Stingray base model was the first C8 off the line. Now it's available as a drop-top as well, with prices for both starting below $70,000 at Chevy dealerships nationwide.
Ariel Nomad
Nomad's lightweight, all-terrain properties further the story of the Ariel Atom and translate the popular car into a desert racing form. The company is quick to point out that its upgraded $92,250 Nomad Tactical can "deliver you downtown for dinner in style" in addition to taking the road less traveled. The base Nomad Sport starts at $80,000.
Penhall The Cholla
This off-road beast of a vehicle is no stranger to Forza Horizon fans. Its real-life counterpart won its Baja 1000 class by four hours in 2011. The model was added to the gaming series starting with Forza 3.
Lamborghini Huracán LP610-4
Lamborghini built the first iteration of the Huracán from 2014 to 2019. It was available in nine variants during that time including the 2017 Pope Francis version, which was signed by the Pontiff himself.
Ford De Luxe Five-Window Coupe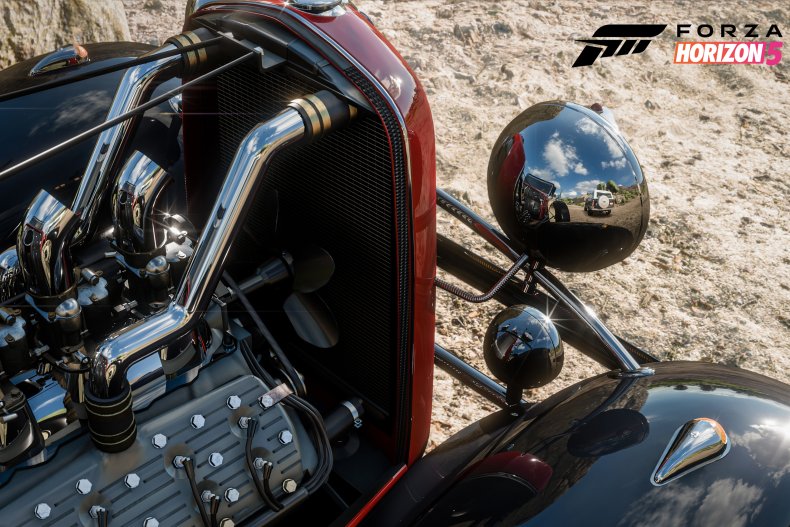 The Ford Coupe '32 has been featured in every Forza since the third iteration. In 1932, the coupe, known as the Model B, was the first Ford production model to be fitted with a V8 engine. Its 3.6-liter V8 achieved just 65 horsepower for the 1932 model year but was increased in subsequent editions.
Mercedes-Benz Unimog U5023
If sports cars aren't your style, you may want to try out the Unimog. The all-terrain truck is a master of modern technology coming equipped with all-wheel drive and an engine that puts out up to 227 brake horsepower and 663 pound-feet of torque.
Polaris RZR XP 1000 EPS
The XP 1000 is the industry's best-selling SxS for good reason. It's designed to tackle tough terrain and comes loaded with a host of safety, comfort, and convenience features that make it easy to live with like LED lighting and GPS mapping. Polaris offers a host of accessories for buyers to customize their purchase with.
McLaren 720S
With a $299,999 real-world price tag, the McLaren 720S is an exclusive supercar that lives up to its billing. It has a top speed of 212 mph thanks to its 4.0-liter V8 when a driver makes full use of the available 710 brake horsepower and 568 pound-feet of torque. It's just as fast to 62 mph as the Lamborghini Aventador LP700-4.
Land Rover Defender 110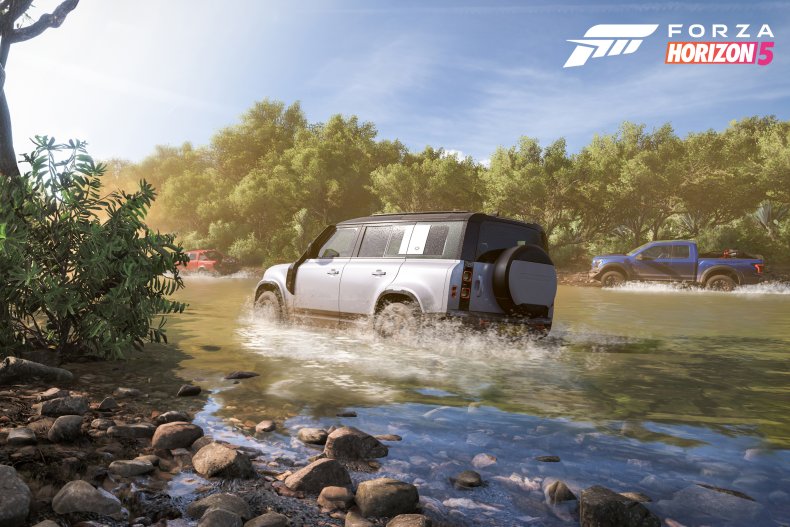 The current Land Rover Defender comes in two sizes, 90 and 110. Forza Horizon 5 features the longer Defender 110, which is just as proficient off road as the 90. Not only can the new Defender be seen in the video game. It has a supporting role in the new James Bond movie "No Time to Die".
Porsche Taycan
Porsche's all-electric sportscar is making its debut in Forza Horizon 5. In real life, the model is available only as a sedan (the Taycan Cross Turismo is forthcoming) and starts at $79,900. It has an EPA-estimated 225-mile range and drivers get access to up to 402 horsepower. Launch Control helps move the car from zero to 60 mph in 5.1 seconds.
Subaru Impreza 22B STI
This car may be the biggest sleeper of this list. Just 424 of the right-hand drive cars were made for the 1998 model year, strictly for the Japanese and U.S. markets. What makes this model so special is its larger-than-usual 2.2-liter engine and wide-body design, which it shared with Subaru rally cars at the time. Also, it's a coupe.
Pagani Huayra BC
When it debuted, this roadster would cost you $3.4 million to get, if you ordered before they sold out. The last in the Huayra line, just Huayra BCs were able to be ordered. The two-door car's powerful engine moves the lightweight supercar across the track in a hurry. Final specs are still pending.
Mitsubishi Lancer Evo X GSR
Though it cost less when it was new than most of the cars on this list, the Mitsubishi Lancer Evo X GSR is no slouch. It has a turbocharged 2.0-liter under the hood that delivers 295 horsepower and 300 pound-feet of torque. Buyers could choose between a manual or auto magic transmission when it came to market. Low-aspect tires, strong Brembo brakes, and four-wheel drive dynamics made the GSR stand out.
Mercedes-AMG Project One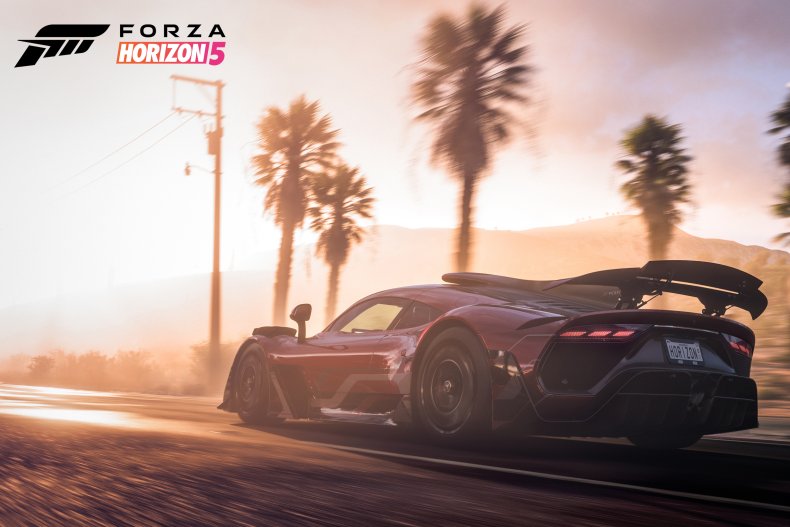 Mercedes-Benz calls the car a "savage blend of science and spirit" and they're not wrong. The car takes Formula One performance to the road with a hybrid powertrain that puts out 1,000 horsepower and has a top speed of 217 mph. It runs on forged aluminum wheels wrapped in Michelin Pilot Sport Cup 2 tires. All 275 planned production models of the car have been sold for $2.72 million each.
Rimac C_Two/Nevera
Rimac recently renamed its new all-electric hypercar the Nevera, which isn't to be confused with the Nissan Navara pickup truck. It's one of the fastest production cars in the world. The model's 6,960 battery cells move it from zero to 60 mph in 1.8 seconds. Its top speed s 258 mph.
Porsche 911 Carrera S
The new Porsche 911 Carrera S has a starting price of $117,100. For that money, buyers get a powertrain that delivers 443 horsepower, which is enough to get the car from zero to 60 mph in 3.5 seconds. It tops out at 191 mph on the track.
McLaren 720S Spider
The 720S Spider delivers nearly the exact same performance as the McLaren 720S coupe, but with its roof off. They share an engine and output figures. Its starting price is $315,000 when ordered new from a dealership.
Ford F-150 Raptor
Ford won't say whether we'll see the 2020 or next-generation 2021 Raptor in Forza Horizon 5, but either way it's sure to be a formidable truck in nearly all the landscapes that the new game offers.