Founder of Donald Trump's Favorite Poll Predicts Democrats Win House but Republicans Could Add Senate Seat
The man originally behind President Donald Trump's favorite and most positive approval rating poll said he tentatively believes Democrats will take back the House but Republicans could also make a one-seat gain in the Senate.
During an interview with Newsweek on Wednesday, Scott Rasmussen discussed his new polling venture as well as data he's collected that shows similar approval ratings as his old firm, Rasmussen Reports.
Rasmussen left his company in 2013 and stepped away from polling to write. He has since launched ScottRasmussen.com with research firm HarrisX as he re-enters the world of polling. He said he plans not only to focus on approval ratings and congressional races, but also explore the political consciousness and knowledge of the electorate on issues like socialism, immigration and the impact of presidents on daily life.
"Politically charged words don't mean the same thing around the country," he said.
Newsweek subscription offers >
Citing the fact that no one can accurately predict what turnout will be in this fall's midterm elections, Rasmussen said right now he thinks Democrats have a slight edge in the House races.
"If you put a gun to my head and ask who would control the House, I would say Democrats. But don't rule out either party," Rasmussen said, while mentioning Republicans could even strengthen their majority in the Senate by one seat.
President Trump has claimed a "red wave" of Republicans will head to the polls to counteract the much ballyhooed "blue wave" of Democrats. But most generic midterm polls, including Rasmussen's latest, indicate the Democrats are ripe to take back at least the House. Rasmussen found 42 percent of registered voters would vote for a Democrat in the fall, compared with 36 percent of respondents picking a Republican.
That six-point differential in the Democrats favor largely falls in line with midterm polling throughout the year. Presently, Democrats are favored at 46.3 percent and Republicans sit at 39.6 percent, according to RealClear Politics's average.
Newsweek subscription offers >
And even the president's preferred news channel, Fox News, found Democrats ahead 49 to 38 percent in a poll conducted between August 19 and 21.
In terms of the president, Rasmussen found identical overall approval numbers aa his old firm. Forty-seven percent of voters approve of Trump, with 53 percent disapproving, according to both daily polls' results on Wednesday.
"His numbers are a little lower than he would like them to be, and obviously lower than other presidents," Rasmussen said. "If you go back to the 1970s there were real honeymoons with voters giving presidents a chance."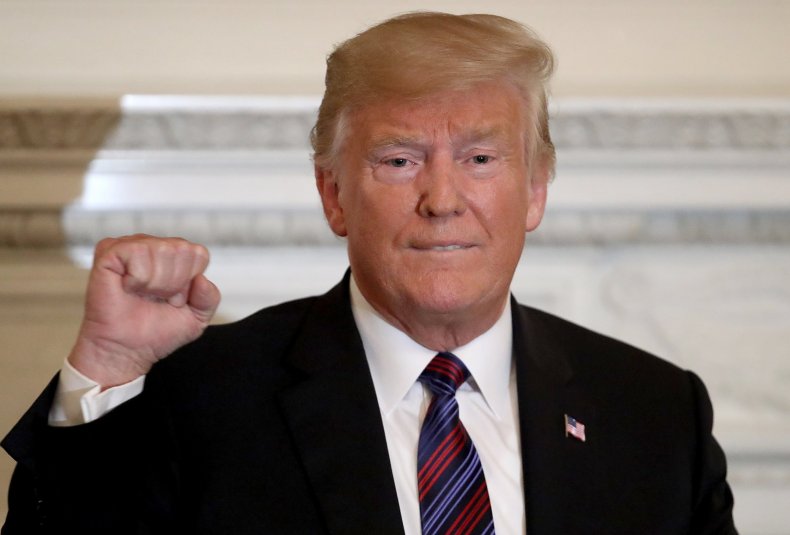 Rasmussen added that Trump is a "huge personality" capable of helping candidates get elected, and said the president could have a strong impact in Senate races in West Virginia, Missouri, Indiana, Montana, Wisconsin and North Dakota. All of those seats are presently held by Democrats and represent key battleground races for both parties.
Rasmussen also noted that both Trump and his former political foe, Hillary Clinton, were each viewed negatively by a majority of voters ahead of the 2016 election. The country has remained in the same political cycle ever since, and is unlikely to bust out for some time.
"The numbers are about where they were on Election Day, and everything that's happened since then has allowed people to fight," Rasmussen said. "And I don't think either side is ready to listen or change. The election has just continued into the midterms, and they will do so into 2020."
Founder of Donald Trump's Favorite Poll Predicts Democrats Win House but Republicans Could Add Senate Seat | U.S.