Four Additional Surfside Building Collapse Victims, Including 2 Children, Identified
The bodies of four additional victims in the Champlain Towers South building collapse have been identified in Surfside, Florida on Wednesday.
The bodies of Lucia Guara, 10, Emma Guara, 4, Anaely Rodriguez, 42 and Andreas Giannitsopoulos, 21, were all recovered and identified on Wednesday.
The Miami-Dade Police Department tweeted their names, ages, and body recovery dates Wednesday evening.
"We have identified four additional victims who tragically and unexpectedly lost their lives in the Surfside building collapse. The Guara sisters were only 4 and 10 years old," the tweet read. "Please keep their families and loved ones in your prayers."
The body of Marcus Joseph Guara, 52, Lucia and Emma's father, was recovered on Saturday and identified on Monday. Their mother, 41-year-old Ana Guara, was still missing as of Wednesday.
At least 18 people have been confirmed dead, and 147 more are unaccounted for since the building's partial collapse last week. Emergency search and rescue teams continue their efforts to locate and identify more people.
Previously identified victims include mother and son, Anna Ortiz and Luis Bermudez, Stacy Fawn Fang, 54, Manuel LaFont, 54, Hilda Noriega, 92 and married couple Antonio and Gladys Lozano, 83 and 79.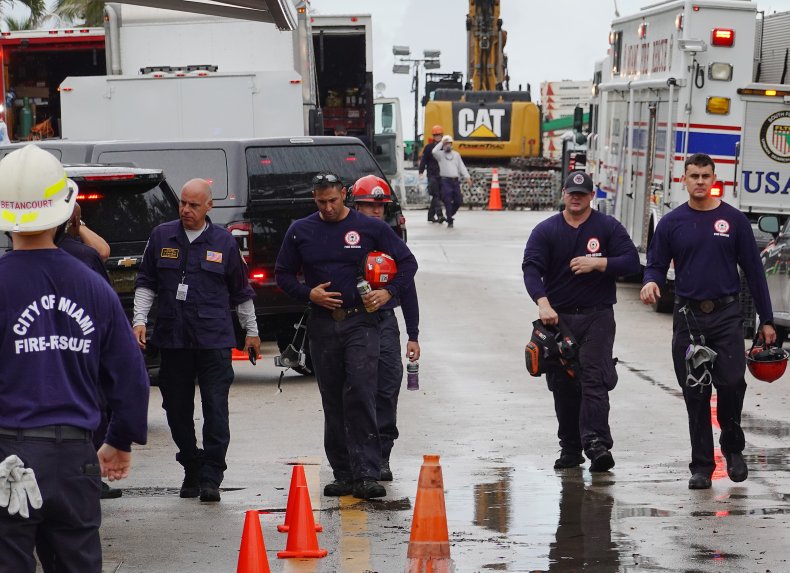 The definitive cause of the building collapse has not yet been identified.
A structural field survey report from 2018 showed that "failed waterproofing" in a few different areas of the structure was "causing major structural damage." Just months before the collapse, on April 9, the board president of Champlain Towers South, Jean Wodnick, sent a letter, acquired by CNN, to residents warning that the damage and decay were "accelerating."
"The observable damage such as in the garage has gotten significantly worse since the initial inspection," Wodnick wrote. "The concrete deterioration is accelerating. The roof situation got much worse, so extensive roof repairs had to be incorporated."
"Nothing like this was foreseeable," said Kenneth Direktor, an attorney for the building's condominium association. "At least it wasn't seen by the engineers who were looking at the building from a structural perspective."
Newsweek reached out to Direktor for comment.
The creation of a National Construction Safety Team to investigate the building's collapse was announced by James Olthoff, director of the National Institute of Standards and Technology, at a press conference on Wednesday. This comes after President Joe Biden promised a federal probe into the collapse.
This is only the fifth time the NIST has exercised its power to launch an investigation into a structural collapse. The institute was granted that power after 9/11.
Biden is set to visit the site of the accident on Thursday.