Four Key Takeaways From Judge Cannon's Order Granting Trump Special Master
A federal judge sided with former President Donald Trump on Monday, granting his bid for a special master to review documents seized by the FBI at Mar-a-Lago.
U.S. District Judge Aileen M. Cannon authorized an independent expert to examine nearly 13,000 records seized during the FBI's raid of Trump's Florida home on August 8. In a legal victory for Trump, Cannon also temporarily halted the Department of Justice (DOJ) from reviewing the records or using them in its criminal investigation.
The DOJ strongly objected to the appointment of a special master last week. In a 36-page filing, the agency argued that Trump should not be subject to an executive privilege review, given that he is a former president and the FBI is part of the current executive branch. In addition to being unnecessary, the DOJ argued that a special master could impede its ongoing investigation.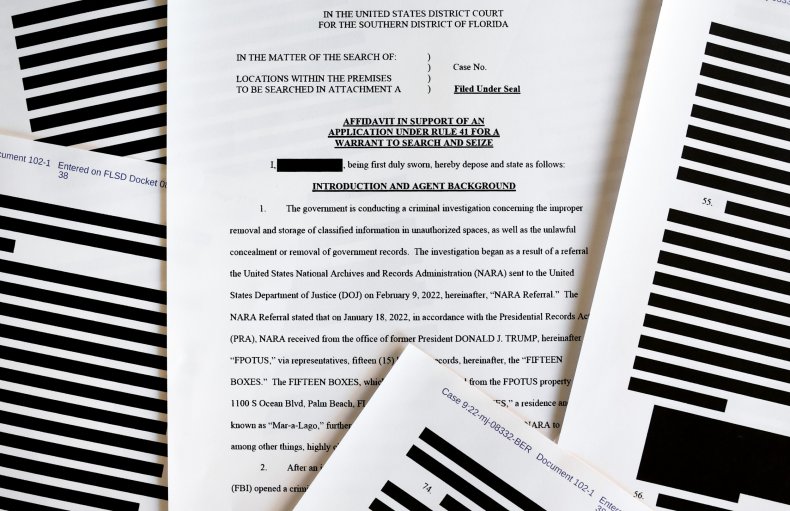 Here are four takeaways from Judge Cannon's order:
Delaying the DOJ Investigation
The ruling will likely delay the DOJ's probe into Trump's mishandling of classified documents, as the decision prohibits criminal investigators from reviewing the seized materials until the special master's review is complete.
Other special master reviews have taken several months.
Questions About Executive Privilege
Cannon disagreed with the DOJ's position that executive privilege did not apply to Trump, a former president under investigation by a current executive branch. She wrote that the DOJ's filing "arguably overstates the law."
The judge said in her decision, "Even if any assertion of executive privilege by plaintiff ultimately fails in this context, that possibility, even if likely, does not negate a former president's ability to raise the privilege as an initial matter. Accordingly, because the privilege review team did not screen for material potentially subject to executive privilege, further review is required for that additional purpose."
The special master will also examine the records for any protected by attorney-client privilege.
'Reputational Harm'
Cannon again sided with Trump by saying that a potential indictment would result in a unique degree of "stigma." She argued that a special master would prevent any improper disclosures that put the former president at risk of "unquantifiable potential harm."
"As a function of Plaintiff's former position as President of the United States, the stigma associated with the subject seizure is in a league of its own," she wrote. "A future indictment, based to any degree on property that ought to be returned, would result in reputational harm of a decidedly different order of magnitude."
No Sign of 'Callous Disregard'
The judge agreed with the DOJ on one question that could undercut Trump's defense.
"There has not been a compelling showing of callous disregard for Plaintiff's constitutional rights," Canon wrote. "This factor cuts against the exercise of equitable jurisdiction."
Newsweek reached out to Cannon for comment.