Four Loko Reveals New Sour Hard Seltzer With 14 Percent Alcohol Volume and Now All of Twitter is Drunk on Nostalgia
If you were a legal drinking age adult in the summers of the early 2000s or a rebellious teen college student, you more than likely have experienced the intoxicating rush of a Four Loko, granted you may not remember much about what happened after drinking the monster-sized malt beverage. In the years before Four Loko's 2010 prohibition, the various flavors of the caffeinated alcoholic drink—otherwise referred to as blackout-in-a-can—were all the rage on university campuses and party scenes alike.
Upon walking into a liquor store, 7-11 or any other place where booze is sold today, you'll see Four Loko is back on shelves without its former caffeine ingredient—a move the producer made in response to the dozens of teen and college-kid hospitalizations from drinking the original alcohol and caffeine recipe. However, it's incredibly high ABV content is all the same and it's the main selling point for Four Loko's latest product: hard seltzer.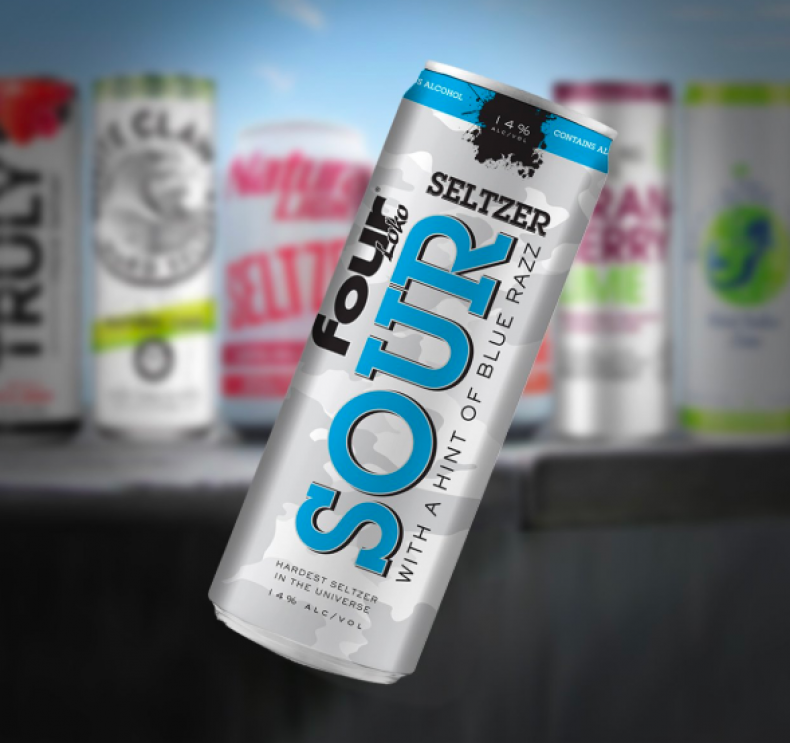 The brand revealed its entry into the ever-growing hard seltzer category with Four Loko Sour Seltzer on Tuesday. The first flavor to hit the shelves—Sour with a Hint of Blue Razz—hasn't been given an official release date as of yet, but Four Loko was sure to bait its competitors with the drink's 14 percent ABV.
"Hard seltzer ran so we could fly," the brand wrote in a Twitter post showcasing the new "drank."
In a follow-up post on Instagram, Four Loko screenshot the tweet and tagged fellow hard seltzer producers including Truly Hard Seltzer, Bon and Viv Spiked Seltzer, Press Seltzer, Henry's Hard Sparkling Water, Wild Basin Boozy Sparkling Water and the increasingly trendy White Claw. Those brands have a considerably low ABV, ranging from about 3.5 to 5 percent.
While the newest producers to enter the hard seltzer market, Pabst Blue Ribbon and Natural Light, boasted 8 percent ABV with their respective Strong Seltzer and Natural Light Seltzer brand announcements earlier in the week, fans of Four Loko were quick to note how much stronger the Sour Seltzers will be.
Though a number of people joked on social media that drinking Four Loko was simply not an option, there were plenty of people who were intrigued by Sour Seltzer's high ABV. In fact, the 14 percent ABV appeared to be a major advantage for some folks on Twitter compared to the low alcohol content of Four Loko's hard seltzer competitors.
It's unclear when exactly the Four Loko's Sour Seltzer will arrive, but one thing is already inherently clear—people are interested enough to want to try it when it finally does. See a few reactions to Four Loko's Sour Seltzer below.