Four MS-13 Gang Members Execute One of Their Own With Machete for Cooperating With Police
Four MS-13 gang members are accused of murdering one of their own with machetes because he was cooperating with police, according to reports.
The suspects— Miguel Aguilar-Ochoa, 33, Carlos Elias Henriquez-Torres, 18, Marlon A. Miranda, 19 and Wilson J. Ventura-Mejia, 22—have been arrested on suspicion of murdering 25-year-old Victor Manuel Castro-Martinez, whose body was found near Cullinan Park in Houston, Texas, on the morning of June 7.
The Harris County Institute of Forensic Sciences said Castro-Martinez died as a result of multiple "chop, sharp and blunt injuries," reports the Houston Chronicle.
According to court documents, seen by ABC affiliate KTRK, Miranda, Ventura-Mejia, Aguilar-Ochoa and Henriquez-Torres took it in turns "hacking" the victim after discovering he was working with police.
"Machetes, that's one of their weapons of choice. Machetes and guns, and that's only if they want you to die quickly," Mark Stephens, a former Houston undercover police officer, told KTRK. "I think what they did was lure him to his death."
During a probable cause hearing on August 23, it was revealed that Castro-Martinez was cooperating with law enforcement and had arranged to meet up with gang members on June 6, after officers provided him with a recording device.
His body was found the following morning, with the device still in his pocket.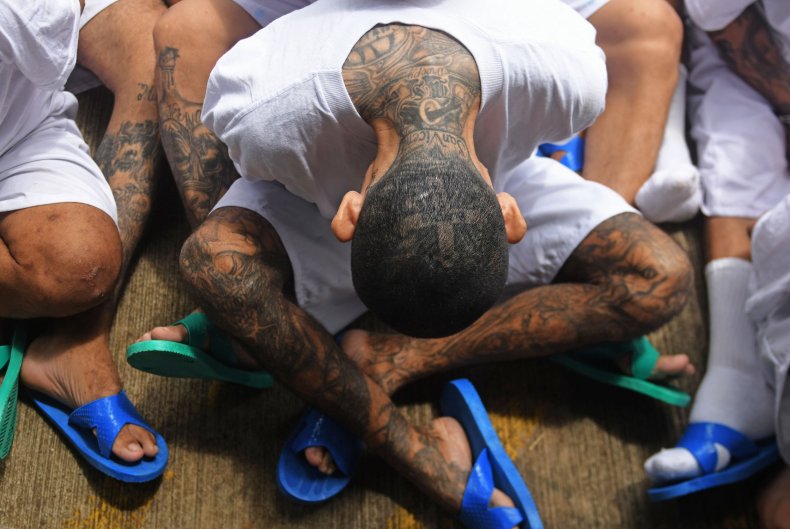 Stephens said any member from the infamous gang, known for their unbridled loyalty, would certainly be killed if found to be cooperating with police.
"The only way you leave MS-13 is in a body bag," he said.
Further details surrounding the arrests are expected to be provided by Houston Police at a news conference on September 3, along with information on numerous other investigations into MS-13 activity.
The notorious gang was founded in Los Angeles in the 1980s and believed to have as many as 10,000 members in the U.S. The gang is known for its members' distinctive tattoos and extreme criminal activity, best summed up by its motto "Mata, roba, viola, control" (Kill, steal, rape, control).
In 2012, the US Department of the Treasury officially designated MS-13 as a "transnational criminal organization," joining other feared gangs such as the Mexican cartel the Zetas and the Yakuza in Japan.
President Donald Trump has vowed to crack down on criminal gangs such as MS-13, repeatedly calling their members "animals" and "thugs."
In May, the White House even issued a press release entitled "What You Need To Know About The Animals Of MS-13."