Four-Star General Jack Keane Unsurprised by John Kerry Iran Allegations, Calls it 'Horrific Behavior'
Jack Keane, a retired four-star general, responded Tuesday to reports that John Kerry allegedly discussed Israeli military operations with Iran's foreign minister when he was secretary of state.
"First of all, Secretary Kerry is denying it and it is an allegation," Keane said while appearing on Fox News, where he is a senior strategic analyst. "But let's face it, I don't think any of us are surprised by this because we know a couple of things."
Keane said that Iranian Foreign Minister Mohammad Javad Zarif and Kerry have a "close relationship" from their work together on the 2015 Iran nuclear deal and alleged that the relationship continued when Kerry left office—a move Keane said was "completely irresponsible and downright reckless, and to a certain degree quite unprecedented in terms of our history."
"Our former government officials have certainly talked to people around the world, but to undermine foreign policy is something else," Keane added. "And what are we talking about? They were telling Zarif, 'Wait, don't give in to the Trump Administration, wait it out. A new administration is coming, it'll be likely much more friendlier to you.' That's a horrific behavior."
The New York Times reported Sunday that audio recorded last month captured Zarif saying Kerry told him Israel attacked Iranian assets in Syria at least 200 times. Zarif said he was shocked Kerry would reveal such sensitive information, according to the Times.
Kerry, who served as secretary of state from 2013 to 2017and is currently President Joe Biden's envoy on climate, has denied discussing Syria with Iran.
"I can tell you that this story and these allegations are unequivocally false," Kerry wrote in a Twitter post on Monday. "This never happened - either when I was Secretary of State or since."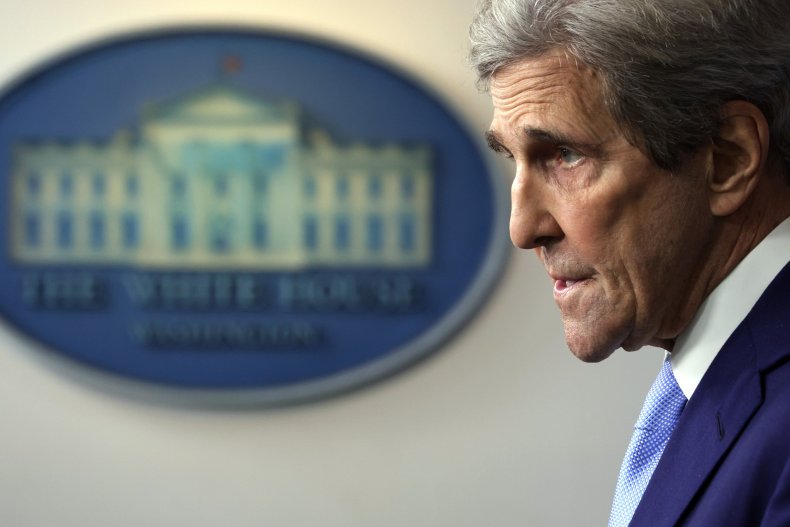 Kerry's statement came after criticism from multiple Republicans, as well as several calls for his resignation.
Nikki Haley, a former ambassador to the United Nations, accused Kerry of "tipping off Iran" and called the allegation "disgusting." Senator Ted Cruz of Texas said if true, Kerry's alleged discussion with Zarif would be "catastrophic and disqualifying recklessness."
Senator Dan Sullivan of Alaska went so far as to call for Kerry's resignation from the Biden administration's National Security Council.
"I don't do this lightly. In my entire time in the Senate, I've never called for anyone's resignation," Sullivan said in a floor speech on Monday. "But his record, John Kerry's record, of undermining working families and working against American national security interests was too much to bear. He needs to go."
When asked about the allegations during a news conference on Monday, the State Department said it can't speak to the authenticity of the reports.
"Again, these are—this is purportedly leaked material," spokesperson Ned Price said. "Can't speak to the authenticity, can't speak to the accuracy of it, can't speak to any motives that may be behind its dissemination. I would just make the broad point that if you go back and look at press reporting from the time, this certainly was not secret, and governments that were involved were speaking to this publicly on the record."