Fourth Anniversary of Raif Badawi's Arrest: Let's Not Lose Hope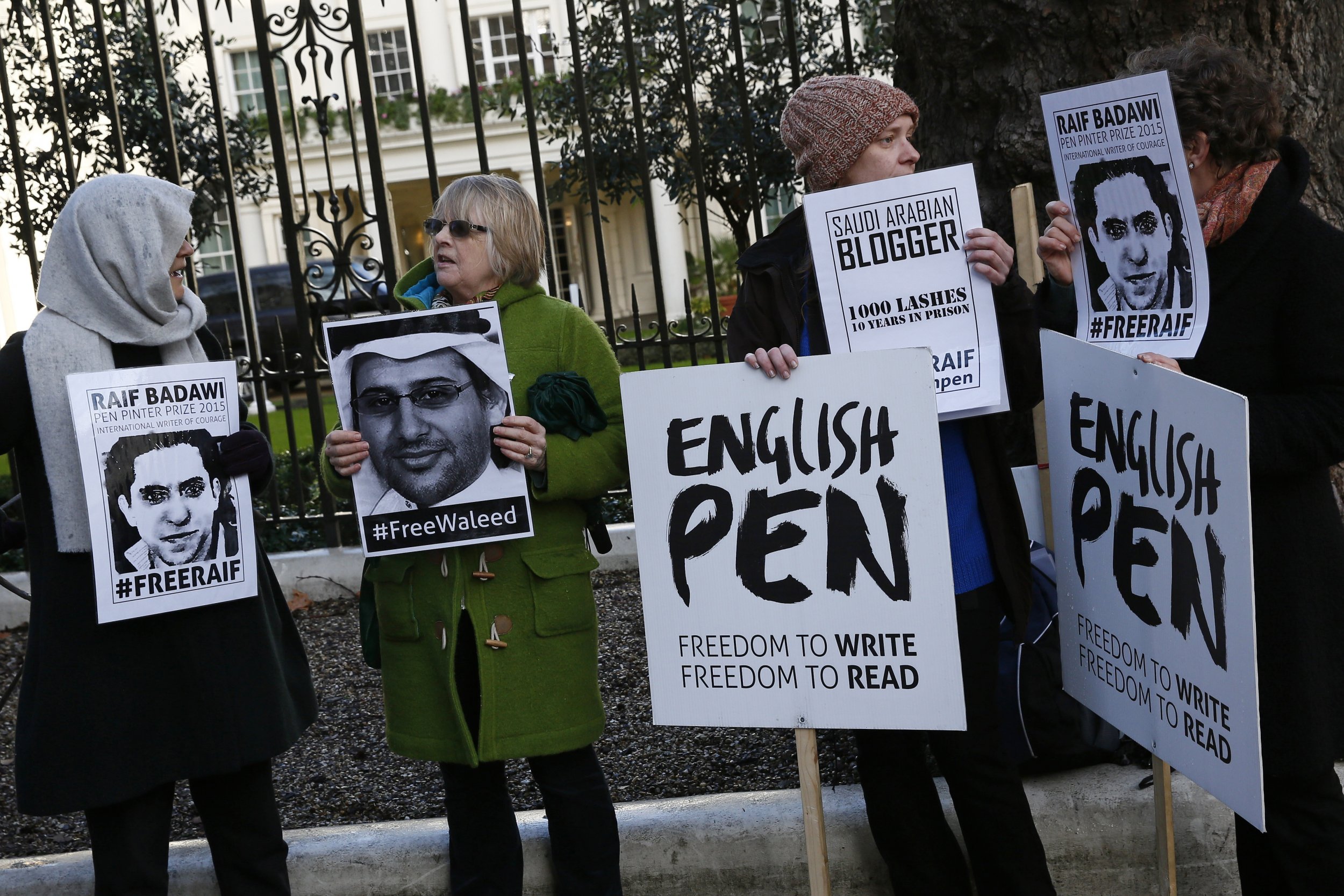 Today marks four years since the arrest of blogger Raif Badawi in Saudi Arabia in 2012. Two years later, in May 2014, he was sentenced to 10 years in prison and 1,000 lashes for "founding a liberal website" and "insulting Islam". However, it was not until the brutal public flogging on 9 January 2015, when Badawi was lashed 50 times in public with his hands and feet bound, that the world really began to pay attention to his case.
In the 18 months since, Badawi has become a cause celebre, a poster boy for freedom of expression. Of all the cases I've worked on in nearly a decade at English PEN, very few, if any, have been people whose names you could mention in passing and see a flash of recognition. At times I have questioned why it is that Badawi's case attracts so much attention, while many of the hundreds of other writers on the PEN case list continue to go relatively unnoticed, and there are no doubt hundreds, perhaps thousands, of other cases that we aren't aware of.
Is it his writing? The brutality of the punishment? The exile of his young family to Canada? The knowledge that our government could do so much more? The irony that just two days after that first flogging the Saudi ambassador to France was standing shoulder to shoulder with other world leaders on the streets of Paris proclaiming "Je suis Charlie"?
When poet James Fenton announced Raif Badawi as winner of English PEN's 2015 PEN Pinter Prize for an International Writer of Courage, he said: "What moved me was the contrast between the simplicity of Badawi's liberal aims—their modesty, almost—and the ferocity of the punishments they have brought down on him. Imprisonment, astonishing fines, corporal punishment designed to break either the spirit or the body first and to act as a chill warning to others."
In describing why Badawi's case captured his attention, and no doubt that of activists globally, Fenton also hinted at a bigger truth: what matters is not why we are drawn to a case, but what we do about it.
Every time we take action for someone like Raif Badawi, it isn't simply for his benefit or that of his family and friends who suffer so much in his absence. It is for every other writer, activist and free thinker in Saudi Arabia and the world over. These actions—every tweet, every letter to the authorities, every message of support, every vigil attendance—however insignificant they may seem at the time, can not only bring comfort to the beneficiary and put pressure on their persecutors, but can also help to prevent the chilling effect that these harsh sentences seek to have on others, to embolden those who might otherwise be cowed. This is why we must continue to use every opportunity to raise Badawi's case, to use our voices to ensure that his is not silenced.
Thanks to the tireless efforts of Badawi's wife Ensaf Haidar, organizations such as PEN, and his many supporters, the campaign for his release is still going strong. In addition to the PEN Pinter prize, Badawi has now received a further 15 prizes, including the Sakharov Prize and the inaugural IPA Prix Voltaire. An anthology of his writings, 1,000 Lashes: Because I Say What I Think, has been published in several languages. Ensaf Haidar's biography Raif Badawi: The Voice of Freedom was published in the UK earlier this year and she continues to travel the world, garnering further support for her husband.
PEN and many others continue to hold regular vigils and organize actions for Badawi. In the last two weeks we have received hundreds of photos from fellow human rights groups and supporters worldwide in response to our photo action alongside that of the Raif Badawi Foundation for Freedom of Expression—a poignant visual representation of the ongoing support for him and his family. Meanwhile, more than 140 writers and campaigners have joined our colleagues at Scottish PEN in urging the British government to do more ahead of today's anniversary.
Raif Badawi has not been flogged since that fateful Friday in January 2015. Initially this was because a team of medics ruled that it would be unsafe to do so, but after a few weeks no further explanation was given. We are hopeful that pressure from the international community has been a contributing factor, but there is still no guarantee that he won't be lashed again. Indeed, despite our best efforts, Badawi still faces another six years in prison, away from his young family, and with the threat of a further 950 lashes looming over him. But as his wife Ensaf Haidar told us during a recent visit to London, we must not give up hope. Because if we do, Raif Badawi may do so too, and countless other voices could be lost.
Cat Lucas is a writers at risk programme manager at English PEN, an organization that promotes freedom of expression.