Relations between the U.S. and Saudi Arabia have rarely been so strained.
The monarchy hates the U.S. nuclear deal with its regional archenemy, Iran. Congress and President Barack Obama are considering whether to release a famously redacted 28 pages in the official 9/11 report that are believed to reveal the extent of Saudi Arabia's involvement in those attacks. And the world is still stunned by yet another massacre perpetrated by a man infected with the Islamist ideology spawned by that kingdom's Wahhabi sect.
There's also some churning inside the desert oil kingdom. All but ignored by the outside world, countless dissidents are locked up in the monarchy's jails for thought crimes. Raif Badawi, a blogger charged in 2012 with "insulting Islam through electronic channels," wrote about gender equality and criticized the nation's religious police, who enforce rigid restrictions on gender roles, dress, speech and other private behavior. For that, he was sentenced to 1,000 lashes and 10 years in prison.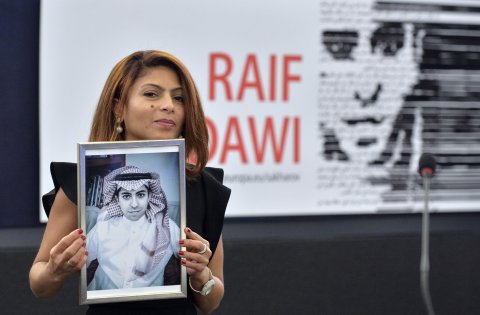 On January 9, 2015, the first 50 lashes were administered—and videotaped and uploaded to YouTube—but the lashing sentence has been stayed because of his health problems. Badawi, 32, is hospitalized after a third hunger strike—he is protesting his lack of access to medical care for his hypertension and kidney problems.
His wife, Ensaf Haidar, and their three children fled to Canada after his arrest and speak to him by phone a few times a week. They last saw him when they said goodbye at an airport in 2012, and their hopes of getting him released have been repeatedly dashed, despite broad international support. Haidar's book, Raif Badawi, The Voice of Freedom: My Husband, Our Story, published in May, tells the story of a man who evolved from conservative to secular and progressive. While promoting her book, she answered some questions from Newsweek:
How is your husband's health and spirit?
His spirit is very low and is deteriorating as time goes by. As for his health, I think that his spirit is reflecting on his health. Both his health and spirit are deteriorating.
What will it take for him to be set free?
It is up to King Salman, Crown Prince Mohammed bin Nayef and Deputy Crown Prince Mohammad bin Salman to issue a special pardon for him. All possible legal avenues have been already exhausted.
Do secular moderates have a chance to be heard in Saudi Arabia?
They don't have a chance to express their opinion. If anyone searches for the status of prisoners of conscience in Saudi Arabia, they will find plenty. Saudi Arabia needs to give space for individuals to express themselves freely, in a peaceful manner. People from abroad can help by demanding the government free the prisoners of conscience.
What exactly did he write that was considered "blasphemy"?
There was no blasphemy. He was calling to limit the power of the agents of the Committee for the Promotion of Virtue and the Prevention of Vice [the official name of the religious police]. Do you see any signs that Wahhabi clerics are being challenged from within the country? We hope that the Committee for the Promotion of Virtue and the Prevention of Vice's loss of power means that it's the beginning. [In April 2016, Saudi ministers stripped the committee of its authority.]
What aspects of the treatment of women did your husband object to?
Raif advocated for equal rights between men and women. For instance, he called for the right of women to drive. At that time, this was one of the popular topics in Saudi Arabia. He called for gender equality, and he had many objections to the way women were treated or denied their freedom. I tried several times to drive in Saudi Arabia, but I failed. I am currently registered in driving classes, and I will be the one picking up Raif from the airport when he gets out. I will not fail here in Canada.
Why did he stay in Saudi Arabia after the police visits to your home began?
Because it's his country, and he believes in his views and way of thinking. As long as he expresses his opinions in a peaceful and respectable manner, then it's his right as a citizen, as a human being, to express himself. It should not be necessary for anybody who thinks or writes to escape from their country.
Does he have support inside the country?
At the beginning, there was some financial support for Raif's family, not for him personally, and now some limited, anonymous financial support. But no one really is standing behind Raif or writing articles to call for his release. The last time I saw him was in 2012 at the airport, when I was on my way to Lebanon.
When did you last speak with him on the phone?
He calls me once or twice a week—short calls. I have no means to contact him. Even in an emergency, I have to wait until he initiates the call. We cannot communicate through emails, text messages, and he is not allowed to see his children, not even their pictures, nothing.
How old are your children and when did they last see their father in person? Did they see the flogging?
They last saw their father in 2012, when we were leaving. Najwa is 12, Terad is 11, and Myriam is 8. I really hope that they didn't see the flogging. I am very careful about ensuring that they wouldn't see it, although they are very curious and they search a lot on the internet.
Have the appeals of other governments or outside entities made any difference?
To some extent, it had some positive impact, not on the case itself but the real positive effect was on Raif's spirit and ours.
Do you expect ever to visit Saudi Arabia again?
Definitely not. It will be very dangerous for me to return to Saudi Arabia.