Fourth Stimulus Check Update: Monthly $2K Petition 21,000 Signatures Away From 3 Million
A petition calling on the federal government to provide Americans with $2,000 per month stimulus checks for the duration of the COVID-19 pandemic is just over 20,000 signatures away from reaching its goal of 3 million.
The Change.org petition was launched in 2020 by Stephanie Bonin of Denver, Colorado. It has since become a rallying point for Americans urging Congress to provide additional economic assistance as many struggle amid the fallout of the ongoing pandemic.
"I'm calling on Congress to support families with a $2,000 payment for adults and a $1,000 payment for kids immediately, and continuing regular checks for the duration of the crisis," the petition says. As of the time of writing, it had gathered nearly 2,779,000 signatures—or just over 21,000 signatures shy of the 3 million goal.
While it currently appears unlikely that Congress will act to provide more stimulus checks for Americans in the near-term, the idea of regular monthly payments was first proposed by progressive lawmakers in 2020. Since then, more than 80 Democratic lawmakers have publicly backed the idea of direct stimulus checks going out monthly.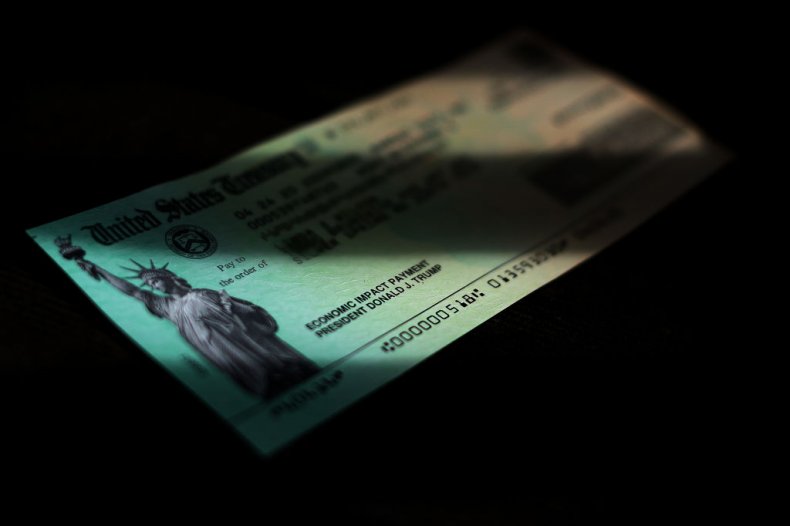 Several other Change.org petitions have racked up tens or hundreds of thousands of signatures urging Congress and/or President Joe Biden to act and provide further economic assistance to Americans. They are calling for at least a fourth stimulus check or regular monthly payments.
At the outset of the pandemic in March 2020, Congress came together to provide economic assistance to ordinary Americans and businesses. As part of that $2.2 trillion CARES Act, most Americans received one-time stimulus checks of up to $1,200. Then in December of last year, Congress again passed a bipartisan economic relief package that included additional direct payments of up to $600.
After Democrats took control of the White House and Congress following the 2020 election, they pushed through Biden's American Rescue Plan this past spring. That legislation included another round of $1,400 stimulus checks going out to most Americans. However, while the first rounds of economic relief were bipartisan, no Republican lawmakers backed the American Rescue Plan.
While the White House seems uninterested in approving further stimulus checks at the present, Democrats have touted the expanded child tax credits included in the American Rescue Plan. That popular policy has doled out $300 per month to parents of children 5 and younger and $250 per month for children 6 to 17 years old.
However, the last of those payments are scheduled to go out on December 15 unless they are extended as part of Biden's Build Back Better Act. The large social spending package currently remains under negotiation in the Senate, where moderate Democratic Senators Kyrsten Sinema of Arizona and Joe Manchin of West Virginia have yet to give their stamp of approval. In order for the bill to pass in the evenly split legislative chamber, all 50 members of the Senate's Democratic Caucus must support the legislation.
Meanwhile, Republicans—and Manchin—continue to raise alarms about inflation and the negative impact additional government spending could have. Already inflation has soared to a near 40-year high as GOP lawmakers blame the spending approved as part of the American Rescue Plan. Republicans would argue that giving Americans more stimulus checks would only exacerbate the problem further.