Ahead of the national tax-filing deadline, residents in some states may be eligible for additional economic payments.
While the third round of economic stimulus payments were sent out to eligible Americans last year, some individuals who didn't receive one may be able to file for it ahead of the April 18 tax-filing deadline.
Additionally, some states have enacted legislation that will provide residents with more economic payments after their taxes are filed on Monday.
In Georgia, Governor Brian Kemp signed a bill in March that will provide eligible state residents with additional economic payments after they file their taxes.
"HB 1302 will provide for a one-time tax credit for taxpayers who filed income tax returns for both the 2020 and 2021 taxable years," the governor's office said in a statement.
According to the statement, once a taxpayer files their taxes for 2021, the state's department of revenue will send out additional credit. Single taxpayers will receive $250, and married couples will receive $500. A taxpayer that is considered the head of the household will receive a $375 payment, according to the governor's office.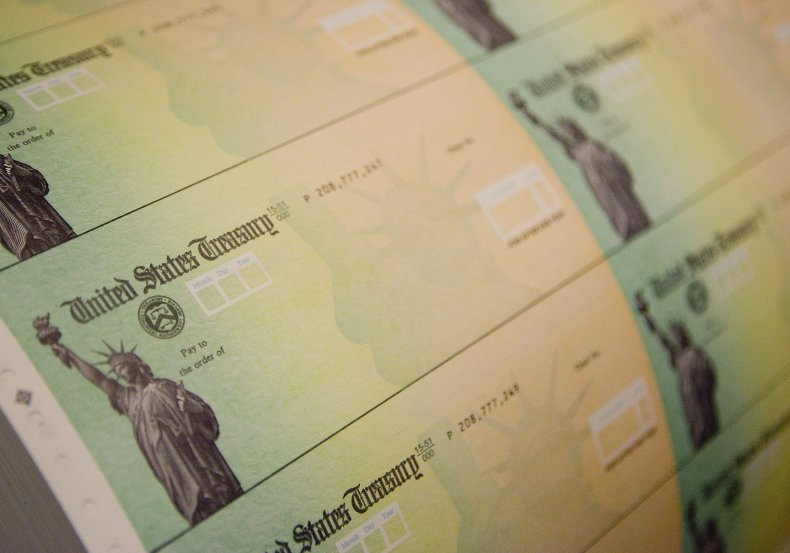 "When government takes in more than it needs, I believe those dollars should be returned to the taxpayer, because that is your money—not the government's," Kemp previously said.
Similar legislation was signed in Indiana, where Governor Eric Holcomb announced that eligible state residents will receive a "125 Automatic Taxpayer Refund," after they file their 2021 taxes.
"The Governor first announced in December that an estimated 4.3 million taxpayers will receive a $125 refund after they file their 2021 taxes. An estimated $545 million will be returned to Hoosiers. After the tax-filing deadline passes on April 18, the Department of Revenue in conjunction with the Auditor of State's Office will begin issuing the refunds via direct deposit or by mailing a paper check," Holcomb's office said earlier this month.
New Mexico residents could also be eligible for a tax rebate after filing their taxes on Monday, after Governor Michelle Lujan Grisham signed legislation in March. Single tax-filers will receive a one-time tax rebate of $250 and married filers will receive a one-time tax rebate of $500.
In New Jersey, some residents will be eligible to receive up to $500 in tax rebates after they file their 2021 taxes. According to Forbes, New Jersey Governor Phil Murphy and the state legislature previously approved a budget that sent out $500 tax rebate checks to approximately 1 million families. Last month, Murphy included another one-time $500 rebate check for individuals who file their taxes using a taxpayer ID number instead of their social security number, Forbes reported.
Idaho Governor Brad Little also previously signed a bill that allocated $350 million in tax rebates for eligible residents.
"Any Idahoan who was a full-year resident in 2020 and 2021 and who also filed an Idaho individual income tax return or a Form 24 for those years is eligible for the rebate. Nonresidents and part-year residents aren't eligible," the Idaho tax commission said in a frequently asked question form.
The rebate amount will either be $75 for each taxpayer and each dependent or 12 percent of their 2020 taxes, depending on whichever amount if greater.
In addition to these five states that have already approved additional economic payments following the April 18 tax-filing deadline, several other states have similar proposals in place, that have yet to be passed by the state's legislature. According to Forbes, states such as California, New York, Hawaii, Kansas, Kentucky, Maine, Minnesota, Pennsylvania and Virginia have similar proposals to provide residents with additional economic payments. If these proposals are passed in the states, residents may receive additional payments in the coming months.