Stimulus Check Update: Republicans Call Dems' Gas Rebate Idea a 'Disaster'
As Americans face inflated prices at the gas pump as well as higher food costs, several Democratic members of Congress have proposed a "stimulus check" plan that would ease the burden on consumers—but a number of Republicans have come out against the idea.
Three House Democrats—Representatives Mike Thompson of California, John Larson of Connecticut and Lauren Underwood of Illinois—proposed a bill on Wednesday that would provide an energy rebate to Americans under certain conditions. The plan would provide $100 rebates, as well as another $100 for each dependent child, to American families during any month when the average national price of gas exceeds $4 per gallon.
Republicans quickly responded negatively to the Democrats' proposal. They argued that the federal government should work on addressing surging inflation and work to produce more fuel domestically.
"Democrats want gasoline 'stimulus' checks," GOP Senator Marsha Blackburn of Tennessee tweeted on Thursday. "Let's deal with the root cause instead. It's time for the U.S. to restart the Keystone pipeline, drill domestically, and become a net exporter of oil and gas."
"Democrats' energy policy is handing out more money we don't have," Representative Kelly Armstrong, a North Dakota Republican and a member of the House Energy and Commerce Energy Subcommittee, told the Daily Caller. "It's a recipe for disaster," the congressman said.
"Allow us to get infrastructure in the ground, and we'll supply energy not just for the United States, but for some of our allies who could really use it right now," Armstrong added.
Representative Ralph Norman, a South Carolina Republican, knocked Democrats for blaming Russia for high gas prices—which were already elevated prior to Putin's internationally condemned invasion of Ukraine.
"Democrats won't take responsibility for crushing American energy, blaming Putin instead, and want to send taxpayers just a few hundred bucks of their own money back to them to alleviate the pain Biden's policies created," Norman told the Daily Caller. "What a slap in the face," the congressman said.
"Two questions about these Stimulus checks for high gas prices: Where's the money coming from AND are Democrats buying gas or votes?" Lavern Spicer, a GOP congressional candidate in Florida tweeted on Thursday.
Newsweek reached out to a spokesperson for House Speaker Nancy Pelosi, a California Democrat, to ask if Democratic leaders plan to push forward with the proposal. The spokesperson did not immediately respond on Friday.
Inflation has become a significant problem for the United States—as well as for countries around the world. Republicans have blamed President Joe Biden and Democrats, arguing that their social spending during the COVID-19 pandemic has caused a spike in prices. However, trillions of dollars in spending were also approved with bipartisan support and approved by former President Donald Trump in 2020 as well.
In March 2020, Congress passed an initial round of $1,200 stimulus checks going out to most Americans as lockdowns took effect across the country. Then in December, Congress again approved another round of $600 direct payments to the majority of Americans. After Biden took office, Democrats pushed through a partisan spending plan that provided an additional round of $1,400 checks.
The stimulus checks were widely popular, and millions of Americans demanded even more as the financial fallout of the pandemic took root. A popular petition on Change.org urges the federal government to provide Americans with $2,000 stimulus checks every month as long as the pandemic continues. It has been signed by more than 3 million people.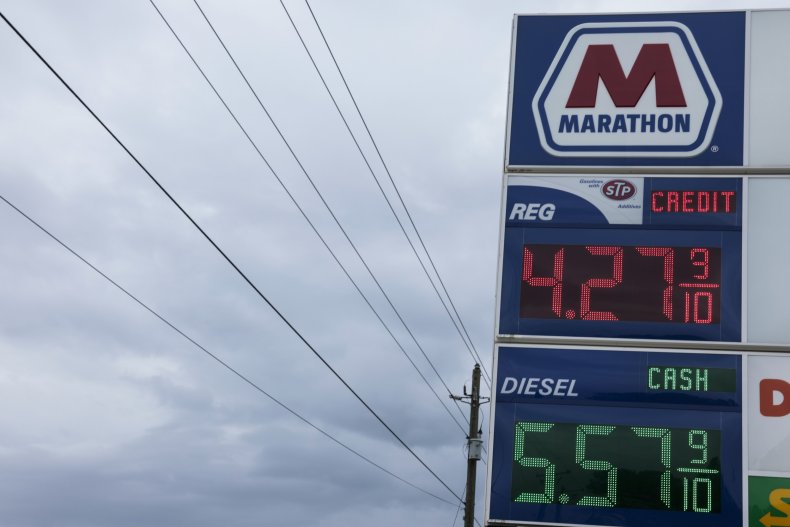 Meanwhile, with Putin's invasion of Ukraine, Biden and other Democrats have attempted to blame the high cost of gas on Russia. While the war is further exacerbating pre-existing supply chain issues and is expected to push up gas prices further, inflation had soared to a four-decade high prior to the assault. Senate Minority Leader Mitch McConnell, a Kentucky Republican, slammed Biden for blaming inflation solely on Putin.
"Democrats' reckless spending that's fueled across-the-board inflation have made Americans' pain at the pump even worse. But in the last few days, the Biden administration has tried to invent some laugh-out-loud—laugh-out-loud revisionist history," McConnell said in a Senate floor speech on March 10.