Senate Minority Leader Mitch McConnell and Russian President Vladimir Putin agree on something—both leaders have rejected President Joe Biden's claim that fuel price increases are due to Russia's invasion of Ukraine.
The White House and Biden in recent days have dubbed the surging prices in fuel "Putin's price hike," as the president announced a ban on the import of Russian oil on Tuesday. "Defending freedom is going to cost," Biden said.
On Thursday, the U.S. Bureau of Labor Statistics' Consumer Price Index latest data was released—showing that inflation surged to a new four-decade high of 7.9 percent in February. When looking at energy commodities specifically, gas prices surged by 38 percent year-over-year and fuel oil jumped by nearly 44 percent. In a statement shortly after the report came out, Biden blamed the high inflation on Putin's "unprovoked war."
McConnell, a Kentucky Republican, mocked the assessment coming out of the White House. The top GOP senator said gas prices have been on the rise long before Putin launched his internationally condemned invasion of Ukraine.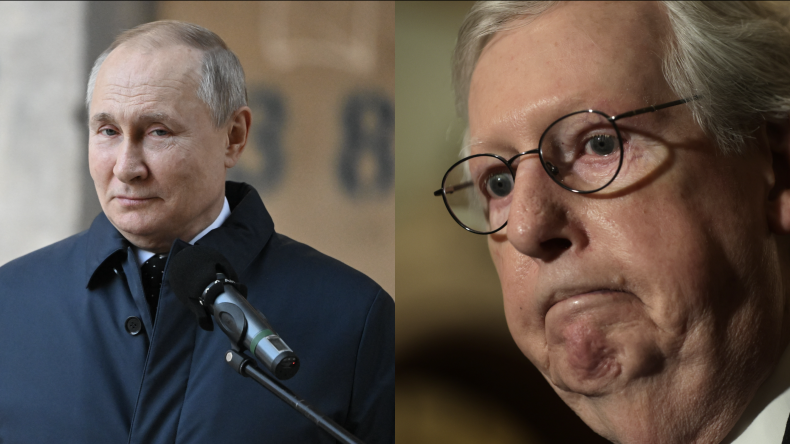 "Democrats' reckless spending that's fueled across-the-board inflation have made Americans' pain at the pump even worse. But in the last few days, the Biden administration has tried to invent some laugh-out-loud—laugh-out-loud revisionist history," McConnell said from the Senate floor on Thursday.
"They're trying to rebrand the entire increase in gas prices on their watch—listen to this—as an effect of Putin's recent invasion of Ukraine. So, they want to blame 14 months of gas price increases on the last two weeks of turmoil," the Republican lawmaker continued.
Putin made a similar argument in a meeting with members of the Russian government on Thursday, Russia's state-controlled TASS news agency reported.
The Russian president said the U.S. "announced that they were closing the import of Russian oil to the American market, prices there are high, inflation is unprecedentedly high, probably reached all-time highs. They are trying to shift blame for the results of their own mistakes on us," he said.
Putin said "the supply of Russian oil to the American market does not exceed 3 percent." He continued, saying "this is a negligible volume, and their prices are rising. We have absolutely nothing to do with it, and even here the ban on Russian oil imports has absolutely nothing to do with it."
Notably, McConnell asserted that he fully supports the Biden administration's decision to ban Russian oil. However, he contended that the U.S. would be better able to take on Putin if inflation were not already such a major issue facing the country.
"I strongly support America stopping our purchase of Putin's war. But Democrats' own war on our production will make that even more painful for American families than it had to be," the top Senate Republican said. "If the Biden administration spent 14 months not attacking inflation ... we'd be better able to push back on Putin with less painful cost to American families."
Republicans have criticized Biden and Democrats for many months over surging inflation as Americans have seen the costs of food, fuel, clothing, vehicles and a wide range of items increase substantially. The Biden administration has pushed back against the criticism, arguing that global supply-chain disruptions are the principal driver of the issue—not government spending as GOP lawmakers argue.
Meanwhile, economists have mixed assessments. Inflation has become a problem throughout the world, as supply-chain issues have made it difficult for distributors of various goods to keep pace with global demands. Massive government spending also appears to have complicated the issue—although economists vary on their assessment of how much the spending has impacted inflation.
"I don't want to say inflation is not a problem. Inflation is a problem," Treasury Secretary Janet Yellen said Thursday during a Washington Post Live event. The Biden administration official said steps were being taken to "meaningfully address costs that really burden" Americans.
Newsweek reached out to the White House for comment, but did not immediately receive a response.