'Fox & Friends' Co-host Brian Kilmeade Claims He Accidentally Donated to Trump Campaign
Fox & Friends co-host Brian Kilmeade has claimed that he accidentally donated around $600 to President Donald Trump's campaign in a Christmas shopping blunder shortly after the 2016 election.
In an interview with The Hill, Kilmeade said he had purchased several Christmas ornaments resembling Trump's famous red "Make America Great Again" hats for family members and friends in November 2016, a couple of weeks after Trump won the presidency.
The Fox & Friends co-host, who is a staunch supporter of Trump, said he had "no idea" the $600 he spent "would be considered a donation."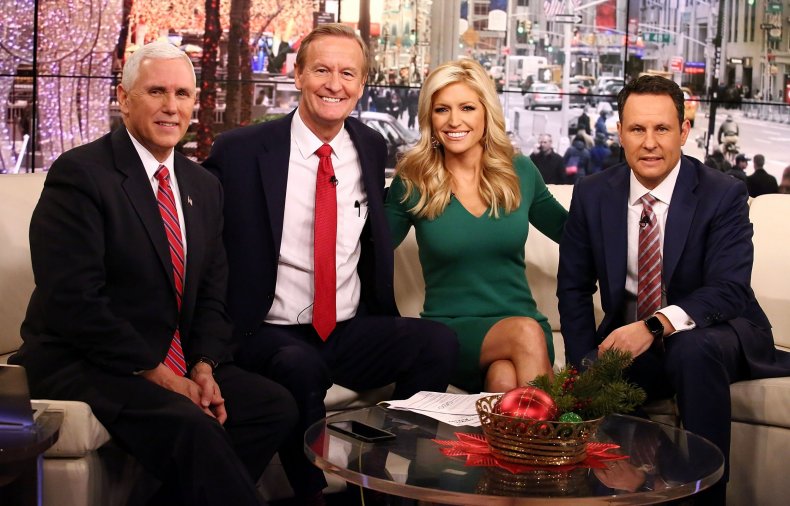 "I'm looking for something cool and unique for Christmas for adults after this historic election," Kilmeade said, describing the situation. He said that while the ornaments he purchased were "a little expensive in retrospect," he "had no idea [his money] would go to a campaign contribution."
While the Fox News host admitted that he had purchased the ornaments directly through Trump's campaign website, he claimed that he had simply been searching for Trump-related gifts and didn't realize he had been directed to Trump's official campaign site at the time, despite the website giving users purchasing souvenirs the option of making an additional donation and asking them to enter their occupation as is required by federal law for political contributions.
Filings with the Federal Election Commission (FEC) show that the Fox & Friends host gave exactly $501.71 to Donald J. Trump for President, Inc., with the contribution being processed on January 20, 2017, the day of Trump's inauguration, according to The Hill.
Read more: Trump is still lying about crowd sizes almost two years into his presidency
Kilmeade had not considered the purchase as a donation until Fox made him aware of press inquiries regarding the issue over the weekend, a Fox News spokesperson confirmed to Newsweek.
Still, Kilmeade has said he had no plans to seek a refund for the contribution, as it would require asking friends and family to return gifts he gave them nearly two years ago.
Even if he did wish to seek a refund, it is unlikely the request would be granted, given that the Trump campaign website states that transactions facilitated by the website are considered "contributions to Trump Make America Great Again Committee" and cannot be refunded.
Updated: This article has been updated to include a clarification from Fox News.