'Men Are Afraid': 'Fox & Friends' Accuses Feminists of Ruining Chivalry, Elegance
Legions of "militant" feminists are ruining chivalry in the dating world and the workplace, according to a Tuesday Fox & Friends segment accusing U.S. women of misunderstanding gender equality.
Fox & Friends co-host Ainsley Earhardt was joined by former investment banker and author Carol Roth in ridiculing "ultra-feminist" women, who they say are ruining chivalry and good manners for "the rest" of women in society. Roth penned a Sunday opinion piece for Fox News titled, "Dear militant feminists, stop messing it up for the rest of us." She laments complaint-prone women who she says prefer to be "miserable" in life rather than allowing men to offer helpful gestures or compliments.
"[G]ood manners are being killed because some women don't understand what equality or sexism really means," Roth wrote, arguing voting rights and pay equality are separate from rejecting polite gestures from men.
Roth took particular issue with a 2018 Eater article about a series of upscale Chicago restaurants omitting traditional "ladies first" etiquette in service staff training.
"Well, what ever happened to good old-fashioned manners?" Earhardt asked viewers before playing a clip from the 2012 film Think Like A Man, based on a 2009 Steve Harvey book.
"The good news is chivalry is not dead, but the bad news is there's a bunch of militant feminists who are trying to kill it for us," Roth said. "I'm assuming you are like I am and love a little bit of chivalry -- a nice man opening a door for you or perhaps letting you order first."
"I love the fact that we have the right to vote and I love the fact that there's equal pay, you wrote about that, but that's completely different from chivalry and manners," Earhardt replied, noting Roth's Sunday opinion piece blasting "gender-neutral" restaurant standards.
Roth touted her husband of 22 years opening car doors and setting a good example for the younger men in their family. But she argues simple gestures of kindness by men are becoming more and more rare because men are afraid of being called out by "crazy" feminists.
"Men are afraid that women are going to yell at them because these militant feminists -- when a man does offer some help or open a door -- they take it personally. They say 'I can open the door myself,'" Roth said Tuesday. "It's not about you, it's about the gentleman showing his manners. It's about having some courtesy and some common sense."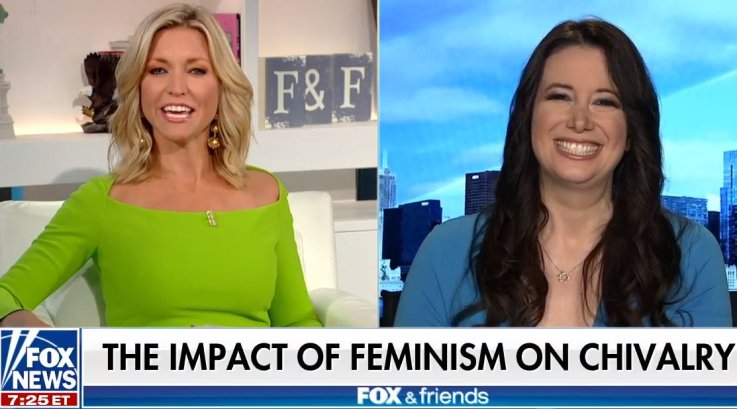 She continued, addressing the phasing-out of traditional approaches to service at upscale restaurants.
"A restaurant serving women first is a sign of class, elegance and respect. If you are offended by that, have a hard think about why you are so angry," Roth wrote, echoing her words on Fox & Friends Tuesday morning. "So, ultra-feminists, here's my request: be miserable if you want, but stop ruining chivalry, manners and civility for the rest of us."
"They're stopping doing a lot of this classical training, they don't want to serve ladies first, they don't want to use phrases like 'ladies and gentlemen' because there are women complaining that's soft sexism," a term which refers to implied or even casual sexist behavior that is difficult to prove happened after the fact.
Roth added, "To dote on a woman and to raise her up on a pedestal is a signal of respect, not a reflection of inferiority. While it may be a distinction, it's not a discrimination, as it certainly doesn't hold a woman back."
A perplexed Earhardt asked Roth, "Why do some women feel that way? Why are there those 'ultra-feminists' who believe they should do everything themselves."
"I have no idea, it's like asking to explain crazy," Roth replied.
This is far from the first Fox News or Fox & Friends segment addressing social issues such as feminism or modern dating trends. Last month, author and guest Carrie Gress blamed an elite cadre of feminists in the news media for trying to normalize abortions among young women.
"It's certainly not limited to magazines. If you look at all of our media, it's generally controlled by this group of elite women I have termed 'the matriarchy,'" Gress told Earhardt in that May 21 Fox & Friends appearance. "You usually hear them complaining about the patriarchy and they are kind of giving the same message we've heard for the last 50 years which is fundamentally that our children are really an impediment to our career goals and to our ultimate happiness."
On Monday, Roth also appeared on Fox Business Network to discuss President Donald Trump's recent comments against the Chamber of Commerce.
'Men Are Afraid': 'Fox & Friends' Accuses Feminists of Ruining Chivalry, Elegance | Culture