Fox & Friends Panelists: Rep. Ilhan Omar's 'Anti-Semitic Stereotypes' Fueling Rise in Anti-Jewish Attacks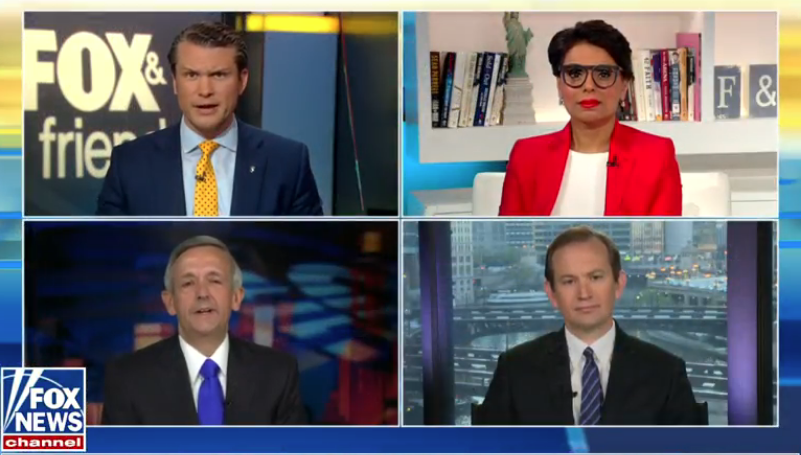 A Sunday morning Fox & Friends segment, dubbed "Religion Under Attack," tied Minnesota Congresswoman Ilhan Omar's use of what the show's panelists viewed as anti-Semitic stereotypes to a rise in anti-Jewish attacks in the U.S.
Highland Park, Illinois, Rabbi Evan Moffic and Muslim scholar and physician Qanta Ahmed appeared on a Fox & Friends panel Sunday to warn Americans that anti-religious persecution, particularly from "the left," is on the rise.
Moffic said one of the biggest dangers for Jews in America is "antipathy" toward religion and the use of "awful stereotypes" being used by, according to the rabbi, people including Muslim Democratic congresswoman Ilhan Omar.
The Fox News segment, responding to Saturday's San Diego-area synagogue shooting, saw several panelists labeling the attack a "wake-up call" to end what the FBI and Anti-Defamation League have labeled a recent rise in anti-Semitic attacks. Moffic was asked "what responsibility" U.S. leaders have in their rhetoric and conduct to halt a rise in future attacks.
"The antipathy towards religion that we often see towards the left and that we see growing in this country it goes hand-in-hand with the rise in anti-semitism," said Moffic. "I think we just simply have to be aware of these awful stereotypes about Jews. When Ilhan Omar said 'It's all about the Benjamins, baby,' and she said Israel has 'hypnotized the world,' she's drawing on these stereotypes that have murdered millions of people in the Holocaust, which just happened 75 years ago...it's exactly because of that rhetoric."
He added, "Jews have never felt more vulnerable in the United States."
Moffic referenced a pair of comments made earlier this year by first-term Congresswoman Omar, who is one of Congress' first two female Islamic members ever elected. The Minnesota Democrat previously apologized for the February "All About the Benjamins" comment, which she made to criticize Israel and AIPAC's lobbyist influence on Washington politics. Israeli Prime Minister Benjamin Netanyahu even responded to Omar's comment, which was itself a reference to a 1990s song by hip-hop artist Puff Daddy.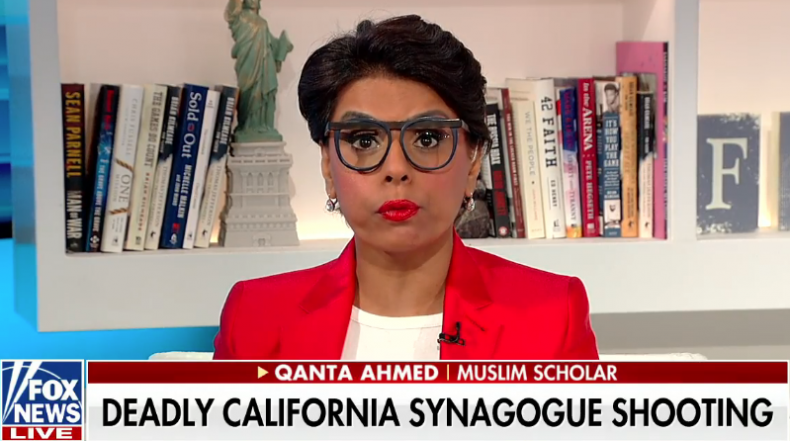 Later in the segment, Fox & Friends co-host and military veteran Pete Hegseth said when he served in Iraq, a local loudspeaker would blame everything on the Jews. Hegseth asked Ahmed to respond to the "nasty strand of anti-semitism" that is coming from "inside radical forms of Islam."
"That's very important, what you're referring to is the 'new anti-Semitism,' Islamist anti-Semitism, which does in fact propagate and infect a lot of the public discourse," Ahmed replied Sunday morning. "Ilhan Omar's anti-Semitism is a strain of that and many Muslims around the world are fighting that within Muslim communities, they're fighting victims of blasphemy, they're rebuilding churches, Kurds are rebuilding churches destroyed by ISIS."
Ahmed said Muslims at large "have to separate" themselves from radical elements of Islam "or else we will face incredible reprisals for the actions of a few."
Ahmed said that she sees "persecution around the world rising," but that President Donald Trump "has been aggressive about protecting religious freedoms." She also added that social media platforms which propagate anti-religious rhetoric should be prosecuted moving into the future.