Benjamin Netanyahu Trolls Ilhan Omar in AIPAC Speech: 'From This Benjamin: It's Not About the Benjamins'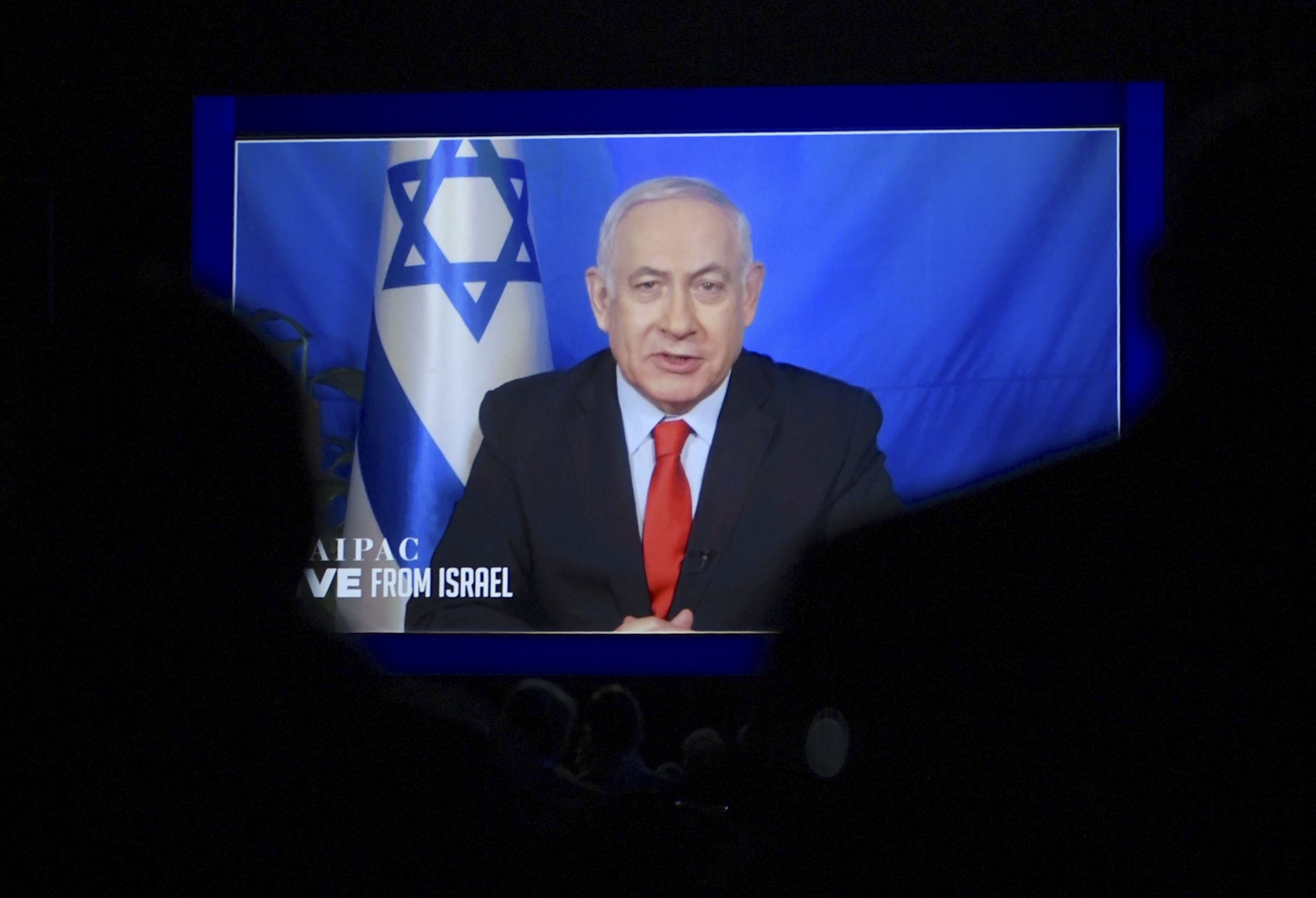 Israeli Prime Minister Benjamin Netanyahu used his address at the annual American Israel Public Affairs Committee (AIPAC) conference to troll Democratic Representative Ilhan Omar, who had been accused of using anti-Semitic tropes in her criticism of the pro-Israel lobby in Washington.
Omar was criticized last month for suggesting Israel and pro-Israeli lobbyists pay for influence over American lawmakers. Referring to $100 bills using a line from a 1990s song produced by Puff Daddy, Omar tweeted, "It's all about the Benjamins baby."
Omar was later criticised for a March tweet that was a response to assertions that she was mischaracterising the support of Israel in the House: "I should not be expected to have allegiance/pledge support to a foreign country in order to serve my country in Congress or serve on committee. The people of the 5th elected me to serve their interest. I am sure we agree on that!" This was seen as invoking the "dual loyalty" anti-Semitic trope.
According to Haaretz reporter Noa Landau, Netanyahu addressed AIPAC delegates and dismissed Omar's criticisms, joking, "From this Benjamin: It's not about the Benjamins! It's because we share the same values."
Omar was quick to respond on Twitter, saying: "This from a man facing indictments for bribery and other crimes in three separate public corruption affairs. Next!"
Netanyahu is currently facing the prospect of criminal charges for bribery, fraud and breach of trust. The prime minister spoke to the meeting via a video link on Tuesday, having canceled his planned in-person appearance following an outbreak of violence in the Gaza Strip.
Omar's comments have given pro-Israel Republicans a valuable stick with which to beat their Democratic rivals.
Though prominent Democrats came out against Omar's remarks, several others—including 2020 presidential candidates—rallied round the Minnestoa congresswoman. Senator Bernie Sanders, for example, warned and that allegations of anti-Jewish sentiment should not be allowed to stifle debate over Israeli policies.
President Donald Trump, with whom Netanyahu met this week, has used Omar to claim that all Democrats are inherantly anti-Semitic, and appeal for all American Jews to abandon the party for the Republicans.
In his speech, Netanyahu said all those "who seek to defame this great organization, AIPAC…they must be confronted." He suggested that they are not only criticizing Israeli policies, regardless of what they say, but rather "spew venom" against Jewish people who they accuse of being disloyal and too influential.
"So I have a message to all the anti-Semites out there," he added, according to The Times of Israel. Specifically addressing Iran, Hezbollah, unnamed British and American politicians, the Charlottesville neo-Nazis and the Pittsburgh shooter, he declared, "The Jewish people do not bow down. We stand, we fight and we win."
House Speaker Nancy Pelosi also appeared at AIPAC on Tuesday, suggesting that support for Israel within Congress "remains ironclad and bipartisan." Without naming Omar, she added, "Israel and America are connected now and forever. We will never allow anyone to make Israel a wedge issue…. I simply declare that to be anti-Semitic is to be anti-American. It has no place in our country."