Ilhan Omar Controversy: Bernie Sanders, Kamala Harris and Elizabeth Warren Defend Criticism of Israel
Senator Bernie Sanders came to the defense of Representative Ilhan Omar as the Minnesota congresswoman faced backlash over remarks that some perceived as anti-Semitic. Sanders said there was a key difference between anti-Semitism and legitimate criticism of the Israeli government.
The Vermont senator criticized House Democrats' reaction to Omar after she was heavily condemned for her tweet that said: "I should not be expected to have allegiance/pledge support to a foreign country in order to serve my country in Congress or serve on committee." Omar was referring to Israel.
The comment, which has been rebuked by members of her own party, was seen as exploiting anti-Semitic tropes and attacking U.S. support of Israel.
In a statement, Sanders, who is a 2020 presidential candidate, said that while anti-Semitism is a "hateful and dangerous ideology which must be vigorously opposed…we must not equate anti-Semitism with legitimate criticism of the right-wing, Netanyahu government in Israel.
"Rather, we must develop an even-handed Middle East policy which brings Israelis and Palestinians together for a lasting peace," Sanders said, reported HuffPost. "What I fear is going on in the House now is an effort to target congresswoman Omar as a way of stifling that debate. That's wrong."
Sander's statement came after senior Democrats had planned to vote on a resolution condemning anti-Semitism, which was seen as a direct response to Omar's comments. The vote was delayed as the House Foreign Affairs Committee rewrites the resolution to include condemnation of all hate.
Kamala Harris, also a 2020 presidential candidate, also issued a statement defending Omar, suggesting that the spotlight currently on the congresswoman "may put her at risk.
"We should be having a sound, respectful discussion about policy," Harris said, as reported by HuffPost. "You can both support Israel and be loyal to our country. I also believe there is a difference between criticism of policy or political leaders, and anti-Semitism."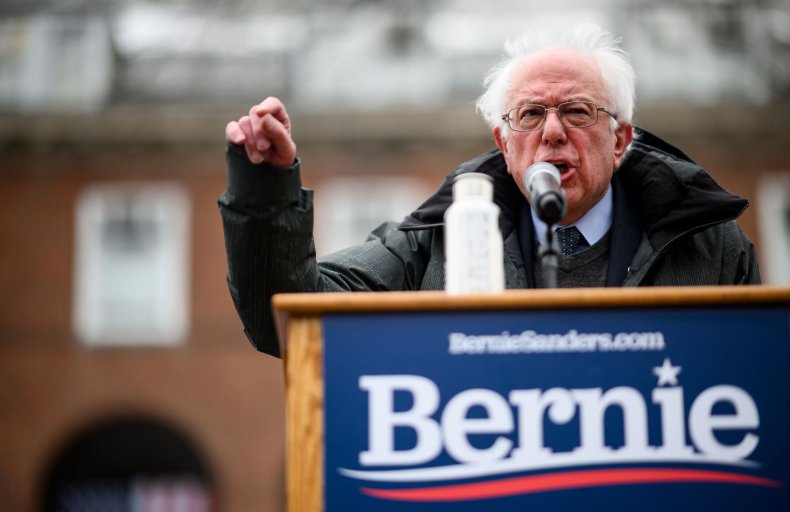 Elizabeth Warren, another Democratic presidential candidate, expressed similar views in her statement defending Omar.
"We have a moral duty to combat hateful ideologies in our own country and around the world, and that includes both anti-Semitism and Islamophobia. In a democracy, we can and should have an open, respectful debate about the Middle East that focuses on policy," Warren said.
"Branding criticism of Israel as automatically anti-Semitic has a chilling effect on our public discourse and makes it harder to achieve a peaceful solution between Israelis and Palestinians. Threats of violence—like those made against Omar—are never acceptable."
Omar, who was forced to apologize for previous remarks in which she suggested that the American Israel Public Affairs Committee (AIPAC) was paying politicians for their support of Israel, has defended her latest remarks.
"Being opposed to Netanyahu and the occupation is not the same as being anti-Semitic. I am grateful to the many Jewish allies who have spoken out and said the same," she tweeted on March 2.
"We must be willing to combat hate of all kinds while also calling out oppression of all kinds. I will do my best to live up to that. I hope my colleagues will join me in doing the same."
President Donald Trump called for Omar's resignation following her comments about AIPAC. In response, Omar accused Trump of attempting to deflect attention from his own controversial remarks.
"You have trafficked in hate your whole life—against Jews, Muslims, Indigenous, immigrants, black people and more," she tweeted in February. "I learned from people impacted by my words. When will you?"