As the House prepares to vote on a resolution to rebuke alleged anti-Semitic comments that freshman Democrat Ilhan Omar has made for the second time since taking office, a colleague on the Foreign Affairs Committee is warning a third strike could be the tip of the iceberg for Omar losing her committee seat.
"At some point, her colleagues—if she won't—are going to have to look at other options," Democrat Gerry Connolly, who sits on Foreign Affairs with Omar, told Newsweek. "She obviously has to come to grips with the fact that when you are here, you're on a broader stage and things you say resonate far beyond your local community."
The freshman congresswoman from Minnesota, who is one of two Muslim women in Congress, has found herself once again immersed in condemnation—even from her fellow Democrats—after an alleged anti-Semitic remark last week saying Israel supporters "push for allegiance to a foreign country." And last month, Democratic leadership condemned her comments on Israeli support being linked to Jewish lobbying efforts buying lawmakers' loyalty. "It's all about the Benjamins baby," she tweeted.
This time around, rather than simple condemnation, the House will vote on a formal resolution. Although not mentioning her by name in the bill's text, the non-binding measure says it "[rejects] anti-Semitism as hateful expressions of intolerance that are contradictory to the values that define the people of the United States."
The scheduled vote will likely be pushed back from Wednesday to Thursday because House Speaker Nancy Pelosi and Majority Leader Steny Hoyer told other lawmakers it will be updated to include text condemning "anti-Muslim bias," according to a Democratic aide.
An anti-Muslim poster showing Omar's picture beneath the September 11 terrorist attacks on the Twin Towers was posted in the West Virginia state legislature last week.
"I think it's a pretty powerful message from the leadership to have condemned her once and now formally bringing a resolution to the floor of the House—and she's been here two months. That's something," Connolly said.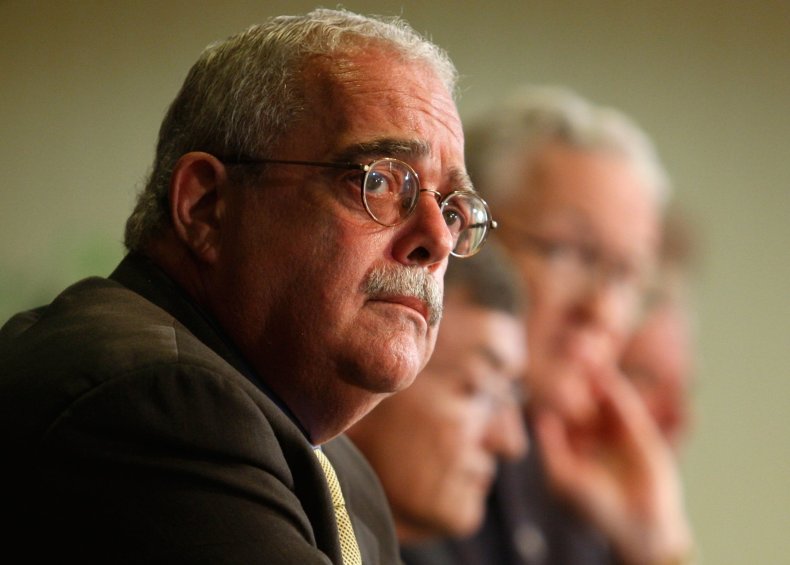 He viewed the punishment as "swift and appropriate," but warned that her anti-Semitic comments have already given fuel to the fire for Republicans who have demanded her removal from the Foreign Affairs Committee. "I think she's inviting others to have a lot more power to that argument and I hope she's worried about it," Connolly said.
The committee's chairman, Democrat Eliot Engel, said he was "not close" to calling for the removal of Omar from the panel, despite her repeated anti-Semitic remarks.
"It's not up to me. This is done by the leadership," Engel told CNN. "I don't know that that would do anything, except exacerbate the situation even more. I'm looking to get rid of anti-Semitism, not looking to punish anybody."
Following GOP Congressman Steve King questioning the offensiveness of terms like "white supremacist" to The New York Times in January, he was both condemned with a resolution and stripped of all his committee assignments.
"[Republicans] waited, what, 20-something years before acting on Steve King's hateful remarks on white supremacism," Connolly said of King's long history of making alleged racist comments.
He said Congress should "tread very cautiously" when it comes to punishing lawmakers for their comments—"even with speech we don't like"— because they could "unwittingly find ourselves in the censorship game." Still, the Democrat didn't hold back on Omar, saying, "you don't have to be Jewish to take offense at age-old tropes and stereotypes that led to some horrible things in the 20th century."
Omar has been far more combative toward her Democratic colleagues who've condemned her this time around, offering no apology or retraction of her statements. She apologized the previous time she made what critics called an anti-Semitic trope. The combative nature includes getting into a Twitter spat with Democrat Nita Lowey, who labeled Omar's comments "gross Islamophobic stereotypes" that continue to "mischaracterize support for Israel."
"Our democracy is built on debate, Congresswoman!" Omar responded on Twitter. "I should not be expected to have allegiance/pledge support to a foreign country in order to serve my country in Congress or serve on committee."
Omar's office did not respond to Newsweek's request for comment, and she declined to speak with reporters.
Fellow freshman Democrat Alexandria Ocasio-Cortez has been one of the few lawmakers to spring to Omar's defense, asking on Twitter "where are the resolutions against homophobic statements? For anti-blackness? For xenophobia? For a member saying he'll 'send Obama home to Kenya?'"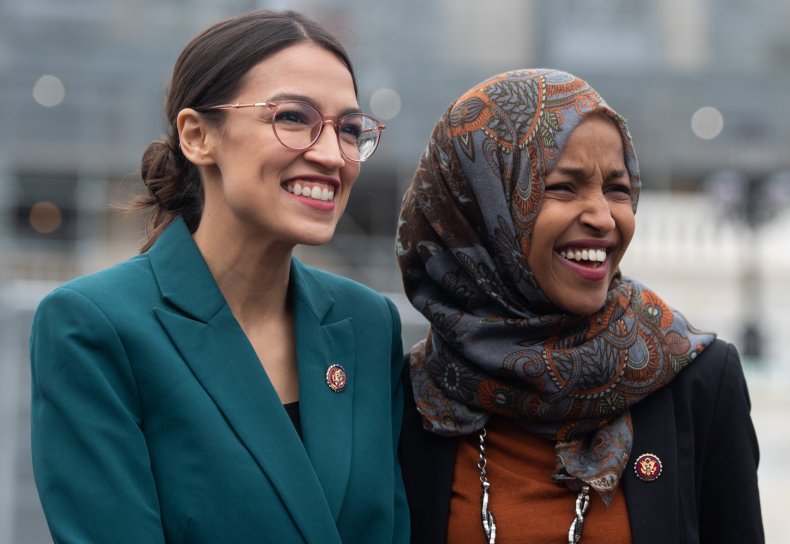 Senate Republicans suggested Tuesday the chamber "may well address [anti-Semitism] again," despite saying they already voted on prior legislation to disapprove the anti-Israel boycott, divestment and sanctions (BDS) movement that Omar supports.
"[Anti-Semitism] seems to be more fashionable in Europe, it seems to be more fashionable in this country—regretfully—among some members of the new class in the House," Senate Majority Leader Mitch McConnell told reporters. "We need to stand up to it in every way we can."
Senate Minority Leader Chuck Schumer said Omar's comments were "wrong and hurtful." But he disagreed with McConnell's notion it was "fashionable" among any members of his party.
"Okay, why doesn't Senator McConnell talk about the people in the march in Charlottesville who marched on a synagogue, and chanted 'burn it down' and then Donald Trump said, 'both sides are to blame,'" Schumer said.
This story has been updated with comments from House Foreign Affairs Committee Chairman Eliot Engel.