Democrats Divided on Ilhan Omar Response: 'I Don't Know How Many Times We Need to Say We're Against' Anti-Semitism
House Democrats are becoming increasingly divided and at odds with leadership, as the party readies a resolution to formally condemn anti-Semitism after freshman Democrat Ilhan Omar was accused of using anti-Semitic tropes for the second time since joining Congress.
Omar, one of two Muslim members of Congress, suggested last week that Israel supporters "push for allegiance to a foreign country," alluding to what some other Democrats have said is an "age-old trope and stereotype" to dual loyalties.
And while Democrats agree they need to stand against all forms of "bigotry," "hatred" and "anti-Semitism," as several members said Wednesday morning, there are growing disagreements among rank-and-file members over whether the resolution should be passed, the wording of it and how leadership should move forward with handling Omar.
"We're trying to make sure we just stay united," Congresswoman Pramila Jayapal, who is senior whip of the Democratic Caucus, told reporters. "I don't know how many times we need to continue to say [we're against anti-Semitism] in the face of, I think, some Republicans who just want to use this as a wedge issue but don't necessarily call out anti-Semites on their own side."
Other Democrats, as did Jayapal, highlighted the resolution condemning white supremacy that was recently passed by the House to rebuke GOP Congressman Steve King's controversial remarks questioning the offensiveness of such terms.
"What is the purpose of this. Why are we doing this?" Jayapal said of the resolution. "I'm not sure that we need to continue to do this every time."
Such a stance against the resolution was in stark contrast to other Democrats, who are pushing for strong condemnation, despite having differing opinions on the wording that should be included. Leadership has shown no signs they plan to remove Omar from her seat on the Foreign Affairs Committee, which is what Republicans have called for due to King's committee removals.
"It's 2019 and it's the 21st Century. And the fact that we have to put a resolution on the floor and spell out for people across this country what anti-Semitism means is pretty outrageous," said Democrat Debbie Wasserman Schultz. "Because you have some members who either repeatedly or individually continue to use anti-Semitic tropes, and I give them their benefit of the doubt and say it's unknowing, then apparently we do need to put a resolution on the floor that educates people about how harmful and hurtful anti-Semitism is."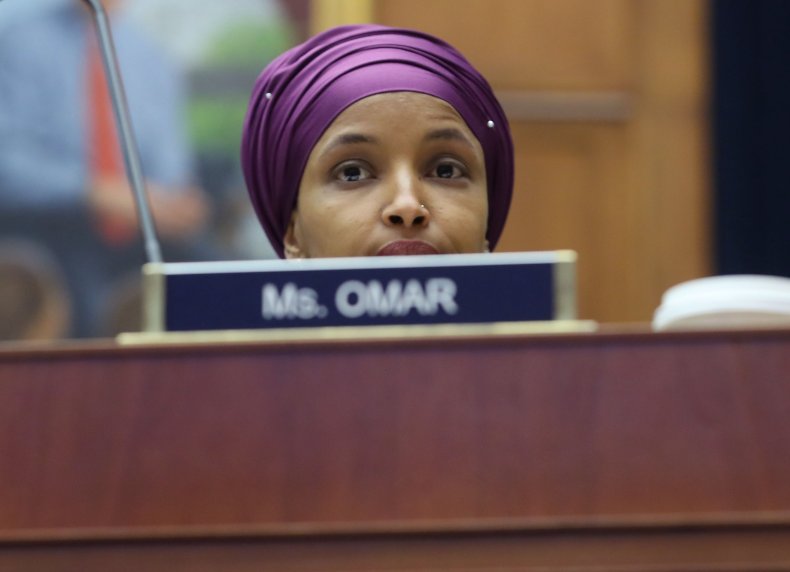 House leaders Tuesday evening abruptly halted plans to vote on the resolution Wednesday because members of the caucus and the Congressional Black Caucus (CBC) pushed to add text condemning Islamophobia. Since Omar's comments, an anti-Muslim poster appeared in a state legislature and she has received death threats, according to other Democrats. House Majority Leader Steny Hoyer said it was unclear whether the resolution would still come up for a vote this week.
"I think we've raised issues. Many members of the Democratic Caucus are just concerned over the general rise in hatred that we have seen," said CBC Chair Karen Bass. "We want to make clear that we make a stand against all forms of bigotry and hatred."
Bass said much of the "rise of hatred in so many directions" has been "emanating from the White House."
Some Democratic members also expressed vehement opposition to Omar's name being mentioned in the resolution's text. In draft copies that have been circulated, her name is not referenced, and the resolution condemning King did not directly name him, either. Both Bass and Congresswoman Janice Schakowsky, a Jewish Democrat from Illinois, said they opposed naming her because she's received recent death threats. Jayapal did not give reason for her objection to naming Omar.
Omar's office told Newsweek it could not comment on "ongoing investigations," and that they report any threats to the Capitol Police.
"I think we ought to stay off social media to have these conversations," Schakowsky suggested. "And I think the sense in the caucus is that our unity is our power and that we want to express that in a resolution."
In contrast to the last time Omar made remarks that were accused of being anti-Semitic, the Minnesota congresswoman has not apologized, doubling down and engaging in Twitter feuds with fellow Democrats. Schakowsky said that, during their morning caucus meeting, Omar embraced her and apologized, which Schakowsky accepted. But she added that Omar remained quiet and did not speak to the caucus as a whole.
"I absolutely believe that she has become a target. I think the Republicans love that and, frankly, I think the media loves to exploit the divisions," Schakowsky said.
Leadership tamped down the notion that Democrats have become divided on Omar and provided little response to questions posed about at what point the party would consider removing her from the Foreign Affairs Committee.
"We are united around the fact that we are going to continue to fight for the people," Democratic Caucus Chair Hakeem Jeffries told reporters. "That's what we're united around.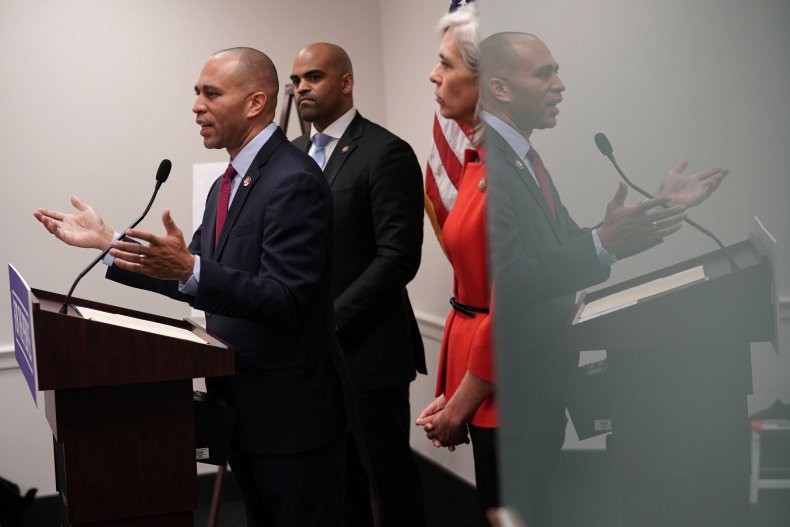 He said her potential removal from Foreign Affairs, should she make an anti-Semitic trope in the future, was "a decision that the caucus will have to make...and that's not a discussion that we've had."
Majority Leader Hoyer conceded there was some degree of division, telling reporters it should "not surprise you when you've got a group of people together talking about how you write a resolution and what's going to be in it. We're discussing what's the best way to address it."
Chairman of the committee, Eliot Engel, declined to answer reporters' questions while heading into the morning caucus meeting.
"It's not up to me. This is done by the leadership," Engel told CNN Tuesday night on questions of committee removal. "I don't know that that would do anything, except exacerbate the situation even more. I'm looking to get rid of anti-Semitism, not looking to punish anybody."
However, Democrat and Foreign Affairs Committee member Gerry Connolly did issue a stern warning to Omar, telling Newsweek Tuesday that future anti-Semitic tropes could lead to committee removal.
"I think she's inviting others to have a lot more power to that argument, and I hope she's worried about it," he said.
Republicans in recent days have seized on the Democrats' divisions, accusing them of not acting swiftly and strongly enough to condemn Omar. Senate Majority Leader Mitch McConnell said the House's "symbolic resolution" does not go far enough and suggested they pass similar legislation the Senate did earlier this year, which urged local governments not to conduct business with supporters of the anti-Israel boycott, divestment and sanctions (BDS) movement—which Omar supports.
McConnell told reporters Tuesday that anti-Semitism "seems to be more fashionable in this country—regretfully—among some members of the new class in the House."
Those remarks were rebuked by freshman Democrat Abigail Spanberger. "I think a man who hasn't met any of us can't really comment on the positions of the freshman class," she told reporters.
Adding to his previous comments that Omar should resign after her "lame" apology for alleged anti-Semitic tropes last month, Trump tweeted Wednesday it was "shameful that House Democrats won't take a stronger stand against Anti-Semitism in their conference."