Nancy Pelosi: Ilhan Omar "Didn't Realize" Her Israel Remarks Were Construed As "Anti-Semitic"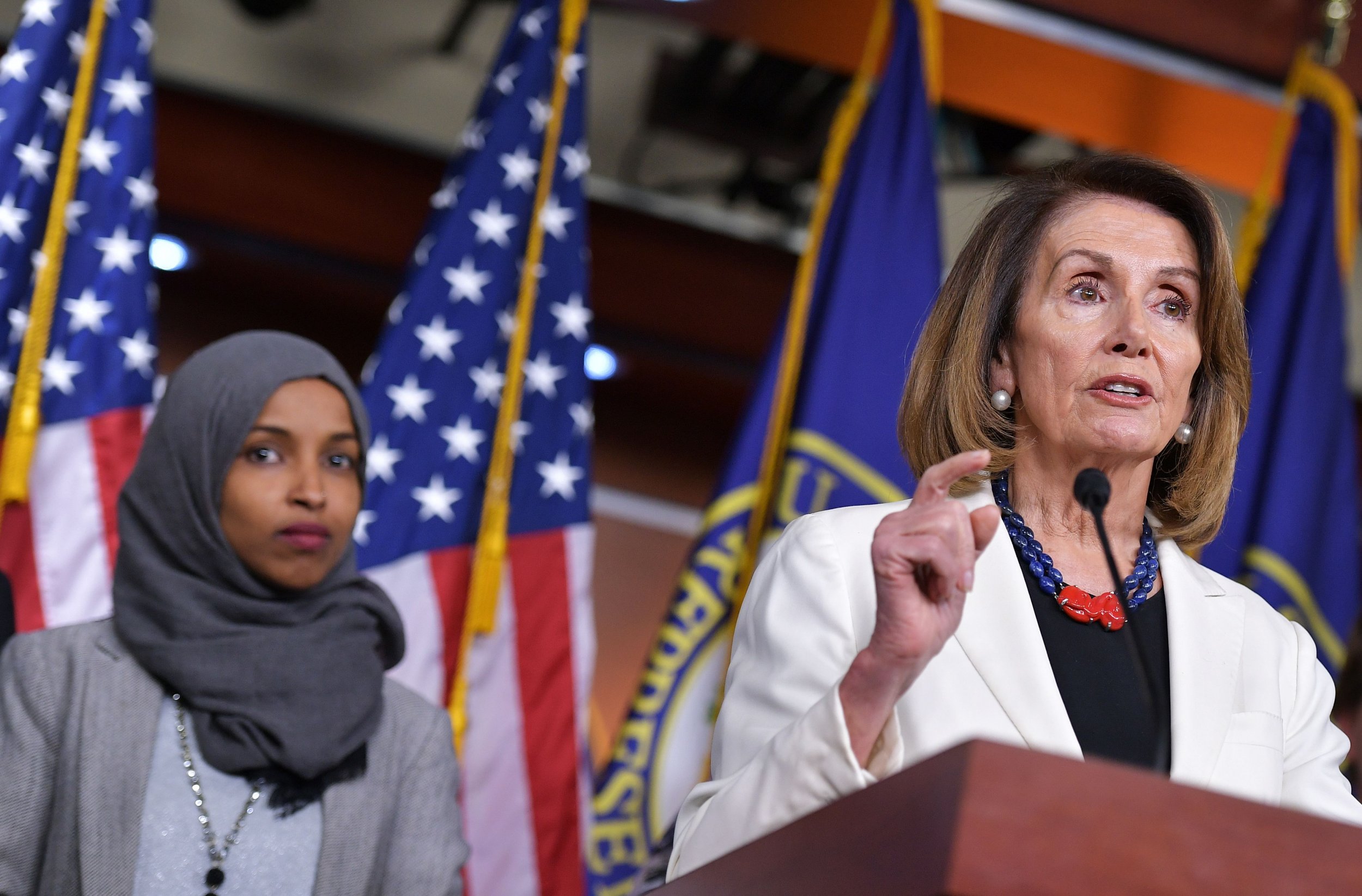 Speaker of the House Nancy Pelosi defended Minnesota Rep. Ilhan Omar during a sitdown with The Economic Club in Washington, D.C., on Friday, telling those in attendance that she believed Omar "didn't realize" the "fraught" meaning of her words when the freshman representative questioned U.S. political support for Israel.
"I don't think our colleague is anti-Semitic," Pelosi said Friday, reiterating her previous defenses of Omar. "I think she has a different experience in the use of words, [and] doesn't understand that some of them are fraught with meaning."
It was the Democratic leader's latest attempt to quell tension that erupted earlier this month when Omar said she wanted to start a discussion about "allegiance to a foreign country" in reference to Israel.
"I want to talk about the political influence in this country that says it is okay for people to push for allegiance to a foreign country," Omar said at a March 1 event at a book store in the capitol. That comment came after Omar apologized in mid-February for writing in a now-deleted tweet that the American Israel Public Affairs Committee's (AIPAC) influence on U.S. politics was "all about the Benjamins, baby." Critics, including some Democratic colleagues and many Republicans, slammed the statements for invoking harmful tropes about "dual loyalty" and Jews and money.
On Thursday, Pelosi helped push through a House resolution aimed at condemning "hate" with the support of Omar and other Democrats in Congress. The legislation had started as a denunciation of anti-Semitism in response to Omar's remarks but was then expanded to repudiate bigotry against "African-Americans, Native Americans, and other people of color, Jews, Muslims, Hindus, Sikhs, immigrants and others" following backlash from the party's progressive base and outrage over anti-Muslim flyers of Omar that were seen in West Virginia's legislature. The resolution passed 407-to-23 on Thursday, with Omar lauding its smooth sail.
"We are tremendously proud to be part of a body that has put forth a condemnation of all forms of bigotry including anti-Semitism, racism and white supremacy," Omar, who has repeatedly denied accusations linking her to anti-Semitism, said in a joint statement with representatives Rashida Tlaib and Andre Carson. "At a time when extremism is on the rise, we must explicitly denounce religious intolerance of all kinds and acknowledge the pain felt by all communities.
She continued: "Our nation is having a difficult conversation and we believe this is great progress."
All 23 votes against the resolution came from Republican representatives, many of whom did so on grounds that the resolution did not mention Omar by name. House Republican Conference Chair Liz Cheney of Wisconsin slammed it as a "sham" resolution.
"Rep. Omar's comments were wrong and she has proven multiple times that she embodies a vile, hate-filled, anti-Semitic, anti-Israel bigotry," Cheney said. "She deserves to be rebuked, by name, and removed from the House Foreign Affairs Committee so that there is no mistake about the values and priorities that the House stands for."
Pelosi said the broadening of the resolution didn't weaken it in her appearance with The Economic Club.
"I don't think it watered down the ant-Semitic language at all," she said. "I think it strengthened it. It isn't about anybody who hates anybody. It's about people who act upon their hatred, and that is what we have no place for against anyone in our country. It's part of our values that we convey to the rest of the world."