Alexandria Ocasio-Cortez Calls On Leaders To Denounce 'Blatant' Islamophobic Attacks on Ilhan Omar
Rep. Alexandria Ocasio-Cortez defended fellow freshman representative Ilhan Omar against anti-Muslim attacks Saturday, writing that she was "heartbroken" that more lawmakers hadn't stepped up to condemn a poster displayed in the West Virginia legislature that falsely linked Omar to terrorists.
"I'm pretty heartbroken that there isn't more denunciation of this outward and blatant expression of bigotry and Islamophobia by a state party," Ocasio-Cortez wrote on Twitter. She further suggested it was hypocritical for some leaders to remain quiet about the poster, when many quickly admonished last month Omar for sentiments construed as anti-Semitic.
"Those who stood up against anti-Semitism a few weeks ago should also be calling out the Islamophobia here, too," the New York representative added.
Her remarks referred to a poster that an unidentified vendor hung up in the West Virginia legislature during a "Republicans Take the Rotunda" event. The poster contained two images: one of the burning Twin Towers on Sept. 11, 2001, and another of Omar, who is Muslim and wears a hijab. "Never forget — you said," reads the first caption on the image of the burning buildings. "I am the proof you have forgotten," reads the second, printed over a picture of the U.S. representative from Minnesota.
The flyers, which caused a maelstrom in West Virginia on Friday and led to one resignation and at least one person taken to a hospital, was widely condemned by Democratic politicians in the state. Yet the incident has yet to attract the same flurry of disavowals from national leaders as Omar's recent controversial remarks about lobbying group American Israel Public Affairs Committee (AIPAC) and pro-Israel activists, Ocasio-Cortez suggested.
"I want to talk about the political influence in this country that says it is okay for people to push for allegiance to a foreign country," Omar had said while speaking at a Washington bookstore this week, according to a report from The New York Times. That statement, which Rep. Eliot Engel charged as another incident of anti-Semitism, came after Omar apologized in mid-February for writing in a now-deleted tweet that AIPAC's influence on U.S. politics was "all about the Benjamins baby."
The tweet earned swift disavowal from critics, who accused Omar of invoking anti-Semitic tropes. Speaker Nancy Pelosi, Majority Leader Steny Hoyer, Majority Whip James E. Clyburn, Assistant Speaker Ben Ray Luján, Caucus Chairman Hakeem Jeffries and Caucus Vice Chair Katherine Clark issued a joint statement rebuking her comments.
"Congresswoman Omar's use of anti-Semitic tropes and prejudicial accusations about Israel's supporters is deeply offensive," the top Democratic leaders said. "We condemn these remarks and we call upon Congresswoman Omar to immediately apologize for these hurtful comments."
Their statement continued: "Anti-Semitism must be called out, confronted and condemned whenever it is encountered, without exception," the Democratic leaders said.
Clark also issued a tweet on Saturday, rebuking the anti-Muslim flyers, sharing a picture of a Rolling Stone cover featuring Omar. "This is the image of @IlhanMN that the world should be seeing, not the hateful, anti-Muslim propaganda targeting her. We must condemn these attacks and reject religious bigotry without exception," she wrote.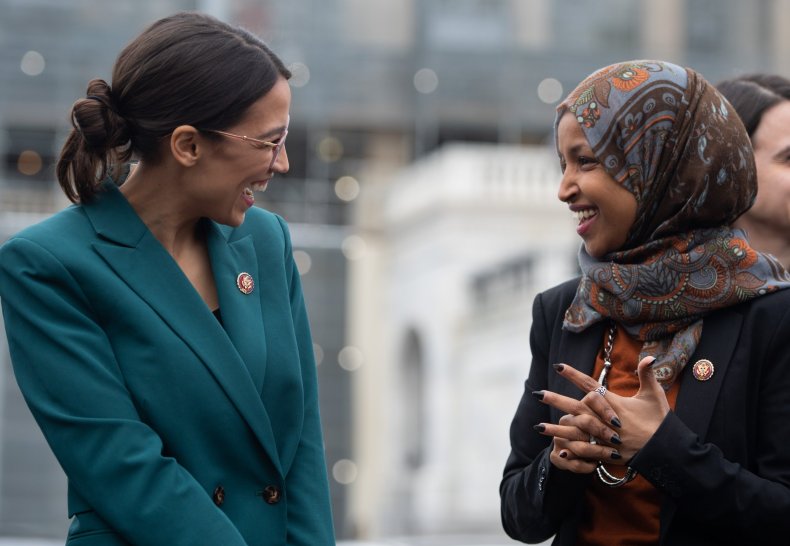 This article has been updated to include a tweet from Rep. Katherine Clark.