Congresswoman Ilhan Omar Slammed for 'Stunningly Anti-Semitic Tweet'
A Jewish advocacy organization has called out Democrat Congresswoman Ilhan Omar, characterizing a tweet she wrote about the pro-Israel lobby as "stunningly anti-Semitic."
Representative Ilhan Omar of Minnosota retweeted a post Sunday implying that she believed the Israel lobby, the American Israel Public Affairs Committee (AIPAC), was paying American politicians to hold pro-Israel positions.
The American Jewish Committee promptly responded to Omar, also on Twitter, positing that: "Suggesting that a Jewish organization is buying off American politicians is both demonstrably false and stunningly anti-Semitic. American politicians are pro-Israel because Americans are." The advocacy group also called on the congresswoman to apologize.
After the Opinions Editor at The Forward, Batya Ungar-Sargon, tweeted: "Would love to know who @IlhanMN thinks is paying American politicians to be pro-Israel, though I think I can guess. Bad form, Congresswoman. That's the second anti-Semitic trope you've tweeted," Batya Ungar-Sargon, Omar responded: "AIPAC!"
Neither Omar's office in Minnesota nor in Washington immediately responde to Newsweek 's request for comment about the tweet, which appeared to invoke an old anti-Semitic stereotype portraying Jews as rich, and using their wealth to orchestrate political affairs.
Omar had retweeted the journalist Glenn Greenwald earlier Sunday, who had retweeted a news story about California GOP representative Kevin McCarthy promising action against Omar and the Democratic representative for Michigan, Rashida Tlaib, for alleged anti-Semitism. Omar had captioned Greenwald's tweet with the comment: "It's all about the Benjamins baby."
The congresswoman drew opprobrium from pro-Israel social media users and praise from those who support her position on the BDS movement, which advocates a boycott of Israel over its treatment of Palestinians.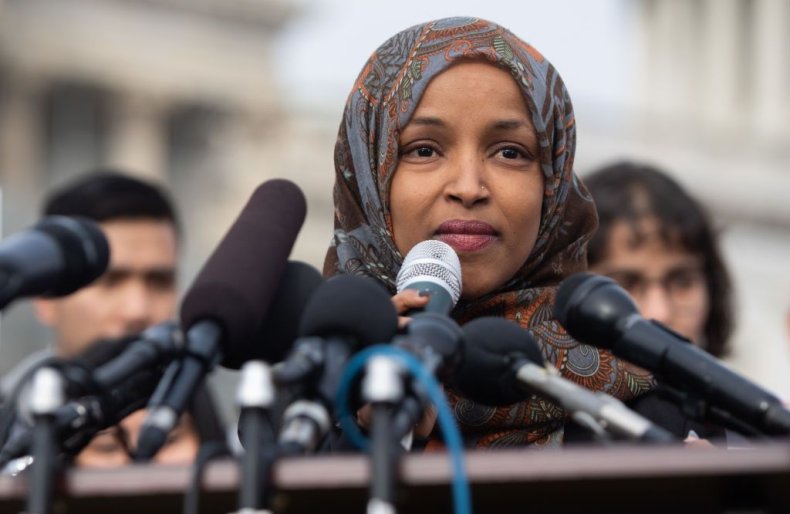 ""Wow. A sitting U.S. Congresswoman actually just suggested AIPAC is paying Members of Congress to support Israel, one of our strongest and longest standing allies," Representative Doug Collins tweeted. "This level of anti-Semitism coming from the left is truly stunning and must be denounced."
Striking a conciliatory note, at least within her own party, Omar retweeted a post by Chelsea Clinton. "We must call out smears from the GOP and their allies. And I believe we can do that without criticizing people for their faith," Omar wrote.
Tlaib, who is of Palestinian origin, and Omar, who was born in Somalia, have been held up by their party as examples of the great diversity in this year's new Democratic members of Congress.