Alexandria Ocasio-Cortez Praises Ilhan Omar for Cutting Through the 'Authoritarian Foreign Policy' of Trump Administration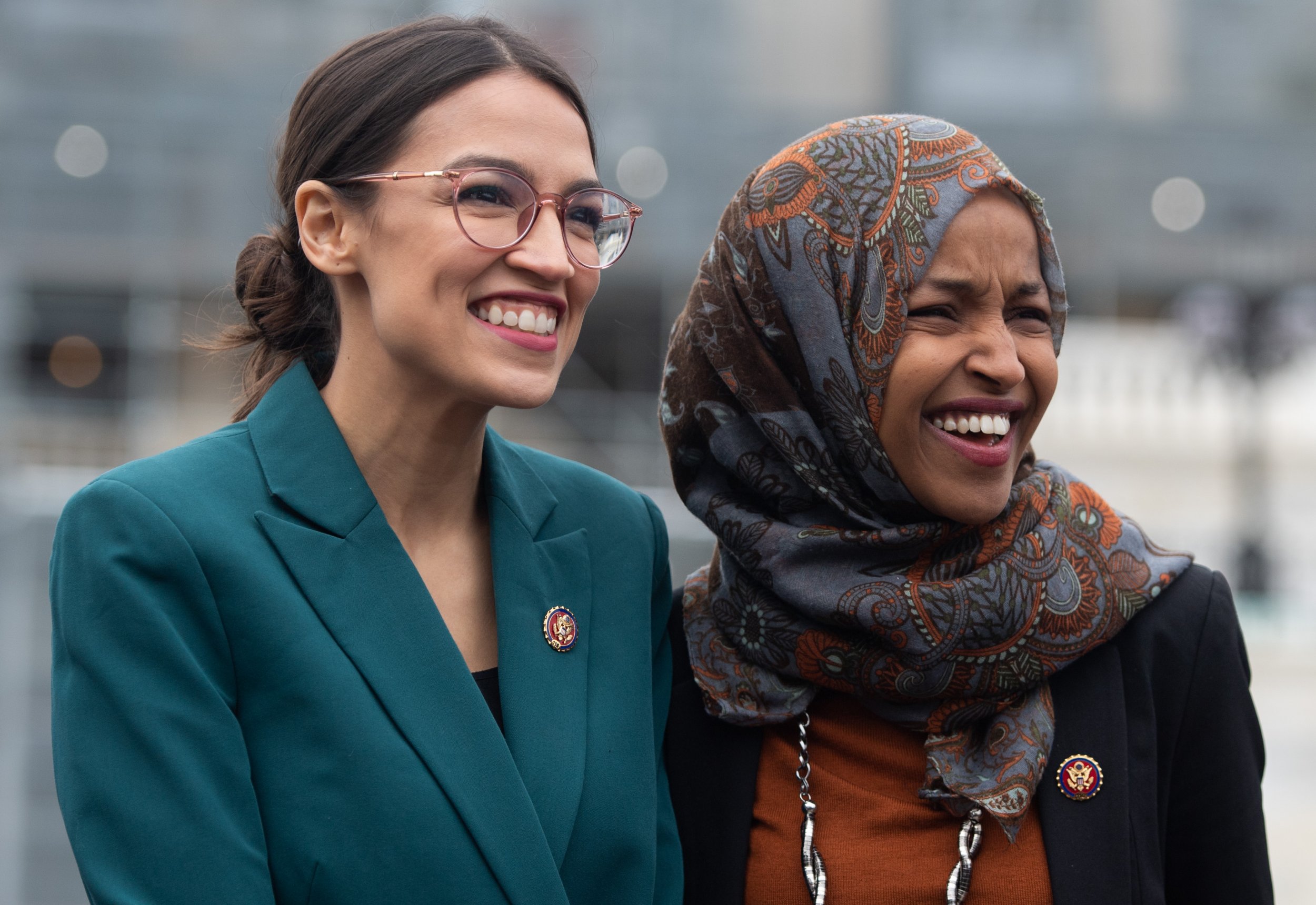 Representativ Alexandria Ocasio-Cortez praised Representative Ilhan Omar on Sunday for challenging the Trump administration over its foreign policy narrative.
A "survivor of war," the Minnesota congresswoman is "one of the most effective voices" against the administration's "authoritarian foreign policy tendencies," Ocasio-Cortez tweeted.
The New York freshman congresswoman was responding to a tweet from Omar that called out President Donald Trump and special representative for Venezuela Elliott Abrams over the administration's claim that a recent aid truck fire was started by President Nicolás Maduro's forces.
"Trump and Elliott Abrams cannot be trusted to tell the truth about what's happening in Venezuela," Omar wrote on Sunday. "We must continue to question the narratives they provide and promote dialogue instead of intervention."
Omar, who came to the U.S. as a refugee, shared a link to a New York Times article that undermined a claim shared by numerous senior Republicans that aid trucks sent to Venezuela had been burned on the order of Maduro in late February.
"The tyrant in Caracas danced as his henchmen murdered civilians & burned food & medicine heading to Venezuelans," Vice President Mike Pence had previously tweeted. "Maduro's order to attack the trucks full of humanitarian aid is inconceivable," read a Spanish-language tweet from the State Department.
But previously unseen television footage obtained by The Times showed the February 23 fire was likely started accidently by a Molotov cocktail-throwing protester. The fire burned several aid trucks parked on a bridge at the Colombian border.
Embattled leader Maduro has served as Venezuela's president since 2013, when he succeeded the late Hugo Chavez. Labeled a dictator by many, his rule has seen a humanitarian crisis, with severe food shortages and poor living standards. Political opponents and demonstrators have faced imprisonment, injury and death.
Omar's tweet came in the wake of criticism over her previous comments about the U.S.-Israel relationship. Senior Democrats slammed the freshman congresswoman over a February tweet they believed invoked "anti-Semitic tropes." House Speaker Nancy Pelosi and others censured Omar in a joint statement after she suggested the influence of the American Israel Public Affairs Committee in U.S. politics was "all about the Benjamins" in the now-deleted tweet.
Omar later apologized "unequivocally" for the post.
In a series of tweets responding to criticism from lawmaker Nita Lowey, she subsequently claimed opposing Israeli Prime Minister Benjamin Netanyahu was "not the same as being anti-Semitic."
Her continued questioning of the U.S.-Israel relationship has divided Democrats. Some, like Representative Juan Vargas, have slammed the congresswoman. But others, like Ocasio-Cortez, have come to her defense.