Fox News Guest Calls Commander of the Navy SEALs a 'Coward'
Tim Parlatore, attorney for Navy SEAL Chief Petty Officer Eddie Gallagher who faces losing his trident, had strong words for SEAL commander Rear Admiral Collin Green during a Thursday morning appearance on Fox News.
"If Adm. Green really wants to do this, he shouldn't try and put people in the middle to put the blame on them. He shouldn't be a coward like that," Parlatore said. "He should stand up and do it himself."
Parlatore criticized the process his client faces after Fox & Friends host Brian Kilmeade asked him about the Navy SEAL review board that will judge Gallagher and three other SEALs on whether they committed "a gross lack of professional or personal judgment, lack of moral or ethical behavior, and/or conduct inconsistent with the SEAL ethos," according to a letter sent to Gallagher and his co-defendants.
Gallagher had been charged with war crimes, including the murder of a teenage prisoner of war in Iraq. He has been acquitted of most charges, but he faces disciplinary action for staging a photo with the prisoner's body. Gallagher could lose his SEAL trident, depending on Green's decision.
"It was explained to me, stop me if I'm wrong, that his peers are going to judge him and his actions, and the focus is going to be taking a picture with a dead terrorist. If it's his peers, is that okay with you?" Kilmeade asked.
Parlatore called the review board "window dressing," because the peers are selected by Green. "Whatever they recommend, the admiral can completely disregard," he said. He felt the whole effort was somewhat pointless. "The admiral has decided what he wants to do, and he's just going to have people stand up and put the window dressing on it."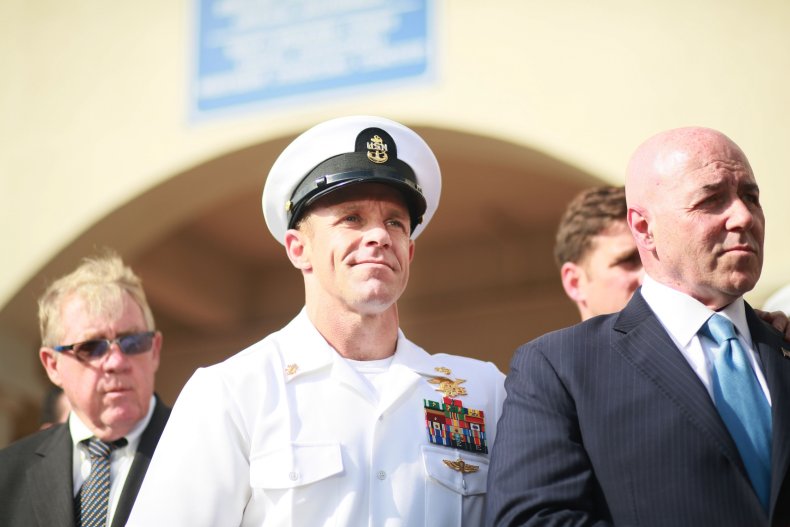 Discussing Gallagher's photo, Parlatore said that there has never been a case like this. "His rank was taken away for something that nobody else in the history of the SEAL teams or the military has ever had—A general court martial conviction for a photo like this," he said. Parlatore also questioned how many other officers and Navy SEALs also have similar photos.
Kilmeade asked Parlatore if Gallagher has received criticism from his colleagues in the military. Parlatore said the little negative feedback they've received has come from people not paying attention to the case. "There's been some who say that he shouldn't have his rank restored, but all of them cite reasons that show that they haven't paid any attention to the case whatsoever," he said.
President Donald Trump, who has advocated on Gallagher's behalf since charges were first brought against him, issued an order to restore the officer to his previous rank and pay grade on Friday. Despite the commander-in-chief's support, as Newsweek reported, Green had received approval from the Navy to strip Gallagher of his Trident.
Shortly after Parlatore's Fox & Friends appearance, at 8:30 a.m. ET Thursday, the president issued a tweet reiterating his conviction that Gallagher should remain in his post, effectively quashing the Navy's review.
Parlatore noted that the potential punishment would not affect Gallagher's pension, but would slightly impact his pay before he retires.
He called Green's decision "an effort to try and publicly humiliate Chief Gallagher and stick it right in the president's eye."
This story has been updated to include President Trump's Thursday morning comments on the case.