Fox Host Confronts Scalise on Whether GOP 'Out of Step' With Voters on Guns
Fox News Sunday host John Roberts confronted House Minority Whip Steve Scalise, a Louisiana Republican, over whether the GOP is "out of step" with American voters when it comes to proposed gun restrictions.
Several recent mass shootings have reopened the contentious debate surrounding gun reform in Congress. While a bipartisan group of senators is negotiating potential legislation in a bid to address the national problem, many Republican lawmakers vocally oppose any changes to gun access, while Democrats largely support significant restrictions.
Roberts presented Scalise with polling data showing vast majorities of Americans support what Democrats and some Republicans refer to as "common sense" gun reforms.
"Let's take a look at where the public is on some of these policies regarding gun sales," Roberts said. "Do you support or oppose requiring background checks for all gun buyers? Eighty-nine percent of Americans say they support it. Eight percent oppose it," the Fox News journalist said, reading polling data from Quinnipiac University.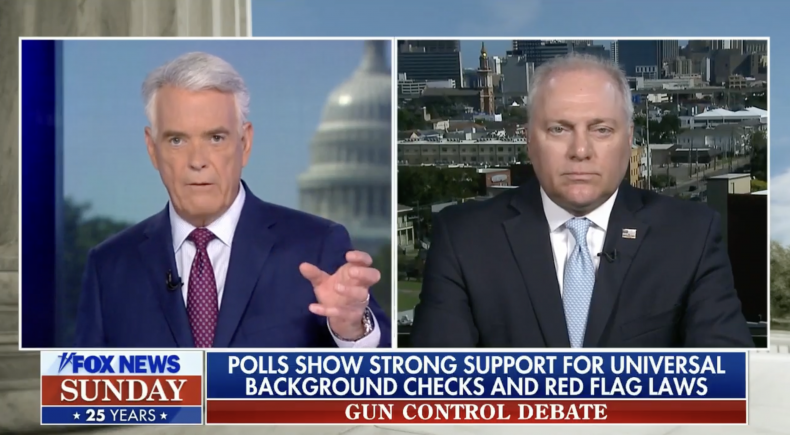 "Do you support or oppose red flag laws? Seventy-four percent [support], 21 [percent] oppose," Roberts continued. "You and other Republicans have views about background checks and red flag laws that would seem to run counter to what public sentiment is. So are the views that you and your colleagues hold out of step with where the nation is?" the host asked.
Scalise answered, saying those who responded to the poll "weren't asked about components of the bills Democrats are moving through Congress." The leading House Republican warned that "under the guise of red flag, they take away due process." The Louisiana lawmaker cautioned that this was an effort to "take away your constitutional right" to own a gun.
"I don't think people would agree with that," he insisted.
The polling referenced by Roberts was carried out from April 8 to 12 of 2021. It had a margin of error of plus or minus 2.8 percent. When digging into the data further, it shows that background checks were supported by 84 percent of Republicans, 98 percent of Democrats and 88 percent of independents.
The red flag laws had less support from Republicans, but still were backed by a majority. While these measures were approved of by 92 percent of Democrats, some 65 percent of Republicans and 67 percent of independents also supported them.
Scalise himself was a victim of gun violence. In June 2017, the Republican lawmaker was shot as he participated in a practice for a Congressional baseball game. He received treatment and recovered, returning to Congress in September of that year.
Last week on Fox News Sunday, host Sandra Smith similarly confronted Representative Mo Brooks, an Alabama Republican, with polling data showing that a narrow majority of Americans want stricter gun laws.
"The minimum age in your state to buy an AR-15, like the one the school shooter used in Uvalde, is 18 years old. There's no waiting period between the time a firearm is purchased and when its turned over to the buyer. There's no license for the sale of ammunition. Gallup does find that a majority of Americans, 52 percent of them, are in favor of stricter gun laws when it comes to the sale of firearms," Smith told Brooks.
"So, to the majority of Americans who feel that way, you say what?" the Fox News host asked the GOP lawmaker.
Brooks responded by saying he doesn't believe the polling data accurately reflects Americans' opinions. "I suspect that the people who were polled, by way of example, were not properly explained what the purpose of the Second Amendment right to bear arms is," he said.
The Constitution's Second Amendment states: "A well regulated Militia, being necessary to the security of a free State, the right of the people to keep and bear Arms, shall not be infringed." Gun reform advocates often argue that the first part of the Amendment about a "regulated Militia" is no longer valid, as the U.S. now has a strong and well-trained standing military.