John Cornyn Likens His Gun-Control Role to Kamala Harris Border Assignment
Senator John Cornyn, who has been tapped as the Republican lead in the bipartisan negotiations on gun legislation, understands that his latest assignment is a daunting task.
In an interview with Politico, the Texas senator compared his new role to that of Vice President Kamala Harris when she address the challenges at the U.S.-Mexico border last year.
"When Senator McConnell asked me to be sort of the point person on this, I thought to myself 'well, this is like Joe Biden appointing Kamala Harris border czar,' I accepted the responsibility with a little trepidation," Cornyn told the outlet.
Last March, President Joe Biden tapped Harris to lead the White House effort to tackle the surge of migration from Central America that followed his inauguration. "Needless to say, the work will not be easy," Harris said at the time. "But it is important work."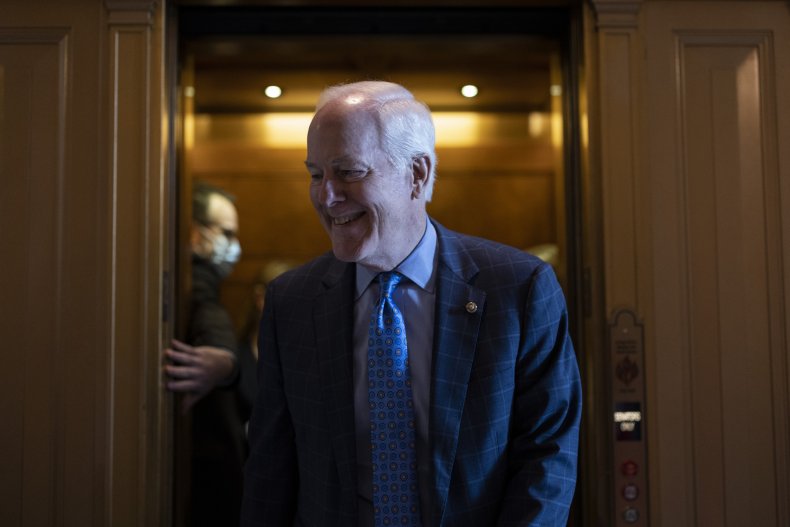 Being the GOP lead on gun control is a task that comes with unsurprising criticisms from conservatives and gun rights advocates, who see negotiations as a blow to Second Amendment rights. It has forced Cornyn to walk a fine line as he attempts to pass legislation while reaffirming where he stands as a Republican on the issue.
"I'm not talking about restricting the rights of law-abiding citizens under the Second Amendment," he said. "I'm talking about identifying people with criminal and mental health problems that are a threat to themselves and others."
Cornyn is trying to find common ground with Democratic Senator Chris Murphy in the wake of the Uvalde, Texas school shooting, which left 19 children and two adults dead, and has prompted Congress to find a way to pass meaningful gun reform.
"He's earnestly at the table," Murphy told Politico. "He's made clear there's only so far that he's willing to go. But so far, the things on the table are incremental but significant changes."
Cornyn has been clear that the tragedy in his home state needs to result in a legislative response, saying that "it will be embarrassing" if the Senate can't agree on a measure.
"It would feed the narrative that we can't get things done in the public interest," the Texas Republican said. "I don't believe that narrative, I believe we can get a bipartisan deal done in the public interest. If you're not in the Senate in order to make a difference and make tough, politically challenging decisions which you know are the right thing to do, then you need to find another job."
But even if Cornyn finds a way to meet in the middle with Murphy, he'll have to drum up enough support from his Republican colleagues in order to pass the Senate's 60-vote threshold.
Biden recently called Cornyn a "rational Republican," signaling his hope that the GOP may finally be breaking on the gun issue and that Congress can act in response to multiple mass shootings that have occurred across the country since Uvalde.
"People are going to say what they're going to say," Cornyn said. "But I'm happy to be part of the coalition of the rational."