Fox & Friends Host Laughs At Trump's 'Racist' Tweet against Progressive Congresswomen, Says He's 'Making an Important Point'
Fox & Friends weekend co-host Jedediah Bila and her co-hosts laughed audibly on Sunday, as they read President Donald Trump's controversial tweet suggesting that progressive Democratic congresswomen should "go back" to their countries, even though most of the legislators targeted by the tweet were born in the U.S.
After the tweet was read live on air, Bila made light of the president's remarks, which numerous members of Congress quickly blasted as "racist." The Fox News co-host quipped: "Someone's feeling very comedic today." She then argued that Trump was "making an important point."
"He's trying to say that the values that built this country, everything from, you know, securing the border and being a nation of laws to, you know, freedom of speech on college campuses, whatever issue you're talking about, a lot of times these are the very issues that the left is trying to obstruct," she argued. "And he's drawing attention to that and saying, if you don't like what this country stands for, you're not gonna change it and take away all these things that Americans value so much," she continued.
"Like, if you don't like it, leave and go and set up camp somewhere else," Bila said. "But you're not going to destroy what we have fought so hard and so long to value."
Co-host Griff Jenkins agreed, saying: "That's a good point."
In his Sunday tweets, Trump took aim at "'Progressive' Democratic Congresswomen," lashing out at them for "telling" the U.S. "how our government is to be run." He suggested they should return to the countries "from which they came." Continuing, he said "you can't leave fast enough."
Many politicians and analysts were quick to describe the tweets as overtly "racist," pointing out that there is a long history in the U.S. of people suggesting that citizens who are not white do not belong in the country. Although Trump did not mention any specific names, many saw him as clearly signaling out progressive Representatives Alexandria Ocasio-Cortez of New York, Rashida Tlaib of Michigan, Ayanna Pressley of Massachusetts and Ilhan Omar of Minnesota. All of the congresswomen were born in the U.S. as American citizens, with the exception of Omar, who became a naturalized citizen nearly two decades ago in 2000.
Democratic Speaker of the House Nancy Pelosi was quick to condemn the president over the remarks. "I reject @realDonaldTrump's xenophobic comments meant to divide our nation," she wrote on Twitter. She also added that the comments from Trump "reaffirms his plan to 'Make America Great Again' has always been about making America white again."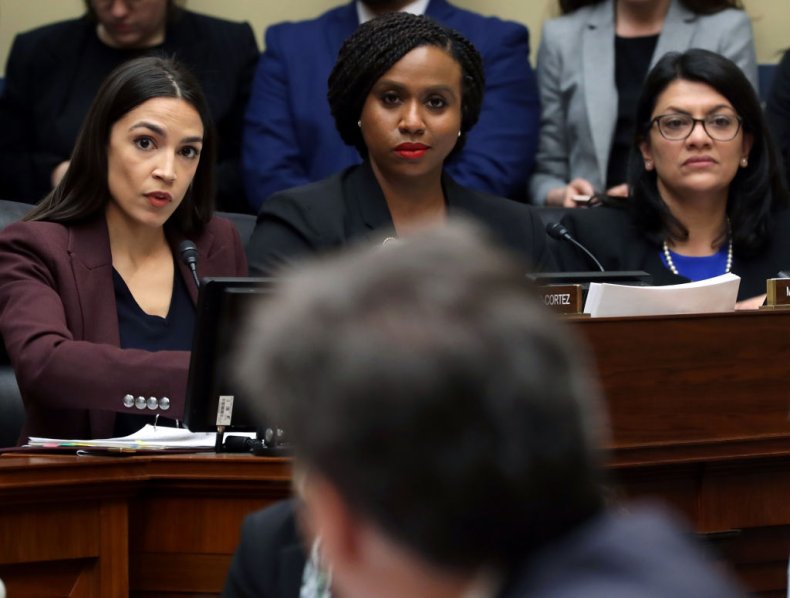 The four congresswomen also responded to Trump.
"You are angry because you can't conceive of an America that includes us," Ocasio-Cortez wrote in stream of tweets.
"As Members of Congress, the only country we swear an oath to is the United States," Omar pointed out. "Which is why we are fighting to protect it from the worst, most corrupt and inept president we have ever seen," she added.
"THIS is what racism looks like," Pressley posted to Twitter, sharing screenshots of the president's tweets. "WE are what democracy looks like. And we're not going anywhere."
Tlaib shared a photo of herself smiling broadly, writing: "This is what America looks like."