Fox Host Touts Biden's 'Strong' Jobs Growth, Dismisses Recession Fears
The latest jobs report showed strong numbers for President Joe Biden, with employers adding 311,000 jobs in February.
Fox Business host Stuart Varney said the report indicated the U.S. economy was not heading for a recession.
Earlier this week, Federal Reserve Chairman Jerome Powell said the latest data suggested that interest rates will likely be higher than previously anticipated.
President Joe Biden received some good news from an unlikely source after last month's jobs report showed a healthy economy that was no longer nearing a recession.
"These are very good numbers for President Biden," Fox Business host Stuart Varney said during a Friday appearance on Fox & Friends. "If you think we're going to go into recession, this strong jobs number will talk you out of it. It does not look like we're heading towards a recession."
Friday's report from the Labor Department showed that employers added 311,000 jobs in February, another stronger-than-expected showing for the president. Economists expected to see 225,000 new jobs added last month to the U.S. economy.
February's jobs report showed a relatively low unemployment rate, 3.6 percent, although it did tick up slightly from January's 3.4 percent, which had been an historic low—the lowest since 1969. The next major indicator for Biden will come on Tuesday when February's Consumer Price Index reading is released.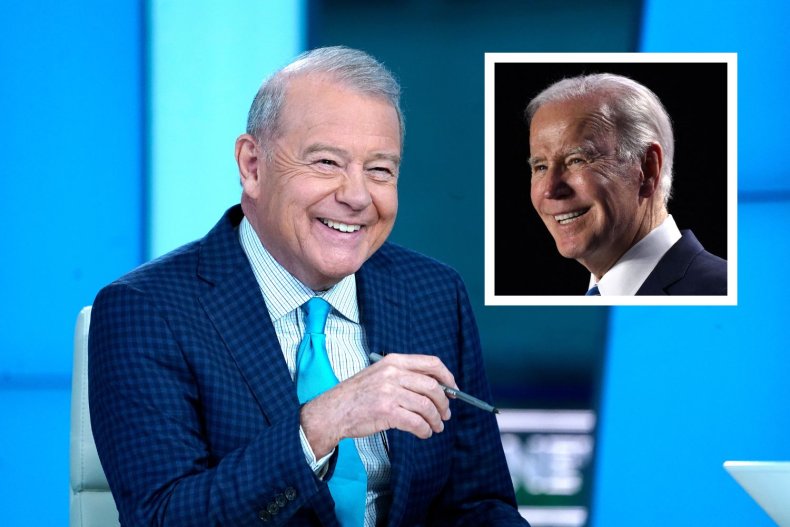 Varney's remarks come in contrast to the sentiments expressed by his Fox colleagues. Multiple correspondents and hosts on the conservative network have previously said that the U.S. is barreling towards an imminent recession, despite a string of strong economic reports.
Although Varner said Friday's report showed a "typical strong jobs market," he added that the numbers could forecast trouble later down the line.
"They're good numbers for Main Street because clearly, employers are hiring. There's plenty of jobs out there," the Fox anchor said, adding, "But I think eventually it'll be bad news for interest rates and Wall Street eventually."
With the economy continuing to expand, the Federal Reserve said it will have to reevaluate its plans to continue slow increases on interest rates.
This week, Fed Chair Jerome Powell said that if new data shows that the economy was not slowing enough to combat rapid inflation, there may need to be bigger increases than the current increments of one-quarter of a percentage point.
"The latest economic data have come in stronger than expected, which suggests that the ultimate level of interest rates is likely to be higher than previously anticipated," Powell testified to lawmakers this week.
He continued: "If the totality of the data were to indicate that faster tightening is warranted, we would be prepared to increase the pace of rate hikes," Powell said, adding that "no decision" had been made by policymakers yet.
On Friday, Gina Bolvin, president of Boston-based Bolvin Wealth Management Group, told Newsweek in a statement that the latest numbers were "solid," but added that the Fed has been "backed into a tight corner." Nonetheless, she said the report remains "a good sign."
"The market has a lot to digest, but so far this morning we're seeing futures holding up and a good sign for investors is strength in cyclicals like semi's, industrials and even home builders," Bolvin said.
Newsweek reached out to the White House for comment by email.