Fox News Brands Alexandria Ocasio-Cortez 'Best Actress in Political Drama'
A Fox News contributor has taken aim at Rep. Alexandria Ocasio-Cortez, saying she should win an acting award for her account of the Capitol riots, in which the congresswoman said she had feared for her life.
In a segment parodying the tone of an awards ceremony, Raymond Arroyo, an author and broadcasting executive, mocked Ocasio-Cortez's Instagram Live video about the events of January 6, when an armed mob of Donald Trump supporters stormed government buildings in Washington, D.C.
Appearing on Fox News show The Ingraham Angle, Arroyo said: "There was one snub that we have to rectify before the Emmys and the Oscars are announced and it's this Instagram show that may have gotten more viewers than all those Netflix nominees. For best lead actor in a political drama, Alexandria Ocasio-Cortez in "Insurrection Day" is going to be hard to beat."
The broadcaster titled the segment: "Best Actress in a Political Drama Rep Alexandria Ocasio-Cortez," alongside an awards ceremony-style gold star. The Fox News item has been criticized, however, with more than one viewer describing it on Twitter as "hateful." Another wrote: "Someone needs to demand an apology from Fox."
As host Laura Ingraham discussed the Instagram video with Arroyo, a clip was played of Ocasio-Cortez describing how she heard someone yell, "Where is she? Where is she?", as she hid in her office bathroom.
Ocasio-Cortez said: "I'm so deeply rattled, I'm still processing the end of my life."
The clip was scored with exaggerated slow piano music apparently intended to help viewers draw a comparison with a dramatic movie scene.
Arroyo claimed the congresswoman had made the video in order to keep the pressure on senators to convict former President Trump in his impeachment trial.
He said: "The drama never ends over this day. This entire mini series is designed to keep this Capitol siege in the forefront of people's minds, ratchet up impeachment pressure—that is the intention here.
"And the truth is Ocasio-Cortez was in no danger at all on January 6. The rioters broke into the Capitol. She was all the way in the Cannon [House] Office Building, that's like two blocks away.
"She once tweeted that the whole point of protesting is to make people uncomfortable, but when it makes her uncomfortable, it's a problem."
As the clip ended, Ingraham said: "She should do voiceover work. She's quite dramatic. She has a flair for it. Not bad. Great nomination."
During the same show, Democratic Rep. Katie Porter of California was dubbed "Best Supporting Actress in a Political Drama."
Another viewer criticized Fox News on Twitter, saying of Ocasio-Cortez and Porter: "These two women are awesome. If you could shut up for 5 minutes and listen to what they have to say you would know how good they are."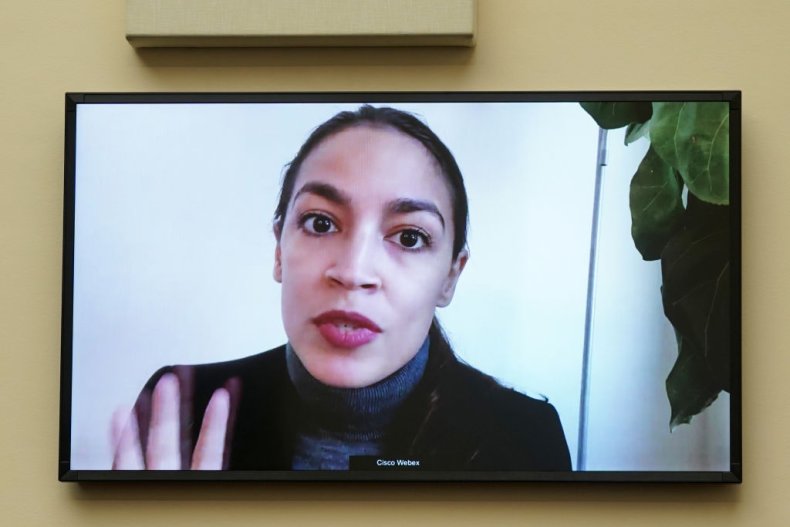 Ocasio-Cortez has dismissed claims that she was not in danger on that day, tweeting: "This is the latest manipulative take on the right.
"They are manipulating the fact that most people don't know the layout [of] the Capitol complex. We were all on the Capitol complex—the attack wasn't just on the dome.
"The bombs Trump supporters planted surrounded our offices too."
Newsweek has contacted Fox News for comment.