Fox News Cameraman Killed in Ukraine Covering Russia War Outside of Kyiv
Fox News cameraman Pierre Zakrzewski has been killed while covering the war in Ukraine, the network announced on Tuesday.
Zakrzewski died after his vehicle came under fire Monday in Horenka, a village outside of Kyiv. At the time, Zakrzewski was news-gathering in the area with fellow Fox News journalist Benjamin Hall, who was hospitalized for injuries from the same incident.
Zakrzewski's death follows this past weekend's killing of American journalist and videographer Brent Renaud, who was also reporting from Ukraine. Renaud was fatally shot by Russian troops while working on a Time magazine assignment, and fellow journalist Juan Arredondo was injured in the same attack.
Fox News Media CEO Suzanne Scott said Tuesday that news of Zakrzewski's death marks a "heartbreaking day for Fox News Media and all journalists risking their lives to deliver the news."
Zakrzewski, 55, was based in London and had been working as a war zone photographer in Ukraine since February. He previously covered international stories for Fox News on conflicts in Iraq, Syria and Afghanistan.
"His talents were vast and there wasn't a role he didn't jump on to help with in the field—from photographer to engineer to editor to producer—and he did it all under immense pressure with tremendous skill," Scott said in a statement shared with Newsweek. "He was profoundly committed to telling the story, and his bravery, work ethic and professionalism were renowned among journalists at every media outlet."
Fox News President and Executive Editor Jay Wallace added, "Pierre was a constant in all of our international coverage. I, like countless others, always felt an extra sense of reassurance while arriving on the scene and seeing him with a camera in hand."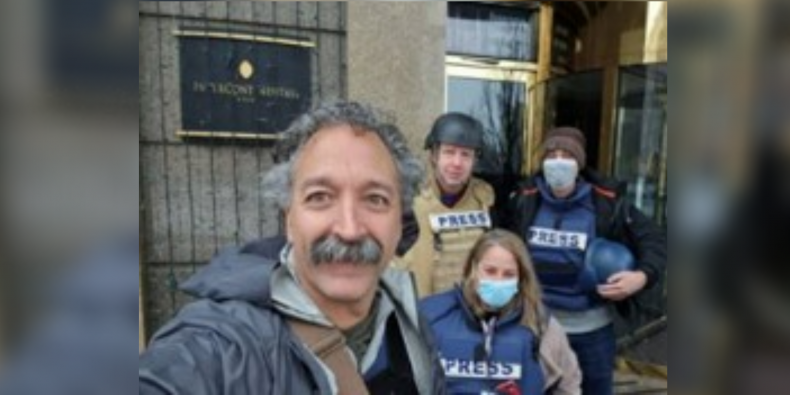 Journalists from Fox News and several other media outlets offered their condolences for Zakrzewski and his family on Tuesday.
"There are no words. I had the great privilege of working with Pierre and the even greater privilege of calling him a friend," longtime CNN international correspondent Clarissa Ward tweeted. "An extraordinary spirit and tremendous talent and one of the kindest, most gracious colleagues on the road. Absolutely heartbreaking."
"He was just the best," Fox News anchor John Roberts said of Zakrzewski.
"I worked with Pierre many times around the world," Roberts said in another tweet. "He was an absolute treasure. Sending our most heartfelt prayers to Pierre's wife and family."
Hall is a Washington, D.C.-based correspondent covering the State Department for Fox News. He previously worked as a foreign correspondent based in London and has reported from the front lines in other war-torn regions, including Syria and Iraq.
"Please continue to pray for Benjamin Hall, who remains hospitalized in Ukraine," Scott said on Tuesday. Fox did not offer any updates on his injuries or condition.
"The safety of our entire team of journalists in Ukraine and the surrounding regions is our top priority and of the utmost importance. This is a stark reminder for all journalists who are putting their lives on the line every day to deliver the news from the war zone," Scott said Monday.
Update 03/15/22, 12:54 p.m. ET: This story has been updated with more background and information.