Fox News Contributor Says Elizabeth Warren Is 'Impressive,' Defends Her Medicare for All Proposal
Fox News contributor and political analyst Mary Anne Marsh defended Democratic presidential candidate Elizabeth Warren against criticism from her fellow panelists regarding the senator's Medicare for All proposal.
Warren, who represents Massachusetts, on Friday rolled out the financial details of her Medicare for All plan, which was first proposed by fellow presidential candidate Senator Bernie Sanders of Vermont. Her plan drew praise from progressives and brought substantial criticism from Republicans and some centrist Democrats.
In a discussion of the plan during the Fox News program America's Newsroom on Monday morning, Marsh defended Warren and the plan after Fox News politics editor Chris Stirewalt criticized the proposal and called the senator "a rather poor politician."
"This helps Elizabeth Warren because she's trying to scoop up the progressives," argued Marsh, who previously served in senior roles in the campaigns of former Democratic Senators John Kerry and Ted Kennedy. "She's taken a lot of support from Sanders. That's why she's risen in the polls. Her bet is she'll be able to take even more."
In response to Stirewalt calling Warren a "poor politician," Marsh highlighted the senator's surge in support among Democratic voters. "She went from last January when people were attacking her over the Native American issue to basically being the front-runner," the political analyst pointed out.
"That makes her a dangerous politician. Because when you've gone in the barrel and come out stronger, that's impressive," Marsh asserted. She explained that Warren was essentially telling middle-class voters that she was going to give them "the biggest tax cut" by offering them free health care. "Bigger than Donald Trump's. He gave it to 1 percent of the people. [She's] gonna make them pay for your health care now."
Marsh did point out that Warren may have a harder time convincing independents to support her Medicare for All plan.
Warren's plan, according to her campaign, would cost $52 trillion over the next decade, including $20.5 trillion in new federal spending. She plans to pay for this with a series of new taxes on the wealthy and corporations, as well as on stock market transactions, and with cuts in military spending. The senator has said that the plan would not increase taxes on the middle class and that Americans would benefit significantly from a significant reduction in health care costs.
Critics, including many centrist Democrats, have suggested that Warren has underestimated her proposal's cost. They have also argued that it is overly optimistic to say that taxes on the middle class will not need to be increased to pay for Medicare for All.
Speaker of the House Nancy Pelosi, the top Democrat in Washington, criticized candidates pushing for Medicare for All in an interview with Bloomberg on Friday.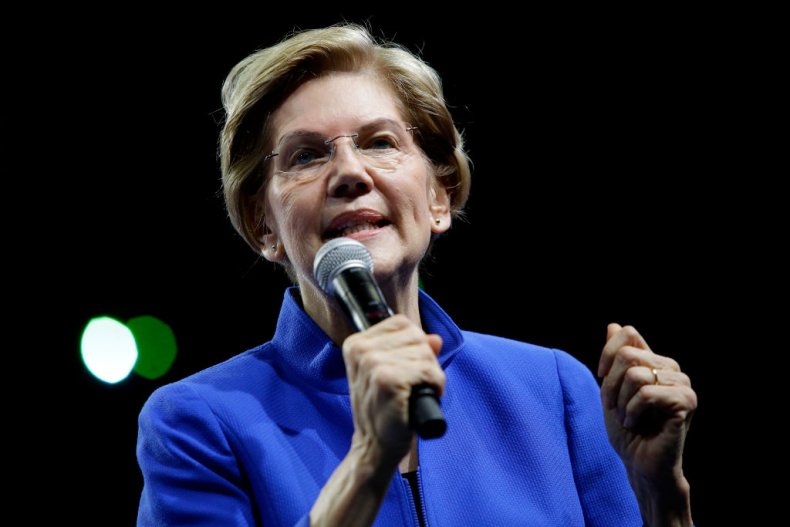 "I'm not a big fan of Medicare for All," Pelosi said. "I mean, I welcome the debate, I think that we should have health care for all."
She went on: "There is a comfort level that some people have with their current private insurance that they have, and if that is to be phased out, let's talk about it. But let's not just have one bill that would do that," she said.
The plans proposed by Warren and Sanders would phase out private insurance over a transition period, moving Americans onto the government-funded program instead. Democratic presidential candidate Mayor Pete Buttigieg of South Bend, Indiana, has proposed a watered-down version he has dubbed "Medicare for All who want it." Essentially, Buttigieg aims to expand Medicare coverage to Americans who choose to buy into the program but leaves the option of sticking with private plans.
Sanders has also distinguished his Medicare for All plan from Warren's, arguing that his will work better for middle-class Americans.
"We do disagree on how you fund it. I think the approach that [I] have, in fact, will be much more progressive in terms of protecting the financial well-being of middle-income families," Sanders told ABC News over the weekend.